Recipes
KatieMade Mosbolletjies Bread
Although homegrown produce is still hard to find, you can still keep your cooking local by cranking up the oven and baking the day away. Put a South African spin on sweet bread pudding by swapping crusty baguettes for KatieMade's mosbolletjies bread.
Written by Claire Porter | Photos by Abby Gust
Mar 2016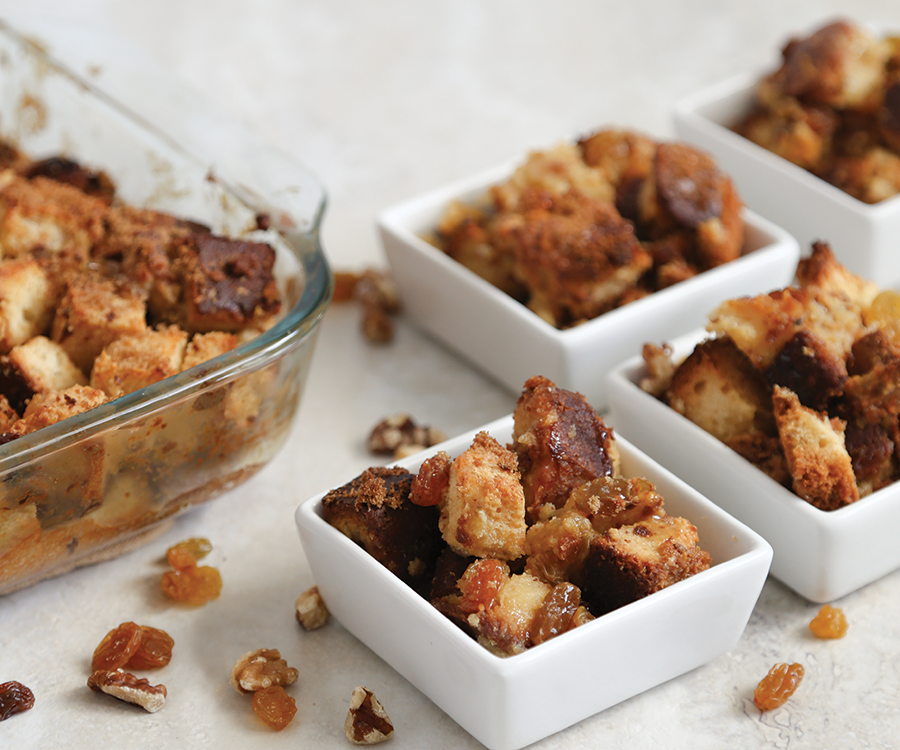 While the tail-end of winter lingers, gloomy days call for a warm and rich bread pudding. To take this comfort food dessert staple from basic to addicting, try preparing it with KatieMade's South African mosbolletjies (pronounced like MOS-bullekkies) sweet bread. 
The bread's sweet, warm flavor and fluffy texture comes from a rather complicated process. Traditional mosbolletjies is made with the must from winemaking—its name even means must balls—but the process can also be replicated using potatoes, raisins or hops. KatieMade's Katie Kring says they often use raisins, potato flakes, hops or, in a pinch, an IPA to speed up the long fermenting process. The slurry of these ingredients forms a sugary solution that leavens the bread without needing to add yeast. 
The hops are what give the bread a slight bitterness, and the raisins lend a caramelly sweetness. Mosbolletjies also contains anise, a spice that Kring says can be polarizing: Some people love it, but others hate it. The advantage of KatieMade's mosbolletjies is that the anise flavor is subtle, and Kring says even those who don't care for anise love the bread because the flavor is there, but it's not too strong. "It's like being at the same party as anise but not making out with it," Kring says. "Those are two very different things." 
The bread is softer than a typical crunchy baguette with great texture thanks to the dairy ingredients, or, as Kring puts it, "All of the dairy products we have." The recipe includes butter, sweetened condensed milk, eggs and sugar, all of which act as natural preservatives. A loaf of mosbolletjies should have a shelf life of about two weeks, making it the longest-lasting bread KatieMade has. 
If somehow you haven't eaten all of it before the loaf gets stale (which is a feat of self-restraint because this makes a killer french toast), you're in luck: Mosbolletjies takes on new life when dried. Bake stale pieces of mosbolletjies to make rusks, which are great dunked into coffee, or embrace the murky March weather by turning your leftover loaf into a gooey, belly-warming bread pudding. 
The key to a good bread pudding is the custard. For most crunchy French breads, the spices in the custard carry the flavor, but with mosbolletjies, the bread itself shines on its own. Because the bread is denser—and more dairy-laden—than airy baguettes, use mostly egg yolks instead of whole eggs in the custard to avoid turning your squishily sumptuous pudding into a dense brick. For a little bit of texture, work in chopped walnuts, and add golden raisins as a nod to the raisins used to make the dough's starter. 
Before you get pulled into pudding-making, head over to KatieMade at B+B Boulangerie & Fair-Weather Café to pick up a loaf. Be sure to hurry. The first time Kring debuted her mosbolletjies at the farmers market, she sold out in 20 minutes, and the bread remains the bakery's most popular product to date.
Make it a Meal
With sweet, commanding flavors and ingredients, mosbolletjies deserves a spot outside the pre-dinner breadbasket. Try these five ways to get the most out of your mos'.  


1.    Pay homage to the mosbolletjies's South African heritage by putting a twist on the classic braaibroodjie (a grilled cheese sandwich served at the end of a braai, or a barbeque). Cut thick slices of mosbolletjies bread and layer grated cheese, onions, thick tomato slices and a smear of fruit chutney between the slices. Grill until the bread is toasted and the cheese is melty. 
2.    Chop the loaves into one-inch cubes and bake at 350 degrees fahrenheit to make croutons. Toasting the bread intensifies its flavors, which become showstopping when added to an arugula and shaved fennel salad with blood oranges and a citrus vinaigrette dressing. 
3.    Complement one of the bread's key ingredients—fermented grape juice—with a glass of your own to tie your meal together. To bring out the anise flavors (especially if paired with aforementioned fennel salad), try a sauvignon blanc or a Sicilian white wine called Occhipinti SP68. 
4.    For a warm way to wake up your day, pop a few slices in the toaster for breakfast. The flavors of the bread can hold their own with just a little butter, but if your sweet tooth has gotten the best of you, sprinkle a little cinnamon and sugar over the toasty slices. 
5.    Forego the Starbucks line and make your own traditional rusks, or crunchy biscuits, to dunk in your coffee. Tear the mosbolletjies into long, thin pieces. Place them on a baking sheet, brush the bread with milk and bake at 350 degrees. To make the rusks even crunchier, dry them overnight in a 200-degree oven before baking.