Reviews
A New Favorite: Piccolo
New to the Nixa dining scene, Piccolo is one of the latest places in 417-land to offer up Italian flavors.
By Savannah Waszczuk
Mar 2017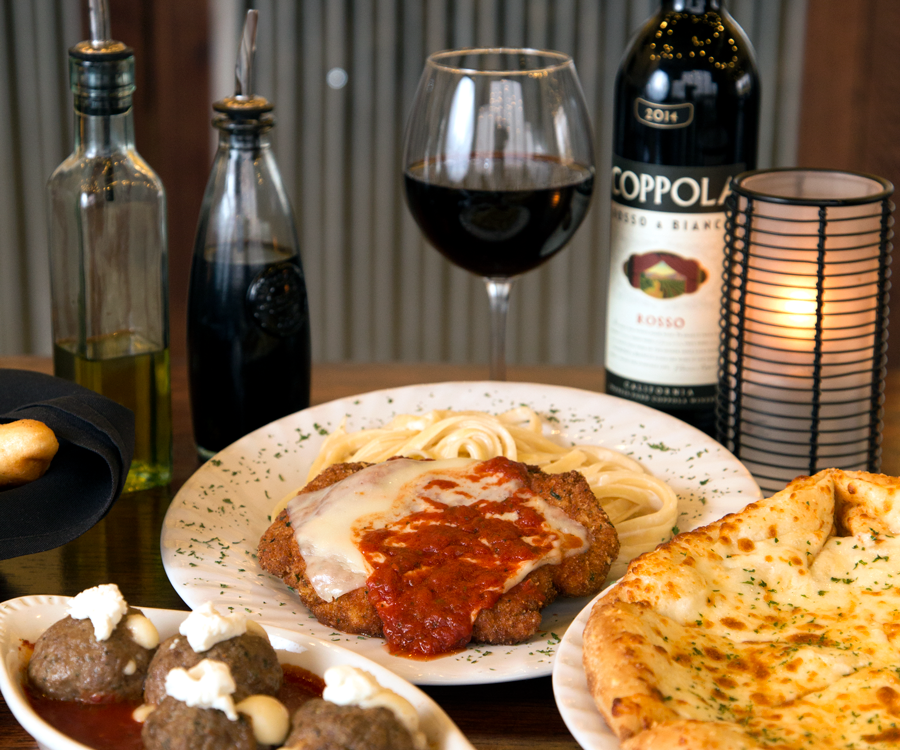 Italian fare has always been my indulgent food of choice. The salty meats. The creamy cheeses. The freshly baked garlic bread topped with loads of melty butter. And last but certainly not least, the pasta. No words in the English language can adequately proclaim my love for pasta. That's why when Piccolo opened in Nixa in December 2016, I eagerly awaited the day I could give it a try. 
I visited the restaurant on a recent Friday night, and the place was hoppin'. That's always a good sign for a new restaurant. Good sign No. 2 was that the restaurant is owned by Steve D'Arpino—the son of Mark and Mary Ann D'Arpino, who own D'Arpino's Italian Café in Springfield. That cute little café is one of my favorite restaurants in 417-land, so I had high hopes for Mark's creation. And good sign No. 3 came soon after glancing at the menu—I seriously struggled deciding which appetizer to try. There's a creamy spinach dip served with pizza dough. There are pepperoni knots. There are Italian nachos. There's calamari. And there's so much more. It certainly wasn't a struggle to find something (or a lot of somethings) that appealed to me.
 For $11.99, the meat and cheese plate is a steal. 
Because I was out for dinner with my boyfriend, Dylan, his mom and his grandpa, I decided that it was acceptable to order two appetizers. We finally (finally!) decided on the Balboa Balls—mozzarella-stuffed meatballs topped with creamy goat cheese and D'Arpino's marinara—as well as the cheese and meat board. First came the board—a creation that nearly brought tears to my eyes with its big ol' pile of goat cheese, spicy pickled asparagus, mustard seed salami, prosciutto, sliced provel, artisan crackers and goat cheese–stuffed peppadews. I was super impressed at the amount of snackins on that board (which was only $11.99), and the variety on our visit was fantastic. My favorite item on the board, though, was the stuffed peppadews—they were the perfect combination of sweet and tangy. The meatballs were also delightful, with the juicy, tender beef artfully forming a snug little jacket around a melted mozzarella core. They were served in the restaurant's robust house-made marinara sauce (an original D'Arpino's recipe), and they were topped with even more of that goat cheese for a zippy finish.
Dylan and I decided to order two different entrees and share them: I chose the chicken Parmesan, and he chose the 10-inch Bianca pizza with Alfredo, mozzarella, Asiago and Parmesan. Chicken Parm is perhaps my favorite of all favorites, and I was eager to try Piccolo's version—it tops the classic fried chicken breast with provel cheese and serves it with a side of fettucine Alfredo rather than the typical spaghetti and marinara. I often request my chicken Parm with half Alfredo, half marinara, but Piccolo saved me the extra effort. 
The pasta was cooked just right—an al dente finish provided a bit of chewiness. The Alfredo didn't disappoint, either—it's the perfect amount of creamy with nutty notes of Parmesan peeking through—and I loved blending it with spoonfuls of the restaurant's marinara. The chicken was juicy—thank you, crunchy coating—and the browned provel took it all to the next level. I enjoyed the dish so much that I struggled to share it with Dylan, but then I immediately changed my mind when I tried a bite of his Bianca pizza.
At a healthy 10 inches, the pie took over the plate it was served on, and the homemade dough (also a recipe from D'Arpino's) is stretched to make a thin, crispy crust. It's topped with the restaurant's homemade Alfredo sauce, then loaded up with mozzarella, Asiago and Parmesan cheeses. It has all the elements of an artisanal pizza, but also packs in all the flavors of the most indulgent pie you've ever had. It's so, so cheesy. It's so, so rich. And it's so incredibly good. 
Piccolo does classic Italian sides, like these butter-soaked breadsticks, beautifully.
I visited Piccolo expecting it to be good, but I left thinking it was great. Grand. Wonderful! Next time you have a craving for some indulgent Italian fare, head to Nixa and pick your own favorites at Piccolo. And don't be too surprised if you see me there.