Life
Exploring Fritz's Adventure
A few fun-loving staffers ditched their desks and headed to Fritz's Adventure for an afternoon of exploring. Read on for a first-hand account of one of Branson's newest attractions.
By Savannah Waszczuk | Photos courtesy Clear Entertainment and Marketing Group, Savannah Waszczuk
Mar 2017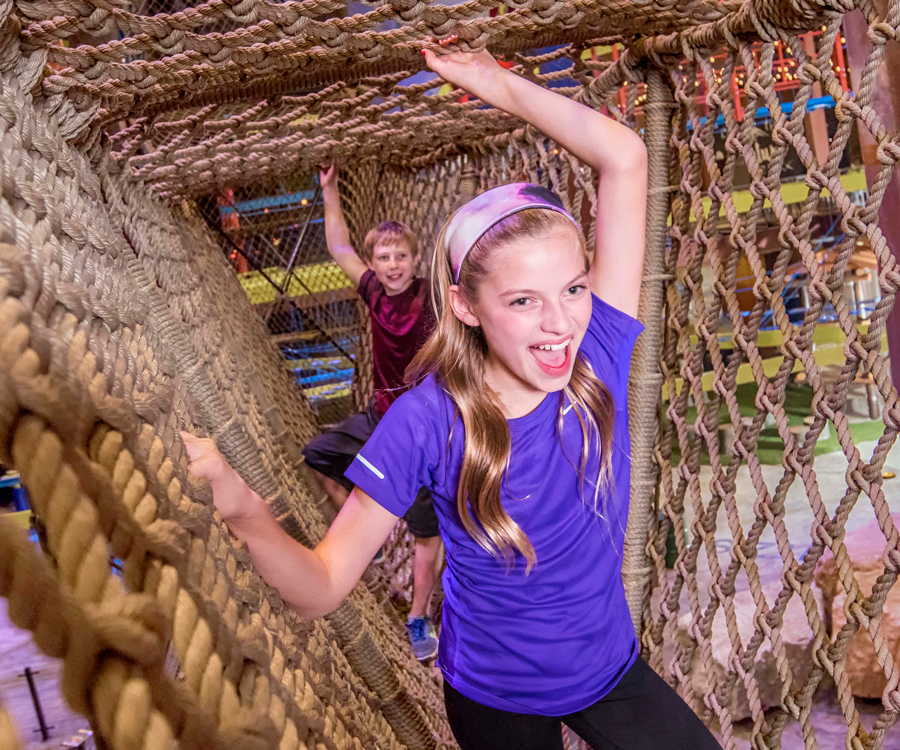 Kids really have it made. Go to the park, and they get to run around like little maniacs while you have to worry about them falling off the monkey bars or tumbling head-first down the slide. Go to Chick-fil-A, and they peace out to the play place while you're left to scarf down their cold, forgotten nuggets because you haven't even had time to feed yourself. Everything is for them—everything. And that's fine and great and all, but wouldn't it be nice if sometimes—even on the rarest occasion—you got to do something for you, too? And better yet, you had the time to do it?
That's why we love Fritz's Adventure (1425 W. Highway 76, Branson, 417-320-6138, fritzsadventure.com), one of Branson's newest family attractions. It's not just for you, per se, but that's okay—you don't have to worry about lining up a babysitter. Instead, you can dress the kids in their play clothes, lace up your own sneakers and explore right along with them. Or, if you don't have kids or you simply want a night away from 'em, you can head here for a date night or a girls' night out. Fritz's is technically a family attraction, but it's really desirable for everyone, and it's fun for all ages. We're speaking from experience, because on a recent winter afternoon, a group of four of us went to play: me (at the ripe age of 31), our 22-year-old Digital Assistant Lillian Stone, our 39-year-old former Staff Photographer Kevin O'Riley and his 13-year-old daughter, Brynn. Read on for a firsthand account of our visit, and see what you can expect on your own afternoon of exploring.
Through the Plane and to the Water Tower!
While we were waiting in line, Kevin fiddled with his camera while Brynn and I scouted out the 30,000-square-foot space. It was fun being there with a 13-year-old—I felt like a kid again as we excitedly chitchatted about what to try first. We decided to start with the water tower obstacle. The large metal tower sits in the central area of Fritz's and has a spiral rope staircase and a slide. Easy enough, right? But we had to cross a suspension bridge, make a pit stop in a once-operational airplane and then crawl through a wire cage tunnel suspended wayyy up in the air to get there. I was a bit nervous about the cage (I really thought I'd get stuck), but all was well—no Jaws of Life needed—and conquering our first obstacle put me at ease enough to tackle the next obstacle. 
Comfortable anxiety aside, Savannah Waszczuk and Lillian Stone strapped in for an adventure on the ropes course.
Releasing Our Inner Warriors
Next we headed down a few stairs and gave our best shot at the warp walls. Fritz's has three of these curved creations—I'll call them short, medium and long—with one being the same height as the wall on the American Ninja Warrior show. Lillian and I gave the shorty a shot, and ahh! It's fun, a bit scary and much harder than it looks. It's safe to say neither of us will be debuting on the show anytime soon. 
What Goes Up Must Come Down 
Brynn and I braved the trio of treehouses designed for climbing and crawling. Step after step and leg lift after leg lift, we finally made it all the way to the top, then we sat down to take in the view (and a few breaths) before we hopped on the 32-foot spiral slide and headed back down. That slide was one of my favorite things—I felt like I was flying down it, but it also felt like it took forever.
The city wall obstacle offers all the challenge of a rock wall with the look of a city central brick wall.
Underground Explorers
Once we crawled through the entryway of the massive shipping container construction, we discovered an expansive hidden land filled with dozens of obstacles designed for climbing and crawling—it even gave us access to tunnels that weave under the floor! Lillian and I entered this particular adventure together, and after feeling like we had squat-walked our way through at least 15,000 feet of the 30,000-square-foot space, we saw the light—and then we peeked our heads out of the very tunnel we entered through just a few minutes earlier. Fail. 
Learning the Ropes
Perhaps the most eye-catching adventure of all (especially from the street) is a three-story ropes course that consists of 51 elements. If you're worried about your balance (or lack thereof), don't be—you'll be extra-safe and sturdy in a harness as you tackle this beast. That's what they told me, and that is indeed a fact. But I was still a bit terrified. "Are you nervous?" I asked Lillian as we waited our turn. "I wouldn't say nervous—it's more of a comfortable anxiety," she said. Because she was less fearful, I let her go up first and watched her before I braved anything myself. Hey, what are friends for, right? We tackled four or five paths, and I'm proud to report that I still came home to write this story. Sure, the ropes wobble a little here and there, but with an eyes-on-the-prize attitude, I made it out alive and even (sort of) accepted the occasional wobbliness as part of the fun. 
Eyes on the Summit
Kevin, Brynn and I finished up our day by strapping into harnesses and testing our climbing skills at the city wall, a rock climbing-esque creation that offers three levels of difficulty. Have I ever mentioned that I'm also kind of nervous about rock climbing? Well, Kev tried the hardest track and Brynn tried the mid-level, and within a matter of seconds they had both made it to the top and rang their bells as proud victors. I watched like a sad little townsperson below. But next it was my turn. Instant problem, though—the easiest path up was closed during our visit! Being a good sport, I tried to brave my way up path No. 2, but I decided it was time to come down when I made it about halfway up. Some would call it failure, but I just call it proper planning—with that ropes course in the books, I had to save myself another fear to conquer on my next visit.