Reviews
Cesar's Old Mexico
After 18 years of working at Cielito Lindo, Cesar Ortiz has branched out on his own with a restaurant serving authentic Mexican cuisine inspired by his childhood.
By Vivian Wheeler | Photos by Brandon Alms
May 2016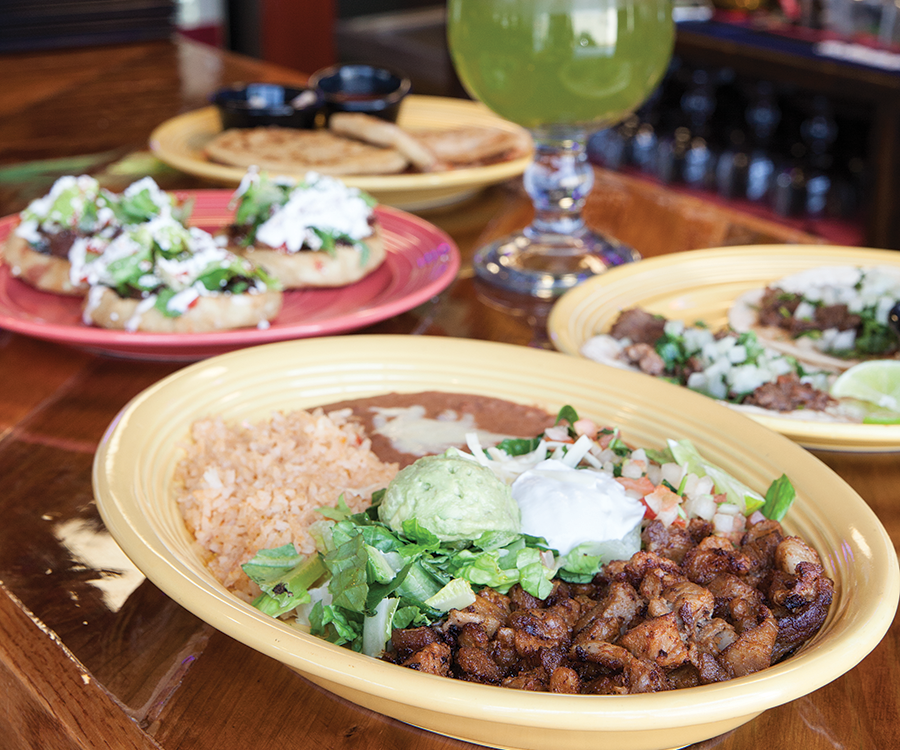 3027 E. Sunshine St, Springfield, 417-881-8252
Open Mon.–Thurs.., 11 a.m.–8 p.m.; Fri.–Sat., 11 a.m.–9 p.m.
$
Cesar's Old Mexico, based solely on word-of-mouth recommendations, has quickly become a popular spot to score authentic Mexican food. After hearing rumors of to-die-for pupusas and in need of a couple of drinks, my friend Cortney McAllister and I headed to Cesar's Old Mexico for dinner. 
One of the simple joys in life is the free and almost immediate chips and salsa that arrive when you sit down at a Mexican restaurant. Even when the salsa is subpar, I can't help but overindulge, but if the salsa is really good, well, then I'm in trouble. The salsa at Cesar's Old Mexico is really good. It's spicy, salty and fresh. The chips are thin and crispy with just enough grease to mark them with the irresistible gleam of being fresh out of the fryer. Good chips and salsa are one of the signifiers of a decent Mexican restaurant, as is a solid margarita. 
It had been one of those weeks for the both of us, and we each opted for a skinny margarita. Made with tequila, lime juice and agave, the margarita was not too sweet and packed a punch. It was exactly what we needed. 
Cesar Ortiz was born in Mexico and moved to Springfield in 1995. After working for his brother, who owns Cielito Lindo, for 18 years, he was more than ready to open his own place. But Ortiz was determined to do something different. Instead of focusing on the tried-and-true Mexican favorites that can be found at numerous places in town, Ortiz wanted to showcase authentic dishes from a variety of regions in Mexico. Some dishes like the birria tacos are from Jalisco, the state in Mexico where Cesar was born. The recipe for the carnitas came from Michoacán, which is known for its carnitas. Ortiz's wife, Sandra Gonzalez, was born in El Salvador, and while most of the menu is Mexican, you can find Sandra's influence where it matters. For starters, pupusas are Salvadoran. You'll also find Salvadoran dishes popping up as specials of the day. 
The menu is rather large and can be overwhelming. Cortney and I decided to order a bunch of different items to share. We started with guacamole, another one of those signifiers, and gobbled it up quickly. For our entrees we opted for the carnitas, a birria taco, sopes and a pupusa. Cesar's makes the pupusas from scratch every day. Pupusas are made by taking masa and creating a thick tortilla that is stuffed with beans, cheese and finely ground spiced pork. It's then grilled. The result is a crunchy-on-the-outside and soft-on-the-inside pocket of goodness. It comes with a side of pickled cabbage that provides a nice complement to the savoriness of the dish. The flavor of the masa alone is worth ordering one.  The birria tacos were spicy with hints of garlic, cumin and tomatoes shining through. Tacos at Cesar's are served traditional style with a simple garnish of onion, cilantro and guacamole. 
One thing I appreciated about everything I tried at Cesar's was the balance of the dishes. Each item had a fresh element that played off of the richness of the dish. Take the sopes, for example. Each one has a base of fried tortilla and is topped with your choice of meat, Mexican cheese, lettuce and tomato. Dishes are not drenched in sauce or smothered in cheese. The food here has a bit more subtlety and nuance than your average Mexican place.
We stayed until the staff started putting up barstools. That was our cue. Minus the margs, our food came to whooping $16. With full stomachs and wallets, we headed home. 

Q & A With the Owners of Cesar's Old Mexico
417 Magazine:  How did you two meet?
Cesar Ortiz: At Cielito Lindo. I was working and she was a customer, and we just liked each other and started dating. 
Sandra Gonzalez: I asked him out. I came in with my son and said, "We should get together sometime." The rest is history. 
417: How is it working as a husband-and-wife team? 
SG: We actually make a good team. I help out behind the scenes, and he takes care of the kitchen. 
417: Where else do you like to eat in Springfield?
SG: We like to eat at Amigo's Mexican Restaurant. We have friends there, so on Sundays we don't cook, we go out to eat. We have four kids, so we have the down time with them on Sundays. 
417: What challenges have you encountered along the way?
CO: Finding the right place. I didn't like this place when I first saw it. 
SG: Everybody thought we were crazy.
CG: It was so small, and it wasn't what we were expecting to see.