Dishes
Corn Nuggets at Mama's Style Kitchen
Plus six other things that passed the test of our taste buds.
By The Editors
May 2016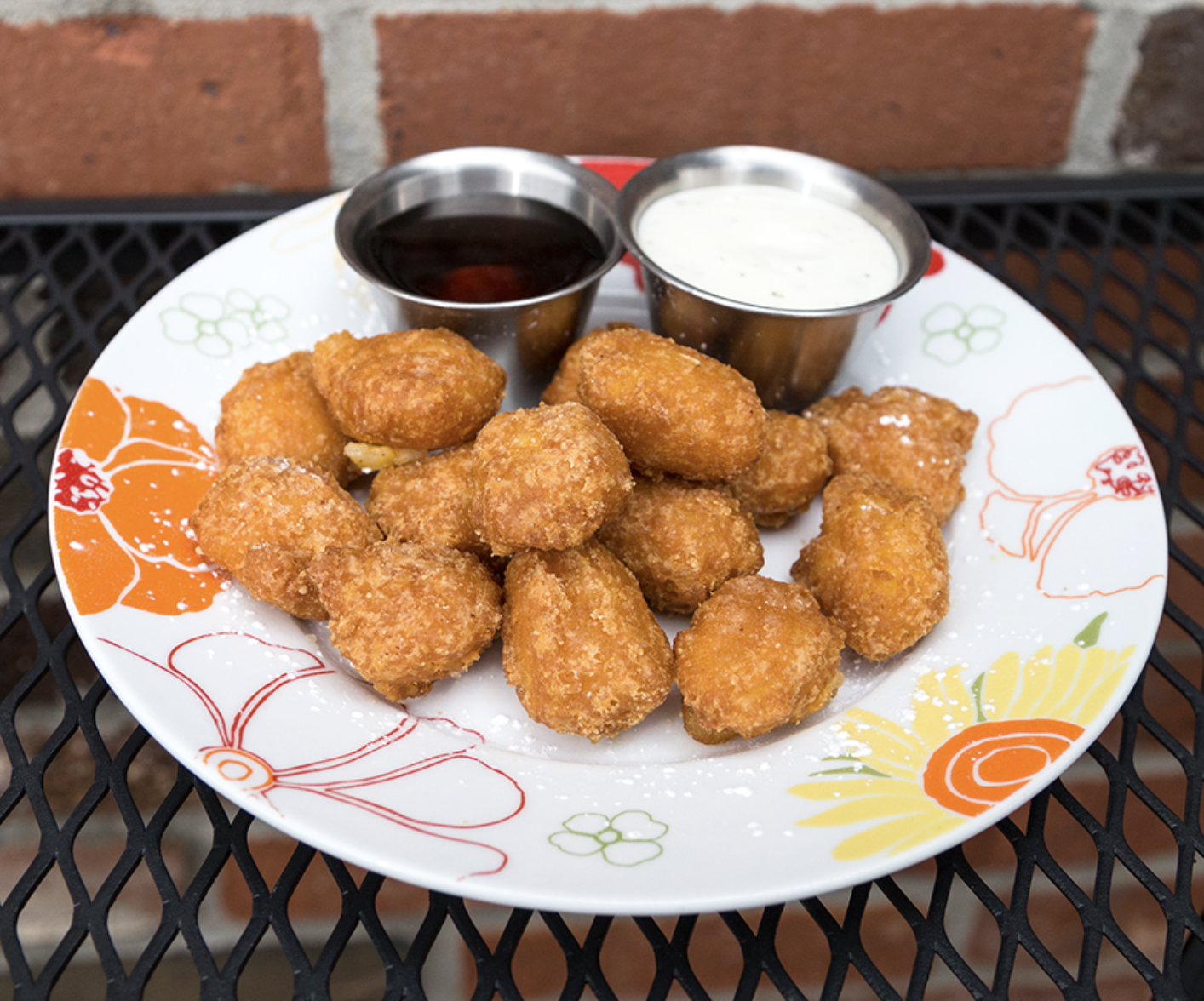 1. Corn nuggets might sound a bit strange, but they are delicious. Creamed corn is battered, deep fried and served with a side of ranch or maple syrup. You can find these little balls of goodness at Mama's Style Kitchen (206 N. 1st St., Ozark, 417-486-3330).
2. At The Golden Girl Rum Club (137 Park Central Square, Springfield, 417-425-5162, thegoldengirl.com), they dress Brussels sprouts in whole-grain mustard and roast them in the oven. The result is a tasty batch of crispy cruciferous veggies. (Editor's note: Golden Girl's menu frequently changes. Swing by or give them a call to check on the status of this tasty dish.)
3. Roast beef that has been braised in tomato sauce and red wine makes the ziti from Bambino's (1141 E. Delmar St., Springfield, 417-862-9999; 2810 E. Battlefield, Ste. D, 417-881-4442, bambioscafe.com) extra decadent. 
4. The pork gyoza from Teriyaki House (1128 S. Glenstone Ave., Springfield, 417-866-6888, teriyakihousesgf.com) are some of the best dumplings in 417-land. These little meat pockets are super-moist and are served with a homemade sweet soy and chili sauce. 
5. Did you know you can get any of the 29 flavors of wings from Coyote's Adobe Cafe (1742 S. Glenstone Ave., Springfield, 417-889-7120; 807 N. Main St., Nixa, 417-725-6803, coyotes4wings.com) twice fried? Well you can. We like the garlic and herb wings, which are dry rubbed with a Parmesan and herb mixture and fried to a perfect crunch. 
6. We can't get enough of the deluxe pizza from Pizza House (312 E. Commercial St., Springfield, 417-881-4073, springfieldpizzahouse.com). Sausage, pepperoni, onion, green peppers, mushrooms, black olives and cheese top the restaurant's signature thin crust. 
7. Nothing tastes better in the morning than a fresh, flaky, buttery croissant, and no one makes them better than European Cafe (207 Park Central East, Springfield, 417-942-5055, 417europeancafe.com). (Editor's note: European Cafe's menu rotates on a seasonal basis. Call ahead if you're desperate for a croissant!)