Spaces
Flower Power
Get outside and enjoy Missouri's showiest season. With several months of vibrant blooms, 417-land's flowering trees and bushes are sure to brighten your day.
Written by Lillian Stone | Photo by Chuck Travers
May 2016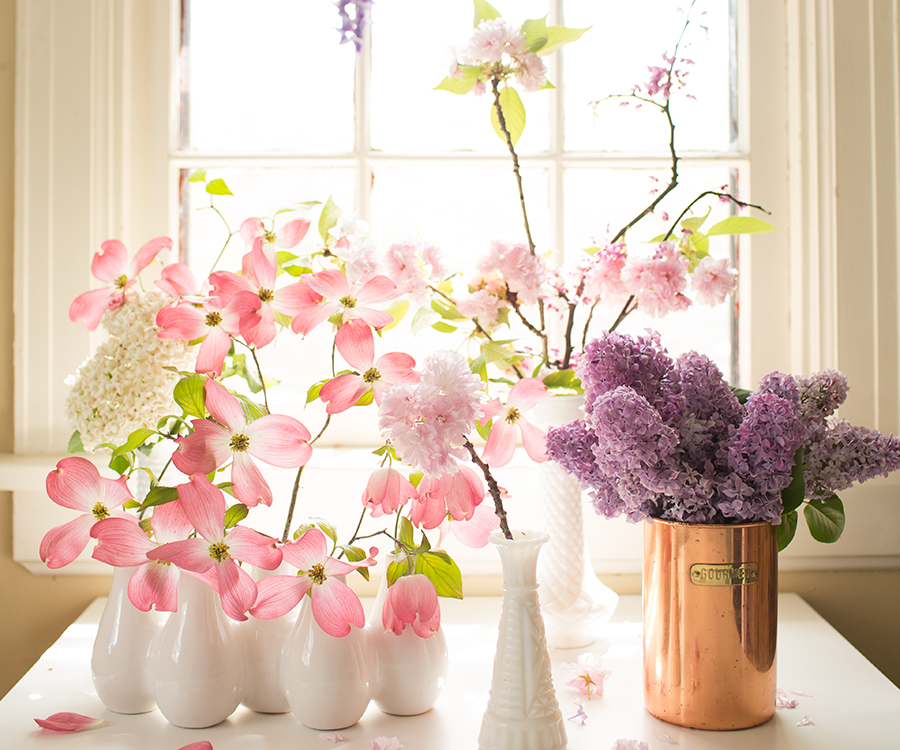 It's no secret that 417-land is home to some truly breathtaking outdoor views. As the weather warms, Missouri's native foliage puts on quite a show. Area gardeners can also join in the fun—there are several trees and bushes that thrive in Missouri's climate. Nikki Petitt, nursery manager at Wickman's Garden Village and a trained arborist, explains the appeal of flowering trees for homeowners. According to Petitt, an avid gardener, spring blooms add to the look of a home, create a home for wildlife and provide a reason to spend more time outdoors after a chilly winter. "I think spring blooms do provide a very good mood lifter," she says. "The weather warms, and people are anxious for a beautiful bloom after the cold winter. You'll see more people out walking and enjoying the flowering plants." For those of us lacking a green thumb, there are plenty of opportunities to get outside and check out Missouri's blooms. From the early blooming serviceberry, which sprouts its trademark white flowers in March, to the popular lilac bush, generally flowering in May, it's hard to miss 417-land's spring showcase.
These popular flowering trees and bushes are all sold at Wickman's Garden Village (1345 S. Fort Ave., 417-862-3707). We spoke with the Missouri Department of Conservation to get the scoop on the state's most common spring blooming branches.
EASTERN REDBUD
You'll see this native tree's showy pink blooms popping up early in the spring season. The Eastern redbud is usually one of the first trees to bloom, flowering from March to May. After flowering, the Eastern redbud grows vibrant green leaves. Plant this tree as a sapling of two to three feet and enjoy visits from honeybees, deer and hummingbirds as it grows to its full height of 15 to 30 feet tall. 
PINK DOGWOOD
Missouri's state tree, the flowering dogwood, grows as a shrub or small tree with a wild springtime bloom. Pink dogwoods, cultivars of flowering dogwood, produce flashy pink flowers instead of the standard white blooms.
KWANZAN CHERRY
Native to China, Japan and Korea, the Kwanzan cherry tree has become widely planted because of its impressive white and pink spring blossoms. Although the Kwanzan cherry is not native to Missouri, the tree is easy to find and makes a great addition to your home display. A cultivar of the Japanese flowering cherry tree, the Kwanzan cherry grows to be about 25 feet in height.
LILAC BUSH
This low-maintenance shrub is a favorite for easygoing gardeners. The gorgeous, fragrant lilac bush thrives on sunlight, fertile soil and space to grow. Native to the Balkan Peninsula, these late bloomers generally show up in May. The lilac's pretty purple flowers allows you to impress your neighbors with very little effort.
WHITE LILAC BUSH
Gardeners interested in the low-maintenance purple lilac are sure to love the delicate blooms of the white lilac. The standard lilac has hundreds of cultivars, and the white lilac is no exception. The white lilac's snowy blooms grow in the same manner as the purple plant and add a fresh look to your neighborhood.
WISTERIA VINE
We spoke with Wickman's Nikki Pettit about the popular wisteria vine. Commonly known as the wisteria tree, this bloomer is technically a vine. The wisteria vine can be "trained" to a tree form with stakes as it blooms its iconic cascading purple flowers. Although the most popular wisteria vine is native to Japan, there are variations of the vine and several members of the wisteria family that are native to Arkansas and other parts of the United States.