Travel
Take a Trip to Pella, Iowa
You don't need a passport to enjoy a weekend full of European charm. Pella, Iowa, is a quaint spot six hours north of Springfield. Enjoy the town's Dutch influence as you explore the historic downtown area and check out this month's annual Tulip Time Fest
Written by Lillian Stone | Photo courtesy Royal Amsterdam Hotel
May 2016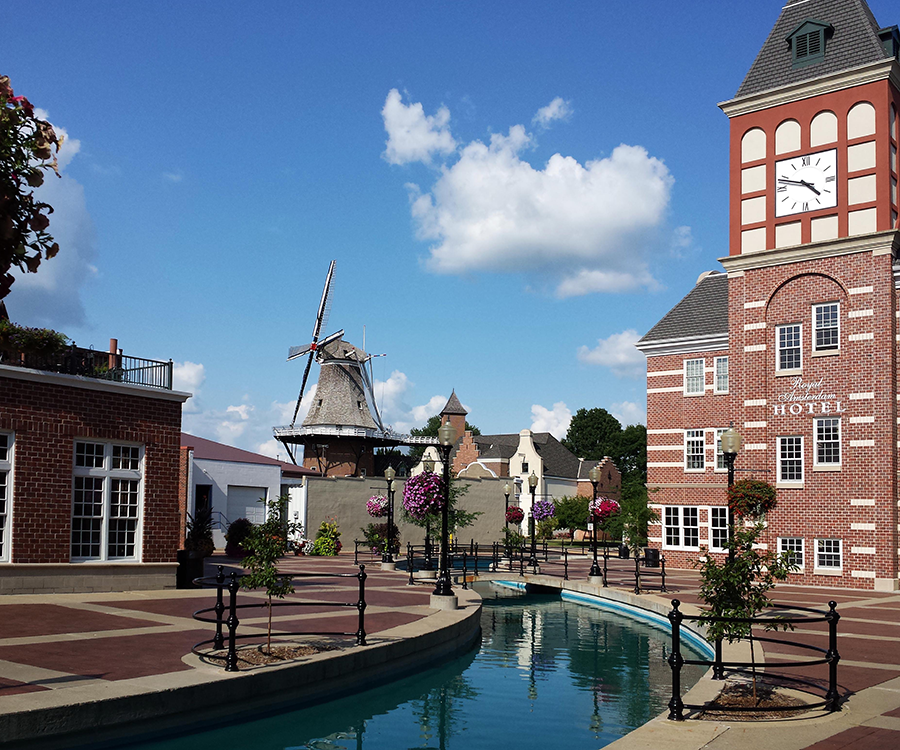 A Touch of the Dutch
Founded by Dutch immigrants in 1847, Pella is "America's Dutch Treasure" in the heart of Iowa. Visitors can explore Pella's historic downtown and several other quaint spots the area has to offer. The Klokkenspel (625 Franklin St., Pella, Iowa) is a traditional Dutch carillon clock located in downtown Pella that chimes hourly throughout the day. Visitors to this popular attraction can also relax in the scenic courtyard. The nearby Molengracht Plaza (700 Main St., Pella, Iowa), a replica of a Dutch canal, is home to several local businesses. Visitors can enjoy this hub of Old World charm while browsing Pella's boutiques, stores, bakeries and meat markets. Frisian Farms Cheese House (2098 Fisher Ave., Leighton, Iowa; 641-204-2222), located just outside of Pella, offers traditional Dutch gouda cheese. Visitors can experience the classic Dutch cheese-making process and sample fresh Frisian Farms gouda.
Taste
Jaarsma Bakery (727 Franklin St., Pella, Iowa; 641-628-2940) offers visitors a taste of Holland. The bakery is family-owned and -operated and has been delighting the Pella community with traditional Dutch treats for more than a century. The bakery's famous Dutch Letter pastries are a hit with visitors to Pella's annual Tulip Festival. Visitors looking for a heartier option can check out the Windmill Cafe (709 Franklin St., Pella, Iowa; 641-621-1800) for a full lunch menu, breakfast served all day and Greek specialties. This local favorite has also been voted "Best Breakfast in Marion County."
Kick Back
Located one block from downtown Pella, the Royal Amsterdam Hotel (705 E. First St., Pella, Iowa; 641-620-8400) offers a truly continental experience for a weekend getaway. Guests can enjoy a relaxing night in one of the Royal Amsterdam's luxurious rooms within walking distance of Pella's charming boutiques and classic Dutch bakeries. The hotel is located across the street from Vermeer Mill (714 E. First St., Pella, Iowa; 641-620-9463), the largest working Dutch grain windmill in the United States. The Royal Amsterdam also has an in-house restaurant and lounge (Monarchs Restaurant and Lounge, 641-628-1633), offering Italian cuisine, seafood, steaks and Dutch-inspired classics.    
Holland Calling
Schedule your visit to Pella for the first weekend in May and experience the 81st annual Tulip Time Festival (Call 641-628-4311 for more information or to purchase tickets). The 2016 festival is May 5, 6 and 7 and celebrates Pella's heritage. Thousands of Pella's residents don Dutch attire and take guests back in time to a Dutch village bursting with spring flowers and history. The festival includes a city tour, an open tulip garden and flower show, Dutch food and an emphasis on historic village attractions. Ticket prices vary based on attractions.