Spaces
Restore Your Floor
Two local experts share their tips, tricks and trends for staining your own hardwood floors.
By Daniel Snyder
May 2017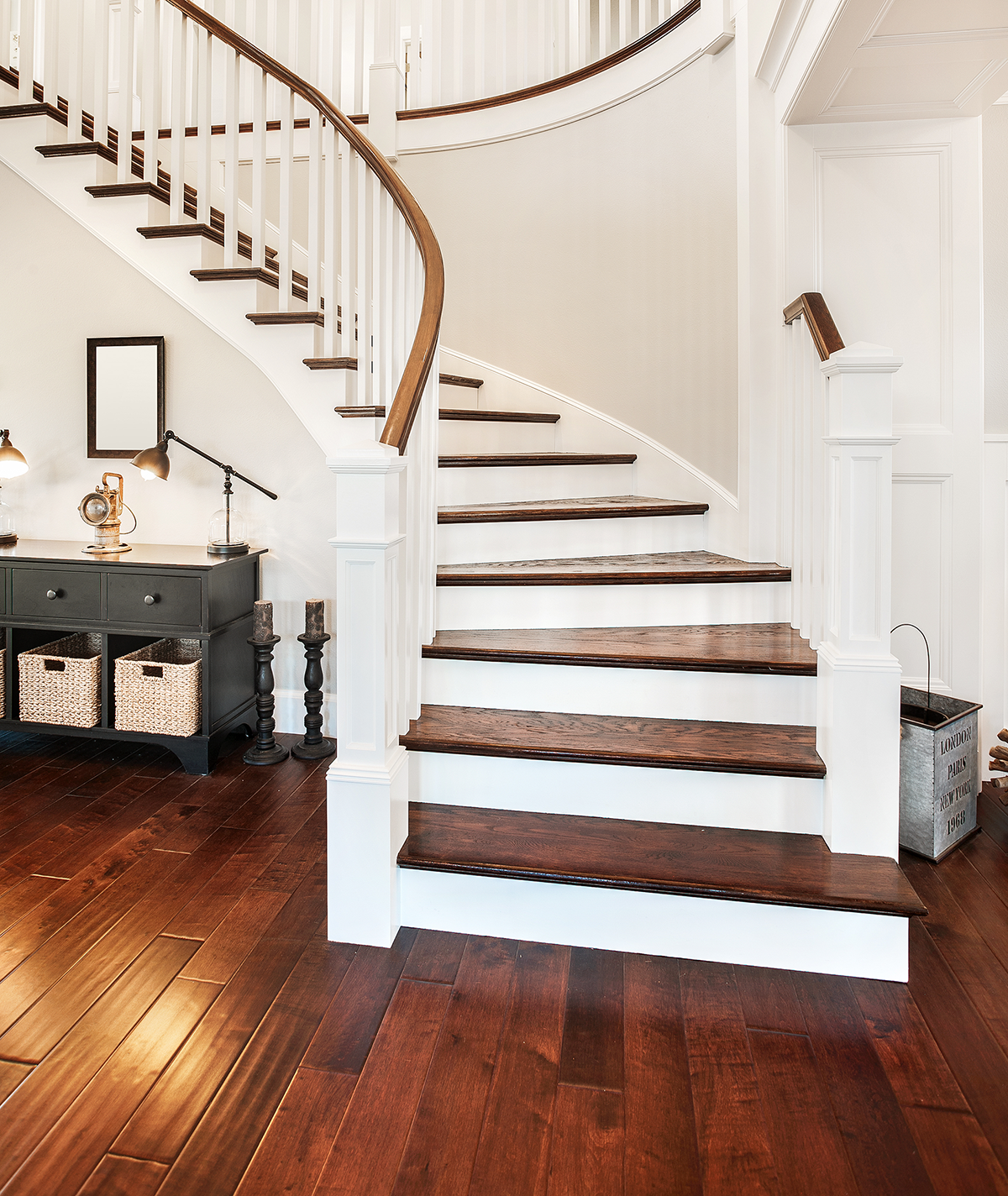 After spending those cold winter months sitting at home with loved ones, maybe you noticed it's time for a different stain on your wood floors. We have you covered. We spoke to some of 417-land's top companies about the best way to stain your own floors. 
Where do you start? 
Davin Lawson, owner of Signature Wood Floors, suggests making sure you have the necessary machinery capable of clearing the floor. "That means sanding and getting all the finish off and getting down to raw wood," Lawson says. He suggests four different pieces of equipment: an edger, a belt sander, a buffer and an orbital sander. Once the sanding is completed, Lawson recommends staying out of the area. "Once you get [the floor] ready for accepting stain, it's important to keep as much traffic off the floor [as you can]," Lawson says. "Don't drag your feet across it, otherwise you'll close the grain down."
What color stain looks best in your home?
Steve Smith, owner of Classic Wood Floors, recommends using the same brand of stain and finish to ensure compatibility. You should also know what species of wood floor you have, whether it's red oak, white oak, hickory or another variety. "[You] probably want to make or request a sample of the stain color on that particular wood, because the same stain will look different on different woods," Smith says. Lawson suggests putting stain samples on different parts of the floor, especially in areas with more traffic or different lighting. Choose a stain color that coordinates with existing cabinets and trim in the home. 
"It depends on the style of the home," Lawson says. "A ranch-style home would complement browns and natural colors. A modern style home leans more toward black and gray stains. Mainly it's up to people's preference. We always try to give a recommendation based on the style of the home, what types of furniture they have, what kind of light they have and if they have children or pets."
What's trending in hardwood floors?
"There has been a recent trend to darker-toned stains in the last few years, and most recently there's been trends toward gray tones," Smith says. Lawson agrees: "Right now we're seeing a lot of rustic material and gray and black material. There's not much in between. It's either rustic or modern." Older, more contemporary homes lean more toward natural colors, but more modern homes seem to trend more toward gray and black tones.
Okay, so you've got the equipment and the color. Now what? 
After sanding to the raw wood, it's time to apply the stain. Lawson's company stains floors by hand with one person putting the stain on with a rag and another following behind drying it off—a process called back-wiping. Allow the stain to dry for 24 hours, and then Lawson recommends applying at least three coats of polyurethane, sanding between coats using an orbital sander. 
Smith applies a similar process and recommends that DIYers visit the National Wood Flooring Association's website (nwfa.org) for guidelines on installation and finishing of hardwood flooring. Be sure to keep everything clean during this process, because anything that happens to the wood will show up in the final product. After you've finished this part, it is important to maintain the floor correctly. Lawson says to clean the floor with hardwood floor cleaner or a 3-to-1 mixture of water and vinegar. Be sure to avoid Swiffer, Pledge or Orange Glo floor cleaners, and never steam mop hardwood floors.