MEs Place
The culinary duo behind MEs Place in Joplin shares some of its favorite soul food dishes with friends, family and customers.
By Ettie Berneking | Photo by Kevin O'Riley
Nov 2014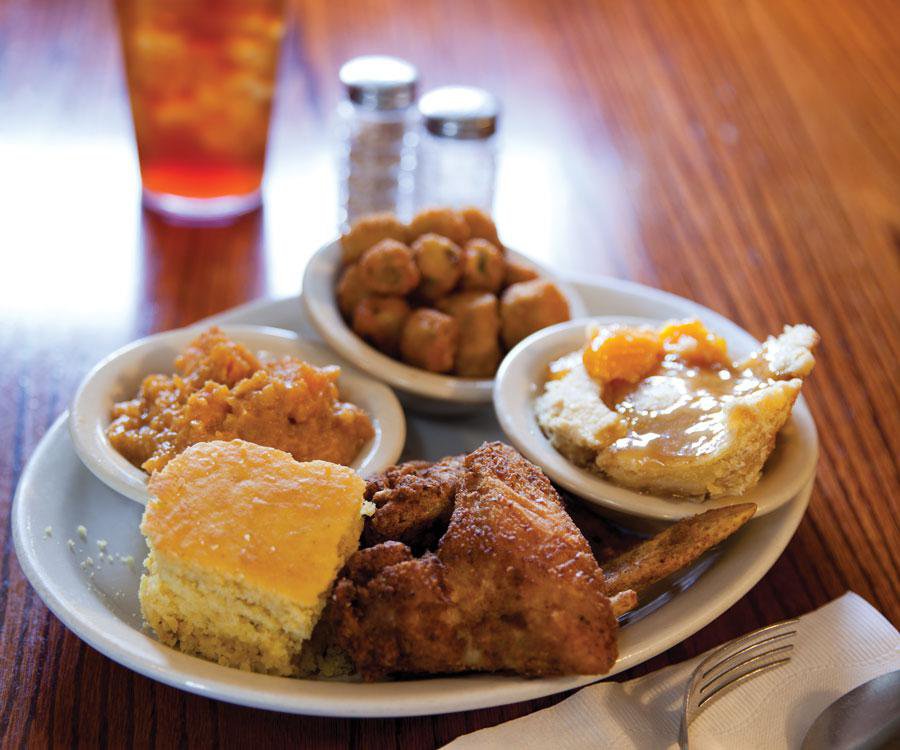 When someone hands you a plate of piping hot fried chicken, what do you do? Well, if you're me, you grab a pile of napkins and look around to make sure no one is watching. Despite having total faculty of my hands, I've yet to master eating fried chicken without it becoming a hot mess. And when a road trip to Joplin landed me at a small soul food restaurant, I was reminded once again that I should only eat this treat in absolute privacy. Luckily, when I took a seat at MEs Place, the only other people in the restaurant were soon-to-graduate high school seniors who were busy talking about whether Beyonce and JayZ were headed for divorce. 
If the buzz about the tantalizing, made-from-scratch fried chicken at MEs Place hasn't yet reached your ears, it's likely you'd never stumble upon this tiny soul food joint. Tucked away in a small neighborhood not far from Main Street, MEs does a good job of keeping it simple. There aren't any flashy signs advertising the great food inside, and the décor is bare bones. But even without great curb appeal, the parking lot is nearly always full.
The daily specials here change constantly, but the fried chicken is one tried-and-true delight you can get any day of the week. Quick warning: the chicken here is made-to-order, so be ready to settle in for a little while. In order to get a true sampling of the MEs soul food spread, I ordered a hefty round of fried chicken, mashed sweet potatoes, cornbread, fried okra and peach cobbler for dessert. With a tall glass of iced tea in hand and Barry White crooning overhead, I opened a book and settled in for lunch. 
It wasn't long before my small table was covered with plates of delicious food. With so many tempting options in front of me, I wasn't sure where to start. My server, co-owner William Kean, recommended the mashed sweet potatoes, so I dove fork-first into the pile of orangy goodness. With plenty of brown sugar sweetness and a touch of butter, this starchy treat was a definite win. For the first half of my meal, I alternated between mouthfuls of sweet potatoes and fried okra before moving my attention to the plate of crispy fried chicken.
Like I said, I have no idea how to properly eat fried chicken. I usually start with a fork and knife, but by the end, it's all hands on deck. This was no exception. The two jumbo chicken wings that come with each order were perfectly crunchy and piping hot. I splashed on some tangy vinegar and went to town. The crunchy layer of breading was easily my favorite part. It was peppery and crisp and not weighed down with grease, and the meat was tender and juicy. By the end of the meal, I was digging deep into the chicken wing in order to get every tasty morsel. And I didn't care who saw! 
After devouring the chicken, I rounded out my meal with the homemade peach cobbler, which came heaped in a small bowl. It was nearly overflowing with sweet filling and soft bites of cinnamon-y crust. There was a sweet layer of crunchy sugar on top. Nothing beats homemade fruit cobbler. Nothing.
I headed home with a very full stomach and a to-go box filled with leftover fried okra. I might not be a pro when it comes to getting down and dirty with my fried chicken, but I definitely know how to enjoy each and every messy bite. 
Q&A with Co-Owner Melodee Colbert Kean
417 Magazine: When you opened MEs in October 2013, how did you choose its
location?
Melodee Colbert Kean: I grew up around this area, and this spot was a popular hangout. These are our roots.
417: What made you decide to open a soul food restaurant? 
M.C.K.: This type of food isn't available in this area, and we hoped we could get people to say this reminds them of growing up and going to Grandma's. 
417: Where did you learn to cook?
M.C.K.: My husband and I both cook. It came from my grandma and aunties and mom and cousins. It was a family thing growing up. We shared family recipes, and now those recipes are in the MEs kitchen.
417:  Were there certain recipes that helped start MEs?
M.C.K.: The fried chicken is the one thing we knew we wanted on the menu. It was a staple at our Sunday family meals, and now we take a lot of time to put all that goodness in there for our customers.
417: How would you describe your version of fried chicken?
M.C.K.: We want the combination of tasty and just the right amount of crunch. We don't want it to be overwhelming or batter-y. We want you to be able to taste the chicken.
417: What's your style of cooking?
M.C.K.: Nothing is measured. It's a pinch of that and a dash of this. We call it love on a plate, because that's what we're cooking with.
417: How do you define good soul food?
M.C.K.: A lot of people wonder what soul food is. I don't really know if there's one way to describe it. Some say it's Southern comfort food, some say it's home cooking. I say it's all of those combined that give you a good feeling in your soul. It should remind you of being at home with your family.
417: What's the inspiration for the menu?
M.C.K.: A lot of the menu came from things we grew up with, but we're open to suggestions from customers. One time we had a request for neck bone, and it sold out! 
417: Where is the restaurant name from?
M.C.K.: It's the initials of my first and middle names. It's a conversation piece. 
417: What was your favorite dish growing up?
M.C.: Homemade mac and cheese was always a favorite, or mashed potatoes. But the kind where they're whipped but still have enough texture so that they're not too creamy. Mix those with fresh sweet corn and serve it with meatloaf. It's so good!
417: What is one of MEs most popular dishes?
M.C.: The collard greens. Those were served every week for our family. Everyone asks us how we make ours, but you know what, I promise I probably cook them differently every time. Sometimes I'll put in a little more ham hock or a little more of this or that. It's all in the seasoning and not overcooking them.
Collard Greens Recipe
Ingredients: 
8 bunches collard greens
Smoked ham hocks
Bacon fat
Salt 
Pepper
Onion
Directions:
Thoroughly wash the greens, 4times minimum. Tear off stems from leaves. Tear leaves into thirds sections. Place in large pot, ham hock, salt pepper, onion, boil for about 30 mins. Add greens to pot. Add more water to cover leaves. Simmer until leaves are tender...(they will reduce greatly in the pot), add bacon fat add water as needed while cooking. Cook for about 2-3 hours