Reviews
Salvatore's Fresh Ristorante
Salvatore's Fresh Ristorante Italiano in Ozark is serving up a wide variety of freshly made pastas, pizzas, sandwiches and more.
By Savannah Waszczuk | Photos by Brandon Alms
Nov 2014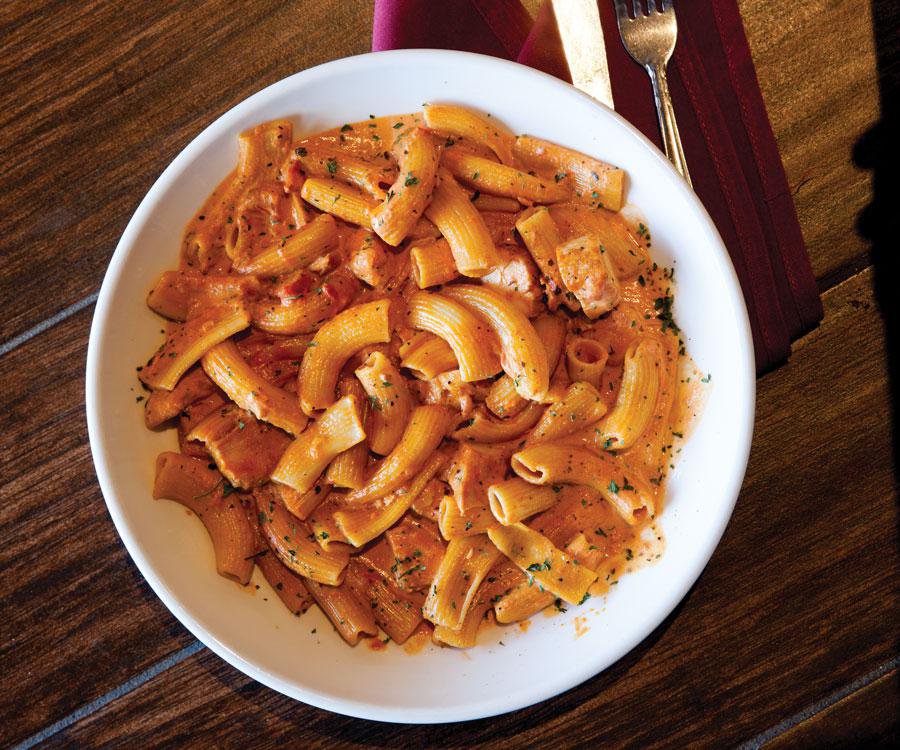 There's something different about homemade pasta. First of all, there's the texture. It's tender and delicate, yet a bit thicker than your regular box noodles. And then there's the bite. If you've tried homemade pasta before, you know what I'm talking about. It takes a bit more effort to chomp through the stuff. You could almost say it bites back.
As a major fan of the homemade stuff, I bought a pasta machine awhile ago and dabbled with making it myself a few times. It turned out great, but it takes a lot of time and effort. When I'm craving a pile of homemade spaghetti and meatballs, I want it fresh, and I want it now! That's why I was so excited when I heard about Salvatore's Fresh Ristorante Italiano, a restaurant in Ozark that makes all of its pastas, breads, pizza doughs and more from scratch daily.
On a recent Friday afternoon, Assistant Editor Ettie Berneking and I headed to the spot for lunch. The restaurant has giant front windows, so natural light pours around the tables and booths inside. There's a prep area where you can actually watch pasta being made, and there was a batch of fettuccini in process while we were there. We loved it! 
Salvatore's menu is loaded with a selection of appetizers, soups, salads, homemade pastas, pizzas, sandwiches and burgers, so it took us a while to decide what we wanted. We started things out with the arancini balls, which are fried rice balls with a melted mozzarella cheese center. Rice? Good. Gooey mozzarella? Good. Crispy fried exterior? Good!
I knew I wanted to try the homemade pasta for my entree and finally settled on the Wicked Chicken Riggi's. The dish is made with adorable little homemade rigatoni, each offering plenty of that fluffy texture and feisty bite I mentioned earlier. The tender little treats came coated in a spicy red cream sauce made from a blend of chipotle and serrano peppers, a touch of cream and the restaurant's Mama sauce, which is made fresh daily from a recipe the owners learned in Italy from Mama Agata herself.  The sauce was robust and flavorful, and the hint of cream helped balance out the heat from the peppers. The bits of grilled chicken were surprisingly juicy, and they acted almost as a bonus to my incredibly delicious entree. We were served freshly baked baguette and herb butter when we arrived, and I used a hunk of bread to sop up more of that tasty sauce.
Ettie decided to try out Sal's White Pizza, a pie with homemade white sauce, grilled chicken, broccoli, red onions, tomato and a blend of mozzarella, cheddar and aged Parmesan cheeses. She shared a bite with me, and we both agreed that we absolutely loved the homemade crust. It wasn't too thick or too thin, and it had a nice crisp bite. We didn't taste much in the way of sauce, but we did enjoy the variety of veggies, and I personally loved the massive amount of cheese melted over the pie. It was stringy, gooey and melty! If you like cheesy pie, you'll like the pies at Salvatore's. 
When we were both so extremely overloaded with carbs that we were starting to hurt, we threw in the towel, got a couple of to-go boxes and headed back to the office. We had full bellies and ear-to-ear grins, and now we know exactly where to go when we're craving fresh pasta and pizza.
3 Questions  with co-owner Jerry DeMoro
417 Magazine: How did you end up opening Salvatore's?
Jerry DeMoro: My wife, Judy, and I owned a couple of restaurants in our youth, and we've managed restaurants for a couple of corporate places. For the last 30 years, we've been working making children's gifts, but once we retired and took a trip to Italy, we decided it was time to start our own restaurant.
417: Where did the restaurant get its name? 
J.D.: My full name is Salvatore Jerome DeMoro III. My son is the IV, and his son is the V. Calling it Salvatore's was a no-brainer.
417: What's the specialty at Salvatore's?
J.D.: We make nearly everything fresh every day, but if I had to pick one thing that sticks out, I'd say the freshly made pastas. That's what people just keep coming back for.