Style
Sophie
One of Joplin's favorite boutiques moves into a new space along Main Street and brings in even more women's clothing and accessories.
By Ettie Berneking | Photo by Kevin O'Riley
Nov 2014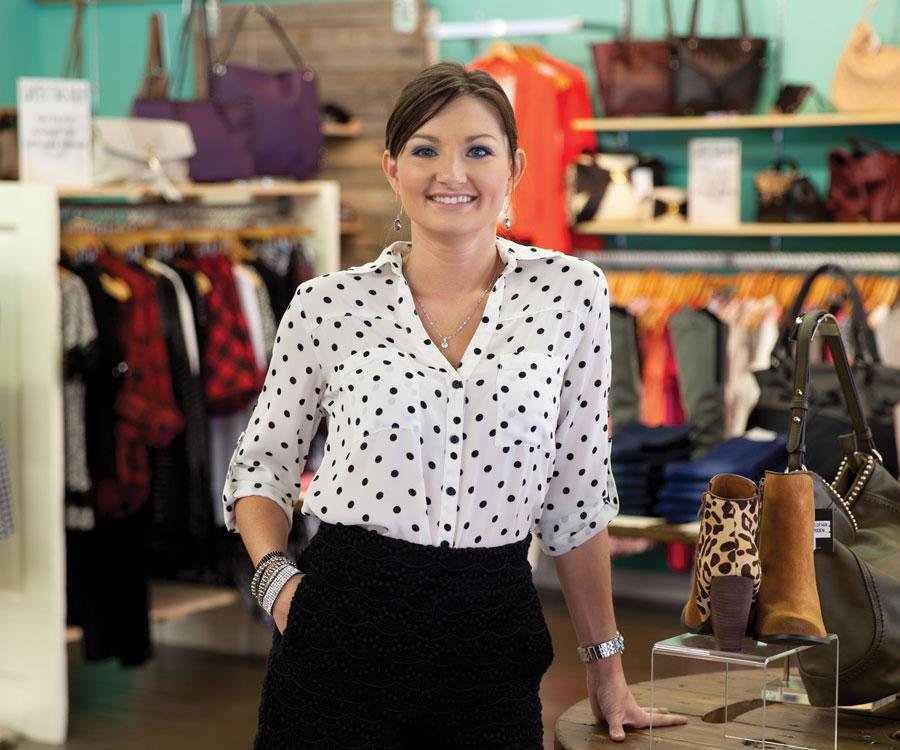 For customers who already regularly shop at Sophie in Joplin, the store's recent relocation and expansion probably won't come as a surprise. This local shoe boutique is on its third location thanks to a rapidly growing customer base, and already, the new space is filled with women's shoes, clothing, accessories and bags. 
Situated on the first floor of The Ramsay Building along the main drag through downtown Joplin, Sophie moved into what used to be a department store and filled the 3,000-foot space with its collection of on-trend women's fashions. The stylish mastermind behind Sophie is the bubbly Ashley Wakefield, who opened the shop when she was just 22 years old. While others were busy celebrating graduating college, Wakefield hurried across that stage, tossed her cap and then headed over to the bank to apply for a business loan.
The idea for Sophie came from a class project where Wakefield had to create a business plan as part of her fashion merchandising degree at Missouri State University. "I knew I wanted to make a business plan that would be realistic and doable," she says. "As I was working on this, I actually found my first location for Sophie and started sourcing the shoes I wanted to sell." 
With a well-thought-out business plan in hand and plenty of go-get-'em spirit, Wakefield opened Sophie just seven months after graduating college. Doors opened in 2007, and Wakefield welcomed customers to Joplin's very first shoe boutique. "We didn't have a shoe store in town," she says. "Really there was only one boutique in town [at the time], Upstairs Boutique, which is across the street from me now."
Three years after opening, Sophie had outgrown its space and moved into a storefront a few doors down. With more space to play with, Wakefield started selling dresses and denim. When customers requested more women's clothing, Wakefield started looking for a bigger and better location.
When she learned about the vacant department store in The Ramsay, it was a no brainer. This spot was perfect. Dark stained floors and bright teal walls accented with white trim reflect Wakefield's personality, and the spacious front windows display vintage mannequins draped in on-trend dresses and jeans with plenty of chic accessories tucked in. 
Even with a whole collection of women's clothing on display, shoes still come first for Wakefield. All 75 to 100 styles that come in each season are displayed along one wall with boots, flats and heels getting their own shelf. "My own closet is organized by color, and the shoes are organized by heel height," Wakefield says with a laugh. Jeans are across the store and are stored in wooden crates. Racks of dresses, tops and skirts are flanked by purses and bags set out on display. The middle of the store is dedicated to black shelves that house the store's collection of necklaces, watches, earrings and bracelets. 
It's a shopping paradise in here. And the best part is the price point. Almost everything here rings in for under $100. Great style, great prices and great options unite for a great shopping experience at Sophie.
Our Favorite Finds
Q&A with Sophie owner Ashley Wakefield
417 Magazine: What is one item every woman needs in her closet?
Ashley Wakefield: A classic pointed-toe pump. This goes with anything and everything you could possibly pick out. For me this means having a nude and a black. 
417: What is the worst fashion mistake?
A.W.: I know they're back again, but I can't stand the fanny pack. Oh my gosh! I refuse to take part in that trend.
417: What is your favorite brand of shoes?/
A.W.: Madeline is one line that we carry in the store, and I have most of these in my own closet. They're a great price point. I also love Miu Miu.
417: How would you describe the style in your store?
A.W.: Sophisticated, chic and classic.
417: What's your go-to look?
A.W.: Skinnies, a T-shirt and heels. Throw on some accessories, and that's what I wear almost every day.