Style
Legacy of Style at James Décor
Landmark design firm James Décor is marking its 70th year in business—and freshening things up to celebrate.
Written by Lillian Stone | Photos by Kevin O'Riley, courtesy James Décor
Nov 2016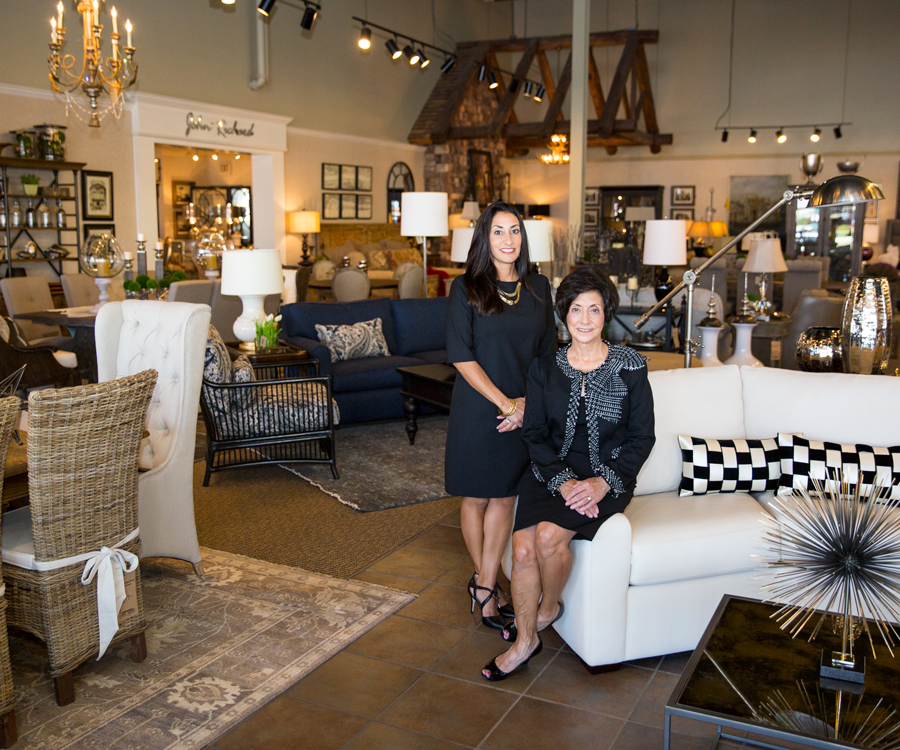 Springfield's oldest design firm is turning 70 this year. November marks James Décor's 70th year in business, and owner Lee Haik is making a few changes in honor of the occasion. Haik, who bought the store in 1982, is passionate about ensuring the legacy of the business, which was originally opened in 1946 by Bill James. Her ownership has included a move and several expansions. This year's big news: Haik's oldest daughter, Martie Haik-Frick, has joined the team with the goal of eventually taking over ownership. She will hopefully be joined by her sister Jacque, who is busy with a 1-year-old but also intends to be involved in the future of the business.
As you stroll through the showroom, James Décor's new direction is obvious. Luxurious as always, the furnishings have a decidedly fresher, more streamlined feel. According to Haik, their ideal customer now falls between the ages of 35 and 55. "We're trying to do a younger look, more of a Pottery Barn and Restoration Hardware look," she says. "And, of course, our daughters are in that age group, and so this is the type of furniture they like."
They've accomplished their goal. The furnishings are still mature and refined, but pops of color and hints of hardware are sure to appeal to the younger, trend-seeking demographic. Much like a comfortable home, the furnishings are carefully curated across the showroom without too much emphasis on brand names. "I hate to reduce it to a single brand or one popular item," says Haik. "It's about the feel, the experience." The purposeful pairing of textures gives the showroom its undeniable flair. In one corner, slightly distressed leather sits alongside brightly colored tortoiseshell. The masculine is anchored next to the feminine for a flash of the unexpected around every turn. Of course, the business hasn't forgotten about its original clientele—sumptuous French Country options are still readily accessible. Thus far, the transition has been executed flawlessly, and Haik is excited about the new direction. "I hope the store will be around for another 70 years," she says.