Dishes
Lobster Crunch Roll at Izumi Hatake Sushi Grill
Plus six other things that passed the test of our taste buds.
By The Editors
Nov 2016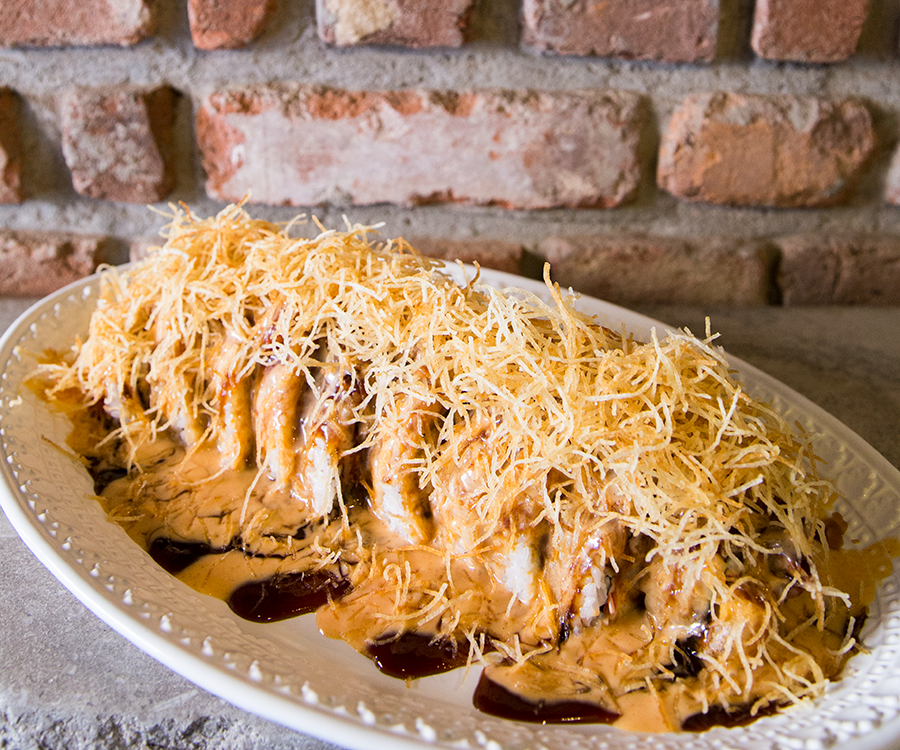 1. Izumi Hatake Sushi Grill (302 E. Walnut St., Springfield, 417-865-0366) has been serving a variety of top-notch sushi and other Japanese fare for years, and its massive Lobster Crunch roll is one staffer's constant craving. The roll is packed with crab meat and tempura shrimp and topped with crunchy shredded potatoes, but the deep-fried lobster bites make this creation so addictive.
2. Drizzled with crème anglaise, surrounded by colorful berries, dusted with powdered sugar and garnished with mint, the signature Missouri Butter Cake from Level 2 Steakhouse (200 E. Main St., Branson, 417-243-3433, level2steakhouse.com) is too pretty to eat—almost. The gooey, moist cake also comes with rich vanilla bean ice cream and freshly made whipped cream. 
3. For a taste of jolly old England, one staffer can't get enough of the Fish–N–Chips from The Black Horse Pub (24 Downing St., Hollister, 417-544-9056). Fresh pieces of Atlantic cod are coated in house-made beer batter and served with crispy, thrice-fried chips and smashed peas, an authentic Anglo side. 
4. Striking a nice balance of heat and creaminess, the buffalo chicken dip at Big Whiskey's American Restaurant & Bar (multiple locations, bigwhiskeys.com) is a just-right appetizer for fall and football watching. Made with shredded chicken, plenty of cream cheese, pepper jack and spicy buffalo sauce, this delicious, habit-forming dip is good to the last chip. 
5. There's no shortage of inventive craft cocktails at Missouri Spirits (507 W. Walnut St., Springfield, 417-501-4674, missourispirits.com), but we keep coming back to the ever-popular Bill's Bullets. This tasty tipple has Missouri Spirits' Bourbon, red apple and tobacco shrub, freshly squeezed lemon juice and smoked ice, a unique touch adding subtle smoky flavor as it melts.
Note: Two dishes have been removed due to restaurant closures.