Travel
Plan a Trip to the Emerald Isle
417 Magazine owner Joan Whitaker's maiden name is Sullivan so it's only fitting that visiting Ireland was high on her bucket list. Here are her tips for planning a trip to the Emerald Isle and for enjoying Irish music locally if a trip isn't for you.
By Joan Whitaker
Nov 2017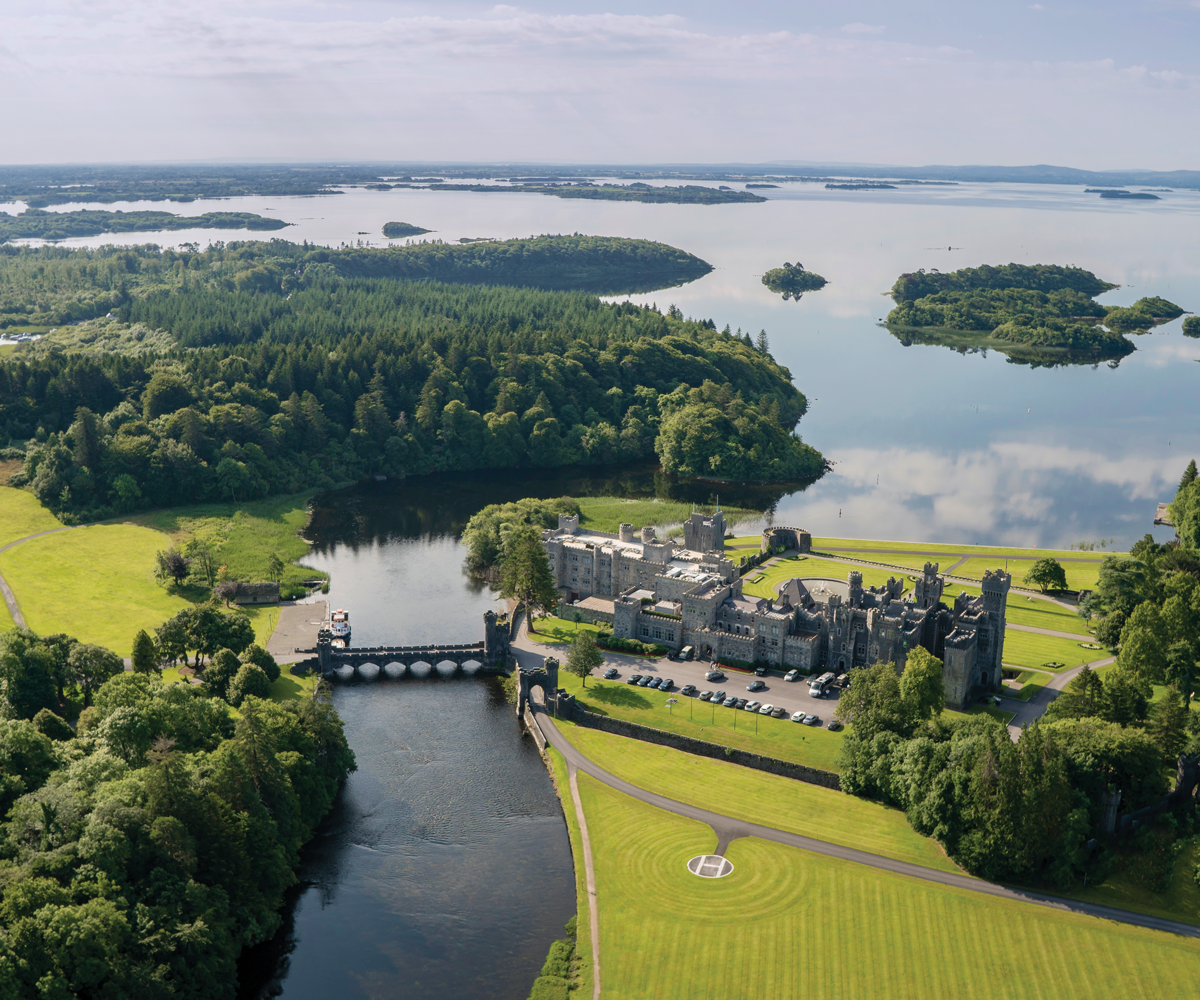 You could easily spend three weeks in the Republic of Ireland, particularly if you also want to visit Northern Ireland, which is part of the United Kingdom. Just in case your geography fails you, Belfast is in Northern Ireland, and Dublin is in the Republic.
Northern Ireland is where you'll find the Giant's Causeway and shooting locations for Game of Thrones. One of Belfast's claims to fame is the shipyard where the Titanic was built. If you have three weeks, plan to spend three days in Northern Ireland. The good stuff is in the Republic, so that's where you'll want to spend most of your time. Because Northern Ireland is part of the U.K., its currency is the British Pound. At press time, the exchange was $1.30 to one pound so it's expensive. The Republic is in the European Union, and the exchange on the euro at press time was $1.09 to 1 euro. You don't have to be a math major to figure out where the true bargain lies.
 
Start in Dublin
Dublin's airport has great flights to and from the U.S., so make Dublin your headquarters for a few days. Upon arrival, taxi to Merrion Square and check into The Merrion Hotel. You'll wonder if you're in the right place because the hotel is inconspicuous in a row of beautiful townhouses. Your clue is the uniformed bellman appearing from nowhere to open your door and collect your bags. The Merrion's common rooms are less like a hotel and more like a friend's elegantly appointed home. Comfy chairs and sofas are scattered about, and the walls are lined with original art. There is even a tour available to see and learn about all the art displayed. The Merrion is undergoing a fabulous renovation to make it an even better place for you to enjoy during your visit to Dublin. 
Connected to The Merrion is Restaurant Patrick Guilbaud, the only Michelin starred restaurant in Ireland. It's the kind of restaurant where you have impeccable service and amazing food. You'll pay a pretty price, but it is such a treat to be treated so royally that it's worth every penny.
The Merrion is in a great location. St. Stephen's Green is right around the corner, the National Gallery of Ireland is down the street, and Grafton Street, one of the main shopping areas, is just a couple of blocks away. The main sights to see other than the above are: Dublin Castle, Temple Bar, St. Patrick's Cathedral, Kilmainham Gaol (a jail with a lot of dark history) and Old Jameson Distillery. Check out the student-led tours of Trinity College and The Book of Kells. And, of course, visit the Guinness Storehouse. Guinness tastes better in Ireland than anywhere else.
A convenient way to see the entire city and get the lay of the land is on the hop-on-hop-off tour bus. Do this your first day. It will identify where things are and what you want to explore further. Also consider a walking food tour with Irish Food Trail. Our guide, Grainne, gave us a great history lesson in between restaurants where we sampled quintessential Irish food and drink. 
 
Hop on the Rails
In planning our trip we decided right away we didn't want to drive ourselves. Maybe next time, but not on our first trip. We wanted to be able to sightsee without worrying about driving on the left, rock walls and lazy sheep. We love train travel and contracted with Rail Tours Ireland to show us the sights. We were told to meet them at 6:45 a.m. at the train station and look for a man in a bright yellow jacket—it kind of sounded like a spy novel. Sure enough, though, we showed up and found our man, Norman, who helped us find where to go and which car to board. Norman had a beautiful Irish lilt and was easy to understand.
You can contract with Rail Tour Ireland for a variety of trip lengths. We chose the five-day tour because it covered the E Ticket sites: Blarney Castle and Stone, Bunratty Castle, Cliffs of Moher, Ring of Kerry, Galway, the Aran Islands and the Connemara. You can find itinerary details at railtoursireland.com. Click on The Royal Atlantic Tour. Part of the trip is via train, part via motor coach. Some of the roads are so narrow that it's almost impossible to navigate a car, much less a giant bus. Somehow the coach drivers do, and sometimes with less than an inch to spare.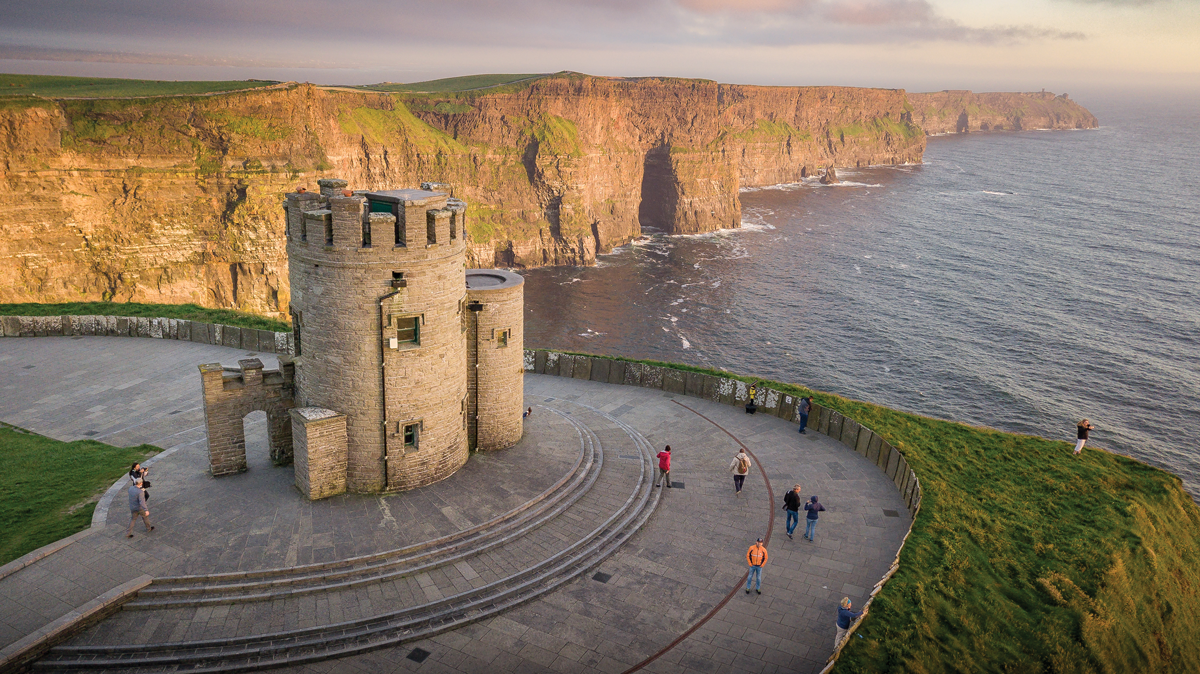 On to Killarney and Beyond
We spent two nights in the beautiful town of Killarney at the International Hotel and did day trips via coach. The hotel was located right in the heart of Killarney, so restaurants and pubs were steps away. It's hard to describe how incredibly beautiful Ireland is. It's so tidy and green. Ireland is doing a great marketing job by packaging all the wonderful sights along the Atlantic coast as the Wild Atlantic Way. By following this route, you can see many of the sights everyone and his brother come to see: the Ring of Kerry and the Cliffs of Moher. Trust me, you won't be disappointed, and you won't be alone. We were there in mid-April, long before the tourist season, and were far from the only ones visiting. I can't even imagine what June and high tourist season must be like.
Our next overnights were in Galway at the Harbor Hotel. Again, it was a great location and a short walk to the main pedestrian street filled with shops, pubs, restaurants, street performers and local people everywhere. We hit it on Easter weekend, and on Saturday night people were particularly festive because Good Friday is a dry day. Pubs are closed! The last year for this old no alcohol on Good Friday law is 2017. But because Irish lads and lasses had been so deprived on Friday, they were making up for it on Saturday. 
We took a seven-minute flight on an eight-passenger prop plane to Inishmore, the largest of three Aran Islands. Ever since we arrived in Ireland, we noticed every store promoting Aran Island wool and knit sweaters, hats and scarves. So, it was quite a surprise to find virtually no sheep on the island­—interesting and a little suspicious. The biggest attraction is the old fort, Dun Aengus, perched at the edge of a 320-foot cliff with no safety railings. Some of the excavations date to 1100 B.C. Hike to the fort for the view. You can almost see Boston in the distance.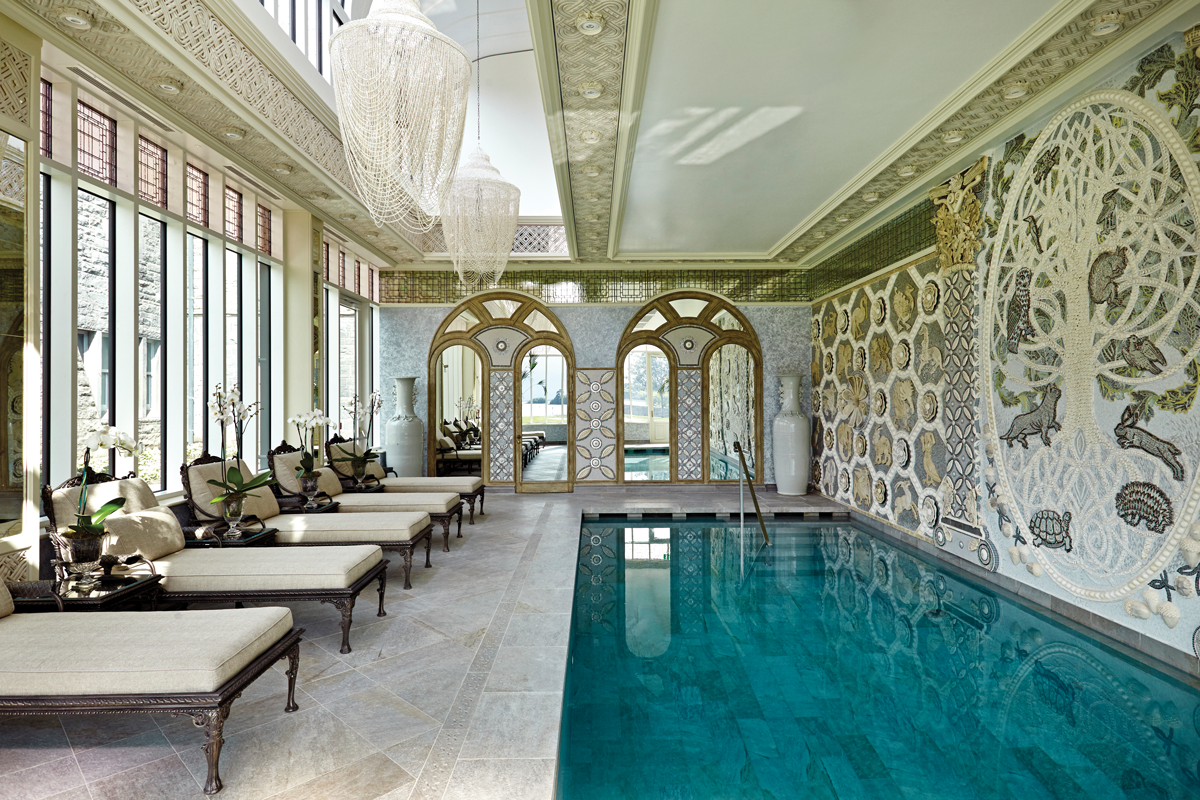 Castle Exploration
On Rail Tours Ireland, people joined us at different times, but there was a core group of six of us on the five-day trip. There was a mother-daughter pair from California and a grandmother and granddaughter from, I kid you not, Rolla. It took us about three days of "Do you know so and so?" before we finally discovered mutual friends. On our final day, we saw them off at the Galway train station for their trip back to Dublin. We met our driver and headed to the crown jewel of our entire trip, Ashford Castle.

I first heard of Ashford Castle from friends who stayed there about 10 years ago, and I haven't been able to get it out of my mind since. I melt just thinking of it. Go online and look at it. Isn't it magnificent? They set the scene perfectly, too. The arrival drive is curved and tree-lined. The view opens to liveried guards at gates of a bridge crossing the Cong River with the Castle beyond. The Castle sits on the northern bank of the Lough Corrib, Ireland's second largest lake.
Ashford Castle was founded in 1228. Over the years it changed hands multiple times, declined, became a fortress, became a private residence, expanded, remodeled, became a hotel, hosted movie stars and royalty, declined and then revived to become the premier luxury resort in Ireland. Many have had a hand in Ashford Castle's history, but it was the Guinness family who saved the day. In 1852 Ireland was in the middle of the great famine, people were starving, jobs were nonexistent. Sir Benjamin Guinness came to Ashford and provided much-needed jobs to the local population, expanding the castle and grounds. 
In 2013 the Tallman family purchased Ashford, and it is now part of the Red Carnation Hotel Collection. After extensive updating and renovation, the improved Ashford was unveiled in 2015. For your entertainment pleasure there is a 32-seat cinema, a children's game room, a billiards room, a luxurious spa and formal and informal gardens. For those wanting a little more activity, there's golf, fishing, hiking, boating, water sports, horseback riding, tennis and Ireland's first school of falconry.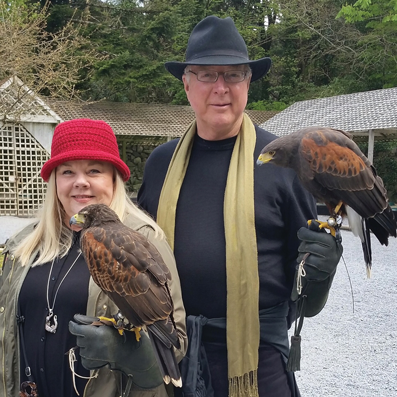 During a tour of Ashford's school of falconry, Joan and Gary Whitaker had hands-on interaction with some gorgeous hunters, the Harris hawks.
Of all these wonderful things to do, it was the falconry that caught our eye. The school has close to 50 Harris hawks in enclosed aviaries. Our trainer explained that Harris hawks are different from most birds of prey because they tend to hunt in packs. To gain the bird's trust, trainers have to become a member of the pack. They do this by, obviously, feeding the birds, but also by helping them hunt. When prey is caught, the trainer's job is to kill the animal quickly. This, uh, kills two birds with one stone, so to speak. It shows the bird the trainer is useful to them and it is more humane to the captured animal to die swiftly rather than through a painful, prolonged death. Enough of that though.
The exciting part was donning the leather glove, getting our birds and heading to the woods to fly them. The first time we called them back and they swooped in for a landing on our arms, we braced ourselves thinking we would take a knock on their landings. Not so. They fly in at very fast speeds, but land as lightly as a butterfly. We got to spend an hour with the birds, and it was the highlight of our trip.
Dining at Ashford is everything you'd expect from a five-star resort. The George V dining room is magnificent and gleams due to the huge Waterford chandeliers. Tuxedoed waiters quietly bustle around making sure every need is met. A person can get spoiled very quickly.
Sadly we had to leave Ashford. We were among the last "commoners" to stay at Ashford that week because the staff needed to prepare for golfer Rory McIlroy's wedding. We joked about trying to get an invite but were unsuccessful. 
So, our wonderful trip to my homeland came to an end…or maybe it was just a beginning of many more to come.
---

Seven Fun Facts about the Emerald Isle
1. It's clean, as in pristine. Big cities like Dublin and Galway are just as clean as the countryside. No litter, not even cigarette butts on the sidewalk even though there are plenty of sidewalk smokers. Strangely little graffiti too. In the cities, the streets are swept or vacuumed several times a day. The Irish keep their homes and yards perfectly manicured to the point that the entire country looks like a Disney set. They take special pride in their front door and paint them all manner of bright colors.
2. It's green, like vibrant, eye-shocking green. The green pastures and hillsides make it easy to spot sheep which are everywhere and just as likely to be standing in the middle of the road as up on a hillside.
3. If rocks were Euros, Ireland would be the richest country in the world. In fact, there is a whole area called The Burren which is nothing but a giant rock and it goes on for miles and miles. Although I've never been to the moon, The Burren is what I imagine it looks like. The Irish are a resourceful lot though. They use those rocks to build thousands of miles of fences. This is a clever way to clear pastures of rocks. Unfortunately, many of those rock walls line country roads making two-way traffic, let's just say, less than ideal. When they need to move livestock from one pasture to another, they move rocks to create an opening, move the sheep or cows through and then replace the rocks. Wouldn't it be a lot easier to build a gate? They also use those rocks to build sturdy homes and castles. Ruins from ancient structures are everywhere. The rock walls still stand but the wooden and thatched roofs are long gone.
4. The Irish disposition is overwhelmingly positive. These are people who have been abused, starved and put on "coffin ships" to the New World (that's the USA) to become indentured servants. They've been invaded by Vikings and dominated by the British. How this kind of history creates such jovial, positive people I haven't a clue. What I do know is that they are amazing at finding the silver lining to every situation. Example: It's raining. Irish outlook: "Oh would you look at that now. We're getting a right nice rain to help our vegetables grow." Example: It's bitterly cold and windy. Irish outlook: "Isn't this a perfect day to make a lovely Irish stew?"
5. They speak English. Of course, you probably can't understand Dubliners their accent is so thick. People from southeast Ireland, say the Wicklow area, have almost no accent. Because of that many from those areas are in the service industry as guides and concierges. Ireland, as well as Scotland, is trying to revive the Gaelic language. It is ridiculously difficult and only about 5 percent of the population understand it much less speak it. For instance, slainte, meaning health, is a word they use for a toast, like "cheers." It's pronounced slon-cha. Uisce beatha, prounounced iska baha, means water of life which is also the name for whiskey!
6. Spoiler alert: The color associated with St. Patrick is blue, not green. Sorry to burst your bubble on that one.
7. The Irish value a good story above all. And, if it's a true story, even better. But, the main thing is it's a good story told well. It's the gift of the Blarney Stone. My family has this gift and it's the thing I love most about them.

Irish singer Daniel O'Donnell performs occasionally at the Welk Resort Theater in Branson. For tickets, visit bransonshows.com.
Before you go, learn some Irish tunes so you can stomp your foot, clap your hands and sing like a local:
"Molly Malone" by the Dubliners
"Wild Rover" by the Dubliners
"Whiskey in the Jar" by the Dubliners
"Seven Drunken Nights" by the Dubliners
"Galway Girl" by Steve Earle
"Danny Boy" by Frank Patterson
"Danny Boy" by Eva Cassidy
"Galway Bay" by Daniel O'Donnell