Travel
Town Profile: Willard
Friendly townspeople, a few eateries and a booming school scene add charming appeal to the small town of Willard.
By Savannah Waszczuk | Photo courtesy Ozark Greenways
Oct 2014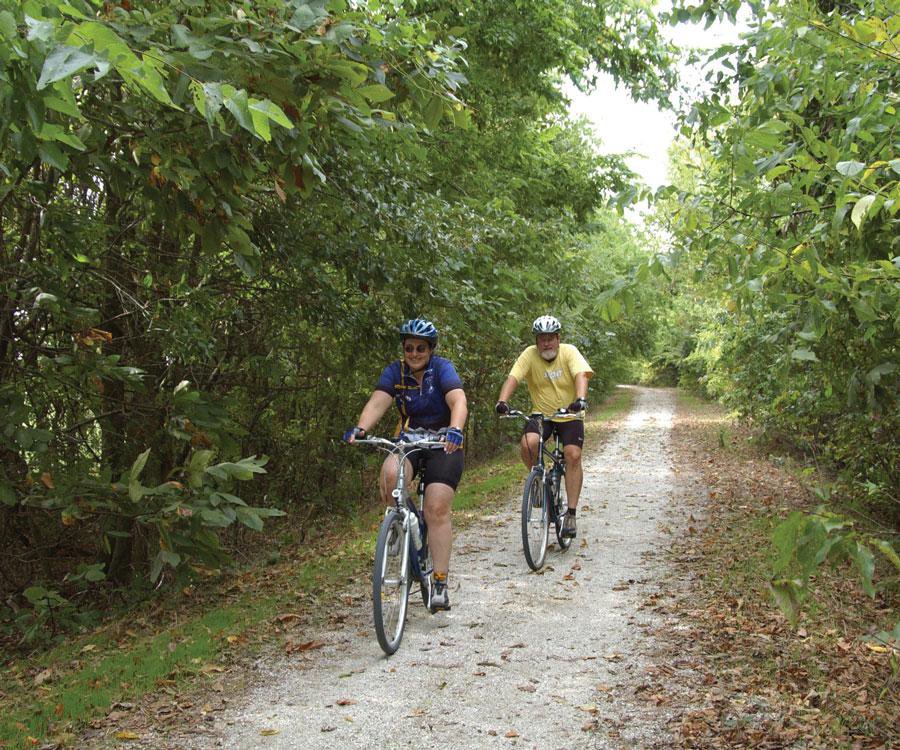 Willard is a place that many residents never want to leave. Just ask Allison Greenwade, who started Greenwade Law Firm in Willard with her sister, Kaiti, in 2010. "We graduated from Willard High School, and our dad graduated from Willard as well," Allison says. After graduating, the girls went away to college, but they both eventually decided to bring their law degrees back to their hometown and open a firm. "It's nice to be in a place where you know a lot of people," Allison says. 
Mariena Whitehead, owner of Mariena's Salon located just a few businesses down from Greenwade Law Firm, agrees. "Owning a business here has been great for me," Whitehead says. "I've had this hair salon since 1976, and I've been in this location since 1998." On a typical day, Whitehead visits with clients she has known for decades, which she says is one of her favorite things about her business.
Willard's sense of community extends long past the workday with school-focused events. "The town is very team-oriented when it comes to school sports," says Kip Baker, a school board member and owner of Farmers Insurance. "I don't know that there's ever a night of the week where there's not something going on at one of the schools." In the fall, attending the home high school football games is particularly popular, and a trip to Zotts Creamery, the local custard shop, is an after-game must. 
If you're not in the mood for sweets, there are a few other spots to grab a bite in Willard, including Pizano's Pizza restaurant with pizza, pasta and subs and Junction Café, which offers up plates loaded with country-fried steaks, pork chops, hand-battered chicken strips and other stick-to-your-ribs goodies. If you want to burn some of the calories from your indulgent home-cooked meal, you don't have to spend hours in the gym—the Frisco Highline Trail runs through Willard and has a trailhead next to the high school. 
Whether you need a new hairstyle, an attorney, a home-cooked meal or something to do on a Friday night, the town of Willard and its residents have something to offer, and it's sure to come with a smile.
Quotes from locals about why they love to live in Willard
"When fall comes, almost everyone comes out to watch the football games. It's big time in Willard. Or sometimes, they'll actually just go to watch the band and not the football." —Kaiti Greenwade, lawyer, Greenwade Law Firm
"Owning a business here has been great for me. I've had this hair salon since 1976, and I've been in this location since 1998." —Mariena Whitehead, owner, Mariena's Salon
"I really liked the sense of community at Willard High School. Despite the fact that we're a small town, we draw from many areas, so we had diversity as well." —Dusty Bacon, recent Willard High School graduate, Mizzou student, Bluedog Graphics employee 
"We wanted to find a small town to raise our own kids, and we wanted to own our own business. We noticed there wasn't a local ice cream shop here, so we decided to try it out."—Amy Scott, co-owner of Zotts Creamery
"The greatest thing about Willard is just that it's a nice, true small town. We have the best schools, as far as small towns go, and everyone knows everyone." —Kip Baker, owner of Farmers Insurance and school board member
"I started by business in Springfield, but I actually moved it out here. I wanted to own my agency in a small town." —Kip Baker, owner of Farmers Insurance and school board member