Reviews
Osage Restaurant
Sitting down for a meal at Top of the Rock's Osage Restaurant is more than just sustenance; it's an experience.
By Katie Pollock Estes | Photos by Kevin O'Riley
Oct 2015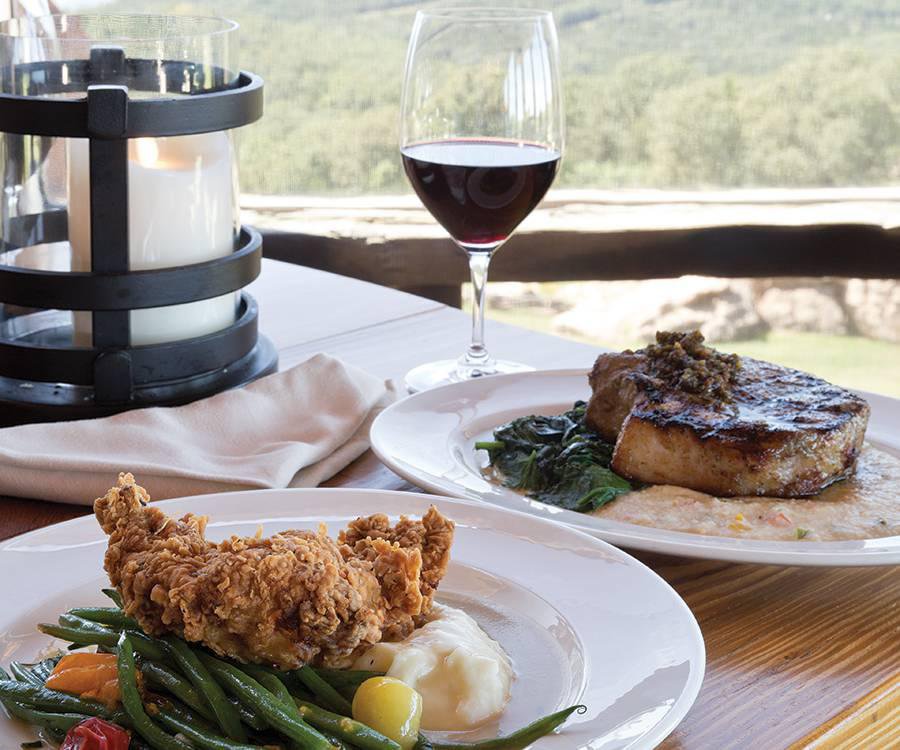 Osage Restaurant
Top of the Rock, 150 Top of the Rock Rd., Ridgedale, 417-335-2777, topoftherock.com/dining
Open daily 5–9 p.m.
$$$, no smoking, handicap accessible
After a couple of work-related trips to Top of the Rock, I decided it was time to visit for nothing but fun. So I shuffled my husband, Eli, and our son, Oliver, into the car one Sunday afternoon and made the trek to Ridgedale. 
Although the parking lot at the Top of the Rock visitor's center looked packed with cars, we didn't feel like we were trudging through a crowd as we wandered the grounds. The place is huge, with two restaurants, a bar, a wine cellar, a gift shop, a cave, a natural history museum, a driving range and a golf course. There's plenty of space to spread out. We made our way straight to Osage Restaurant for our dinner reservations, but we promised our son Oliver that we'd explore a little after the meal. 
While we perused the menu, our server brought us a basket of warm bread, crispy crackers and some olive oil and balsamic vinegar for dipping. Eli and I are both suckers for fried chicken, so he ordered Genny Morris' Buttermilk Fried Chicken Breast. At $23, it comes with creamy mashed potatoes, perfectly snappy sautéed green beans cooked with tart grape tomatoes, and a rich thyme-cream gravy. The breading is peppery and thick, like the breading on a really good chicken-fried steak. Inside, the chicken was tender and so juicy.
I opted for the Grilled Circle B Ranch Pork Chop for $34. It came with some just-spicy-enough jalapeño-cheese grits and sautéed fresh spinach that had plenty of garlic. But my favorite part of my entire plate was the pistachio and sage pesto that came on top of my thick chop. It was a tasty take on pesto that was simultaneously creative and nostalgic. There's just something about sage that brings me back. I dipped bites of tender pork chop into the pesto until every nibble was heavy with that nutty treat. And then it was gone, and I was wishing for more. 

The Osage Restaurant at Top of the Rock creates beautiful dishes packed with flavor, and the seared scallops with country ham and peas is no exception. 
In between three exciting strolls past a giant taxidermy bear (which he disguised as trips to the bathroom), Oliver nibbled on a grilled chicken breast that was served with sautéed green beans and mashed potatoes. It was a lot of food for a kid's meal and pretty tasty (I tried it), and it rang in at $12. I always want to high-five restaurants that put real food on the kids' menu instead of just fried junk. 
The menu is pricey to be sure ($23 for one piece of fried chicken!). But the view was priceless. Our table was situated right next to a wall of floor-to-ceiling windows, and we could gaze out onto Table Rock Lake while we gobbled up forkfuls of tasty fare. Our final bites were of the raspberry lemon bar that we all shared for dessert. It featured bright layers of fruity goodness stacked on top of a crumbly crust.
After dinner, we left the restaurant to walk around a bit. We stopped for the required selfie in front of the infinity pool and the "End of the Trail" statue that towers above a killer view of Table Rock Lake. Oliver couldn't get enough of all the stuffed animals and was enthralled by the giant woolly mammoth skeleton that sits near the entrance to the Ancient Ozarks Natural History Museum. We peeked out over the driving range to watch a group of men take swings with the lovely Ozark Mountains rolling out in the distance. The only thing we didn't get a chance to see was the Lost Canyon Cave & Natural Trail. We hear there's a bar inside that cave, and we decided it would be a better date night destination. We hopped  back on the shuttle to our car, already planning our next visit.