Reviews
Grab a Grown-Up Grilled Cheese at Druff's in Downtown Springfield, MO
New to the downtown Springfield restaurant scene, Druff's uses quality ingredients to give the oh-so-favorite grilled cheese sandwich a gourmet twist.
By Savannah Waszczuk | Photos by Brandon Alms
Oct 2016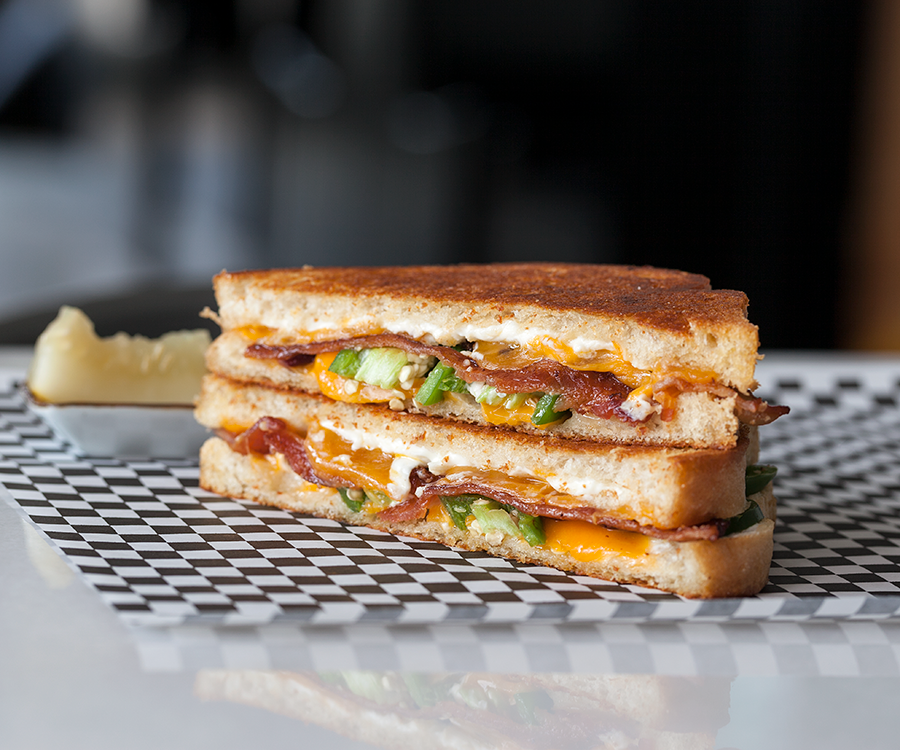 I think of a grilled cheese sandwich as the little black dress of the culinary world. It's simple, dependable and can confidently stand alone, but it can also be fancied up to become the belle of the ball.
Keeping it simple works. You pile a couple slices of American between two pieces of white bread, liberally schmear on some butter and throw it on the heat for a bit, and you'll soon have a sandwich that we've all had a soft spot for since age 5. But dressing it up also works. Bring in some artisanal breads, gourmet cheeses and other quality ingredients, and the possibilities are limitless. The bottom line is, when you toss together some carbs and dairy, spread on the butter and grill it up, magic will happen.
Vance Hall and Andrew Heilman get this, and that's exactly why they opened Druff's, the grilled cheese restaurant that came to downtown Springfield in May 2016. Druff's serves up 12 signature grilled cheese sandwiches—all with a twist—plus the appropriate sides. By appropriate sides we mean the things you'd picture to go with grilled cheese, including potato chips, salads and (of course) tomato soup.
I stopped by to try out the restaurant on a recent lunch hour. It's located downtown in the old Woodruff Building (hence the name Druff's) at the corner of Jefferson and Park Central East, but it's been updated and outfitted with lots of white details that make it feel light and airy. 
I was eating with a group of co-workers, and we headed to the back and snagged the large table by the window. I struggled a bit deciding what to order because everything sounded so delicious. There are some drool-worthy ingredients mixed into these sammies—things like bacon and house pimento cheese and caramelized onions and olive-roasted tomatoes. How was I ever supposed to decide? Eventually I talked out a deal with our editorial art assistant, Vivian Wheeler: I'd order the Good Doctor with cheddar, cream cheese, bacon and jalapeño, she'd order the Mobertson with mozzarella, Gouda, pepperoni and Italian peperonata, and we'd do halfsies.




When you go to Druff's, bring a crowd so you can sample sammies galore. Split the gooey Mobertson (front) or the spicy Good Doctor  (back), but keep the house-made pickle spear for yourself. Try a side like a classic salad with apple slices. 
We were soon greeted with a couple of creations packaged in sourdough and literally oozing with flavor. I dug right in with a big bite of the Good Doctor, and I instantly questioned my decision to split. That sandwich was on point. I suspected the cream cheese may make it a bit too rich, but I was wrong—there's just the right amount to add a little depth without overpowering it with the infamous cream cheese-y flavor of a Pinterest dip fail. The fresh jalapeños add some crunch and a bit o' heat, and of course, the bacon elevates it all to another level simply by the mere fact that it's bacon. It was like all the decadent flavors of a jalapeño popper packaged into the perfect hand-held craving conqueror. 
Next I tried the Mobertson, which was created by the owners with a nod to pizza. Smart move on their part, because really, who doesn't love pizza? The salty pepperoni helped balance the rich mozzarella-Gouda combo, and the peperonata—made with red bell pepper, tomatoes and onions—makes you feel just a teensy bit less guilty about eating it all. Hey, you're getting your veggies, right?
I also tried a side salad with homemade ranch and the house tomato soup. The salad ingredients were fresh, and I appreciated the homemade dressing, but the soup will definitely be my side of choice if I'm ever forced to choose only one accompaniment. Made with tomatoes, basil and a touch of heavy cream, it's velvety, rich and a bit indulgent with every spoonful. And of course it's great for crust dipping, too. 
After all of our plates were cleared, we ordered the grilled Nutella and strawberry sandwich to share. This is the one and only dessert item Druff's serves, and that's because it's the only one they need to serve—it's that good. I will admit that I'm a bit of a Nutella freak (I have been caught eating it by the spoonful), but honestly, I think that even those who have a normal relationship with Nutella will like it. The strawberries give it the same appeal that comes with any chocolate-dipped fruit, and the buttery, slightly salty grilled wheatberry finishes it with the perfect sweet-meets-salty touch. 
This place is a gold mine for those of us who appreciate quality ingredients but also love all of the indulgence that is a grilled cheese sandwich and all the trappings that come with it, and I plan to work my way through the menu trying each inventive creation from Hall and Heilman. But next time I go, I'm leaving Vivian at the office—that halfsies stuff is for the birds.




Druff's Co-owner Vance tends bar in the bright, airy space, which is located in the old Woodruff building (which serves as the eatery's namesake). 
Q&A with Co-owner Vance Hall 
417 Magazine: Where did you get the idea for a grilled cheese restaurant?
Vance Hall: Andrew Heilman and I have known each other for a very long time, and we've talked about going into business together for a while. We knew that everybody loves grilled cheese and it wasn't really something that Springfield had already, so we thought we'd give it a shot.  
417: How did you develop your menu items?
V.H.: Honestly it was a lot of trial and error. A lot of ideas came from Pinterest, and from getting on Google and seeing what all was out there. Then we'd try them out and see what we liked and what we thought worked.
417: How did you name the sandwiches?
V.H.: All of our sandwiches are named after our friends, or something that our friends participated in at some points in their lives. A lot of our friends own businesses, and I've always begged them to name things after me, and they never would. So we just did it ourselves.
417: What's your favorite menu item?
V.H.: My favorite item is probably the Mobertson. I also like the Uncle Tatey. The Tatey is one I created myself from scratch, and it sells really well, so that makes me happy.
Editor's note: The Uncle Tatey is a sandwich with goat cheese, slightly spicy pork, fresh strawberries, balsamic strawberry reduction spread and red pepper flakes on wheat.