Reviews
Start the Day with a Killer Breakfast at Druff's
Druff's is known for grilled cheese masterpieces, but did you know their breakfast menu is hot stuff, too? We gave it a try one Sunday morning and share all the gooey goodness with you.
By Katie Pollock Estes
Sep 2018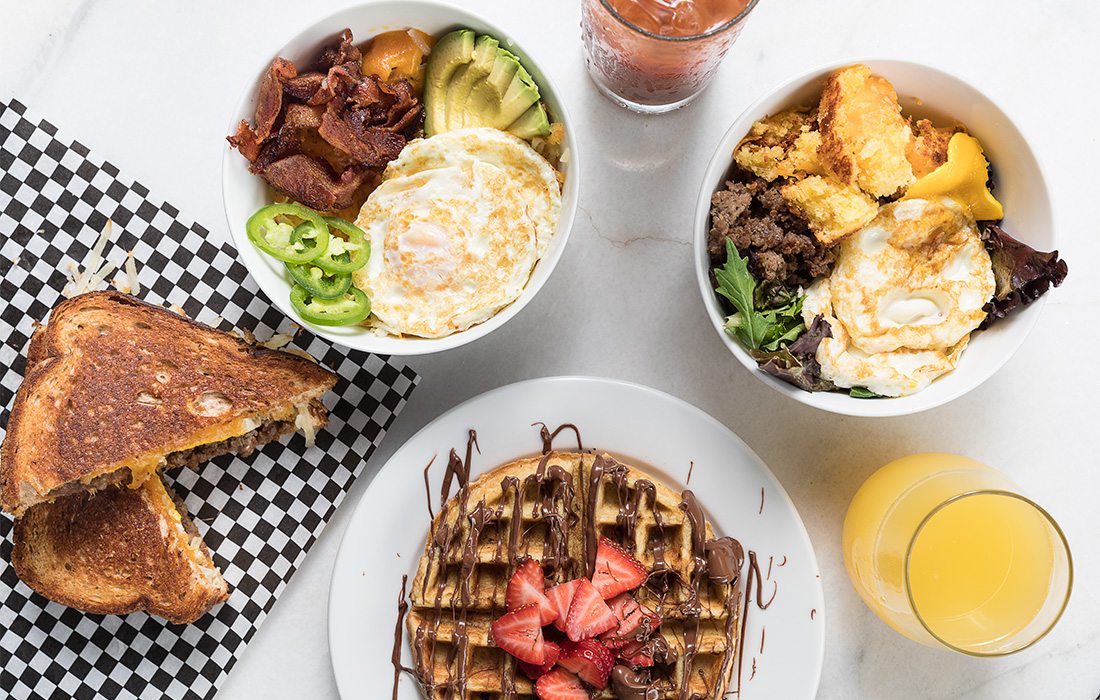 Ever since our very first visit, Druff's has been a "special" spot for our 5-year-old son. He just loves it. I think it's something about being downtown. Or something about sanctioned cheese binging. Or a combination of the two. But whenever we're out and about and ask him where he wants to go, Druff's is always high on his wish list.
[MORE: Best Breakfasts in Springfield, MO and Beyond]
Combine that with the fact that this kid is absolutely mad about breakfast food, and we had a must-do family outing to try Druff's breakfast menu. The restaurant specializes in grilled cheese but also has several other home run options, including delicious homemade soups and slices of Prairie Pie for dessert. The addition of a breakfast menu felt very natural considering Druff's diner-like feel. (But, like a cool diner, you know? One with black and white tile and gigantic Julie Blackmon pieces on the wall.) 
We came on a Sunday morning right when they opened—with two hungry kids in tow and the promise of a trip to the park hanging over their heads to encourage good behavior. But these babes… they were starving and ready to indulge. Luckily, service was friendly and fast, and, before we knew it, we were tucked into a booth and digging in.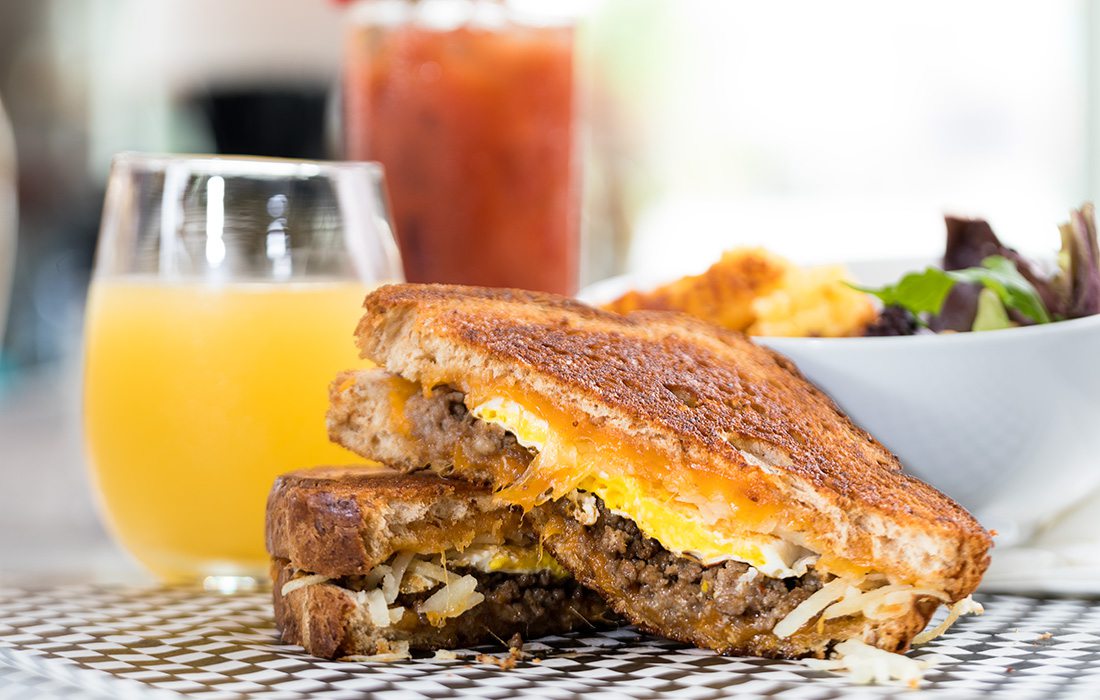 If you're familiar with the lunch menu at Druff's, the breakfast menu will feel slightly familiar. It follows a similar pattern (clever combinations of ingredients for creative takes on familiar dishes) and offers a few familiar ingredient combos. I ordered the Cornbread Crumble breakfast bowl. It's an indulgent breakfast, made easier on my conscious with the addition of some fresh greens. But still… There's the namesake cornbread, juicy sausage, melty cheddar cheese and two over easy eggs. Over easy is the perfect preparation for a dish like this. I stabbed my fork into the eggs, and the rich yolk came oozing out onto the cornbread, creating sort of a savory sauce that was just delightful. Paired with a bloody mary, it was a breakfast big enough to skip lunch.
My husband, Eli, went for indulgence as well with the Swipe Right breakfast bowl. He got those luscious over easy eggs, too, but his were served over hash browns with crispy bacon, avocado, spicy jalapeños and cheddar cheese. It was right up his alley—he always goes for something that could, if wrapped in a tortilla, be a breakfast burrito. The avocado was the perfect creamy-fresh touch, too. He opted for a mimosa for his drink. 
For Oliver, our 5-year-old, the indulgence continued. (Do you see a trend? This menu screams weekend cheat day.) He was in heaven gobbling up a super-sweet, practically-dessert Nutella and strawberry waffle. 
There are breakfast purists who prefer to eat super-traditional morning fare, and there are some things on the menu that would satisfy that sensibility, too. Like the Jacoby sandwich we ordered for our daughter, Eloise. Wheat bread is filled with cheddar cheese, eggs, hash browns and sausage. Naturally, because she is 2, Eloise deconstructed it before she ate it, so it basically became messy bits of a super-cheesy breakfast platter. She loved it. We left the restaurant feeling fat and happy as we headed off to the park to walk off all that Sunday morning goodness.
331 Park Central East, Springfield
417-719-1719
Open Tue.–Wed. 7 a.m.–4 p.m.,
Thu.–Sat. 7 a.m.–9 p.m., Sun. 8 a.m.–4 p.m.