Reviews
Everyday Thai Brings South Asian Flavors to South Springfield
Springfield's Everyday Thai serves a wide selection of authentic dishes in a welcoming environment.
By Adrienne Donica
Oct 2018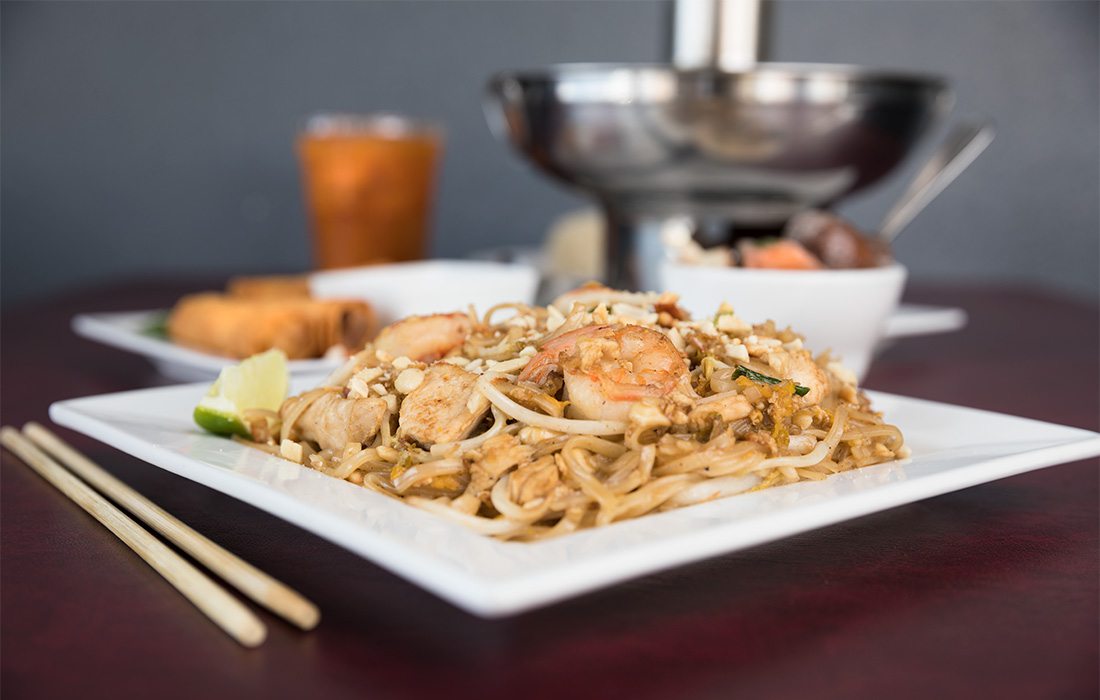 In my book, the more exotic the cuisine, the better. I'm not saying I shy away from platters of indulgent, fried goodness so often found on menus at classic American restaurants, and this fare is consistently good from place to place. But precisely because of its consistency, I find my palate demanding something more, something complex, something funkier.
Not shockingly, my desire for bolder flavors doesn't always go over well with my friends and family. There are restaurants I love but avoid suggesting in certain company. Luckily, I've discovered which people are happy to ride with me to flavortown, and sometimes they are even the ones driving the train. And that's a good thing because I can be set in my ways, even when it comes to multicultural dining. I mean, we all have favorites, right? 
When a recent hankering for Thai food set in, I resisted my umpteenth visit to Rama Thai Café and decided to try Everyday Thai instead. I floated the idea by my friend, Bethany, and she was immediately on board. Neither of us had eaten at the south Springfield restaurant before, and we were anxious to dig in. Owners Thippawan and Steven Shutts opened Everyday Thai this January after previously operating a similar food truck in St. Robert since 2015. The brick-and-mortar is tucked on the end of a strip mall away from the bustle on Campbell Avenue just north of Battlefield Road. When I arrived, Bethany had already gotten a table next to the wall of floor-to-ceiling windows. The space was coupled with modern decor, and I was surprised at just how inviting and fresh it felt.
Quickly, our server came by to take our drink orders—water for Bethany and a Thai tea for me—before giving us time to review the menu. And time we needed. The oversize laminated menu has dish after dish. I hardly knew where to start, so what better place than the appetizers? We split an order of the vegetarian pau-pia tod. These deep-fried spring rolls were a nice way to whet our palate. We considered the rest of the menu as we crunched on the flaky, crispy rolls. Not wanting to settle for my usual Thai entrée (pad see ew), I consulted with our server. She had helpful suggestions and made one hell of a sales pitch for the tom kha gai, a coconut chicken soup popular on many Thai restaurant menus. It was so convincing that when she returned a few minutes later, that's exactly what I ordered.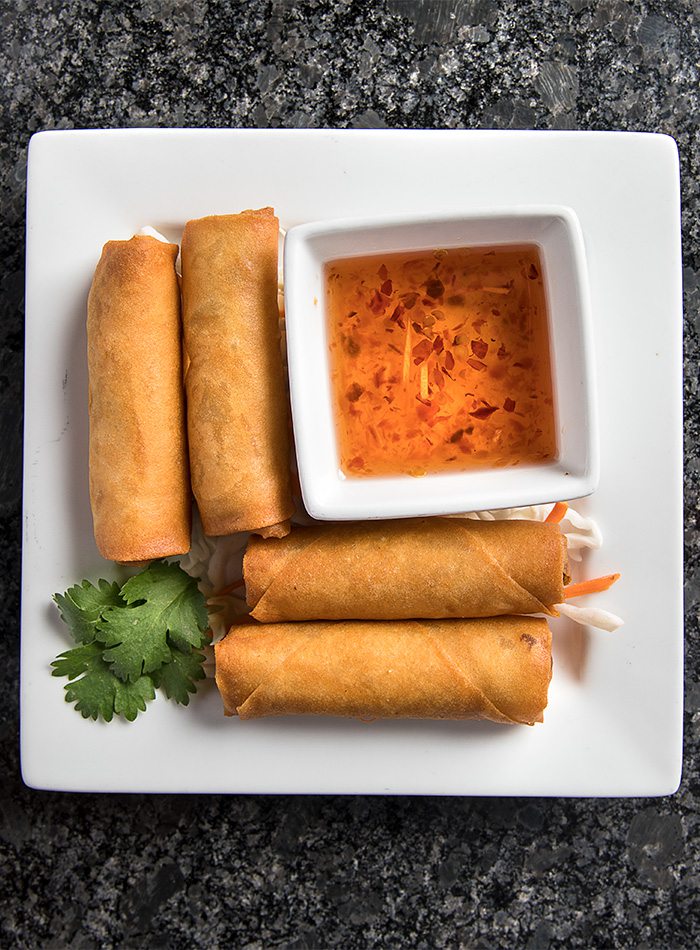 Crispy and savory with a sweet dipping sauce, the spring rolls are a winning appetizer.
Purchase Photo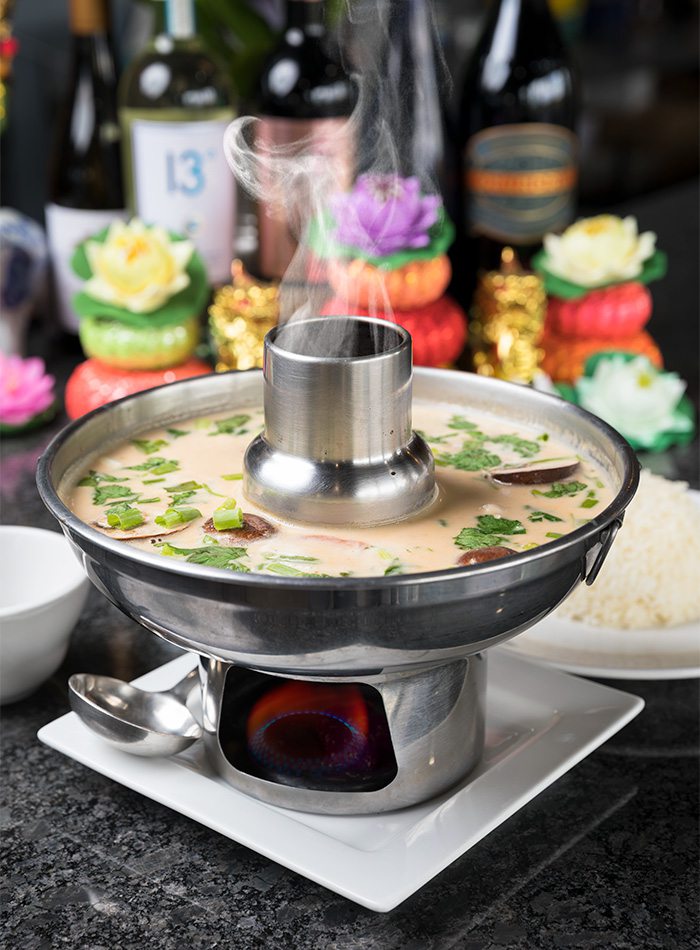 With its steaming serving dish and fresh, bright herbs, the coconut-y tom kha gai soup is an impressive dish perfect for sharing.
Purchase Photo
Photos by Brandon Alms
By this time in our meal, the place had mostly filled up. I noticed several professionals enjoying solo meals at the bar in addition to the groups who had joined Bethany and me. Despite this lunchtime rush, our service didn't lag and our piping hot meals were headed to our table in no time. My soup came in a tall, impressive metal serving dish alongside a bowl of rice and a smaller bowl from which I would actually eat. I dished out a serving and dug in to the creamy-yet-light coconut broth filled with mushrooms, tomatoes, pieces of chicken and several spices. I had ordered medium on the scale from not spicy to Thai hot thinking it would be a nice middle ground but was disappointed the dish wasn't spicier. For as light as it was, the soup's flavor was still quite rich and plenty coconut-y for my taste. I loved slurping down a spoonful that had a leaf or two of cilantro, as this brightened the overall flavor nicely. Bethany ordered the pad Thai with chicken and let me try a bite. It lived up to the other pad Thai dishes I've had over the years but didn't go so far to set a new standard. Still, we both left feeling satisfied.
Old habits die hard, and that's how I feel about Springfield's Thai cuisine offerings. Everyday Thai didn't disappoint but neither did it challenge Rama Thai's position at the top of my Springfield Thai restaurant list. Luckily, there's plenty of room for many such restaurants in the city. Like I said, the more, the merrier.