Dishes
Super-Loaded Chicken Nachos from Tinga Tacos
These seven dishes or drinks have passed our taste buds this month and made us rave. They are ranked by levels of yumminess.
By The Editors
Oct 2018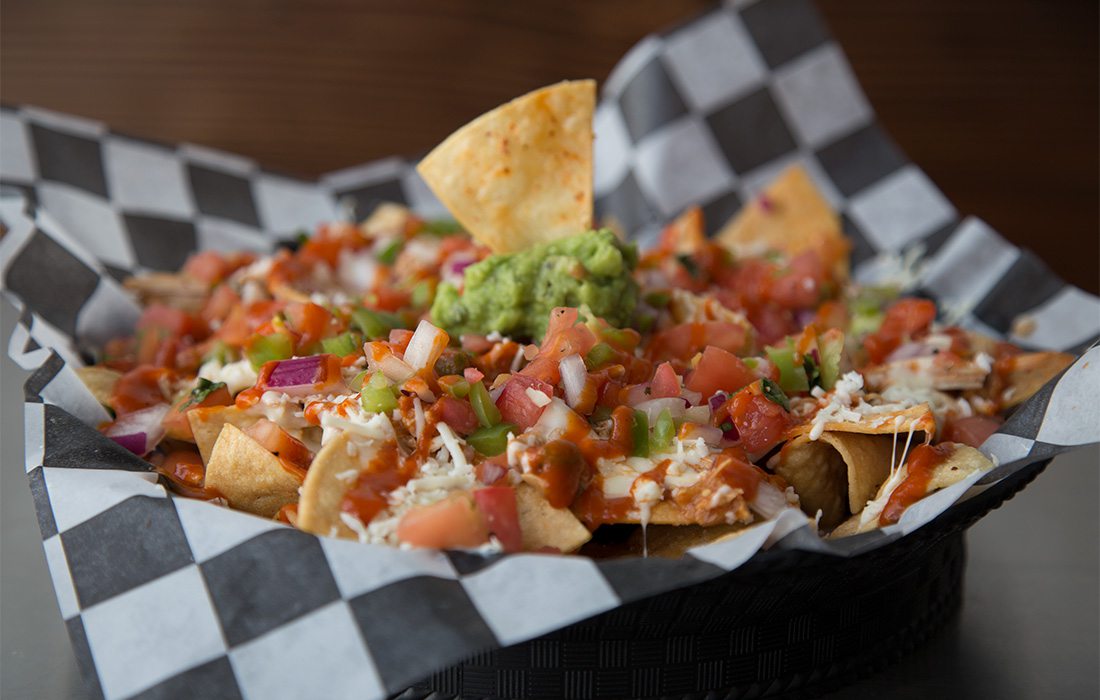 1. The chicken nachos from Tinga Tacos (308 W. McDaniel St., Springfield, 417-831-8007) are a wonderful combo of meat, queso, shredded cheese, hand-diced pico, taco sauce and a scoop of guacamole, all made in-house. We love the chicken, but you can choose beef or pork as well. 
2. The cold brew green tea from Karai Ramen + Handroll (640 W. Republic Road, Suite 100, Springfield, 417-319-5225) is a simple yet delicious drink. Green tea and roasted rice mixes with filtered water, making a refreshing and satisfying drink with an impressive presentation.    
3. The bhindi masala from Gem of India (211 W. Battlefield St., 417-881-9558) is a very tasty vegan dish. The breakdown: cripsy okra braised in olive oil and spices with onion and bell peppers, served with basmati rice on the side.
4. If you're looking for a healthier way to satisfy your sweet tooth, the flourless brownies at MaMa Jean's Deli (several locations) are the perfect answer. Everything is organic and made from an in-house recipe with low-processed sugar that produces delicious chewy brownies.
5. The jerk chicken bowl from Tropical Smoothie Cafe (several locations across 417-land, 417-719-4486) is a welcome delicious surprise! Rice, black beans, cheddar, roasted pineapple salsa, romaine and spicy jerk sauce come together for a yummy main course. The best part is that it's not too heavy on the rice. There's just enough to make the dish satisfying. Pair it with a smoothie!
6. The raspberry basil kombucha from Spring Branch pairs tart raspberries with savory basil. They combine with organic black tea and cane sugar, filtered water, and SCOBY, a defining characteristic of kombucha. You'll find it at the East Sunshine Street and Republic Road locations of MaMa Jean's as well as the cafe at Lucky's Market. Spring Batch updates its locations on social media too. Drink up!  
7. The House Made Reuben at Fire & Ice (2546 N. Glenstone Ave., 417-522-7711) is a delectable sandwich composed of house-made pastrami, sauerkraut, Thousand Island dressing and Swiss cheese, all served on marble rye. This is no ordinary Reuben!