Style
Hometown Pride with Home-Grown Style
A love for Springfield led this group of creatives to turn one simple ball cap into a growing lifestyle brand.
By Ettie Berneking
Oct 2018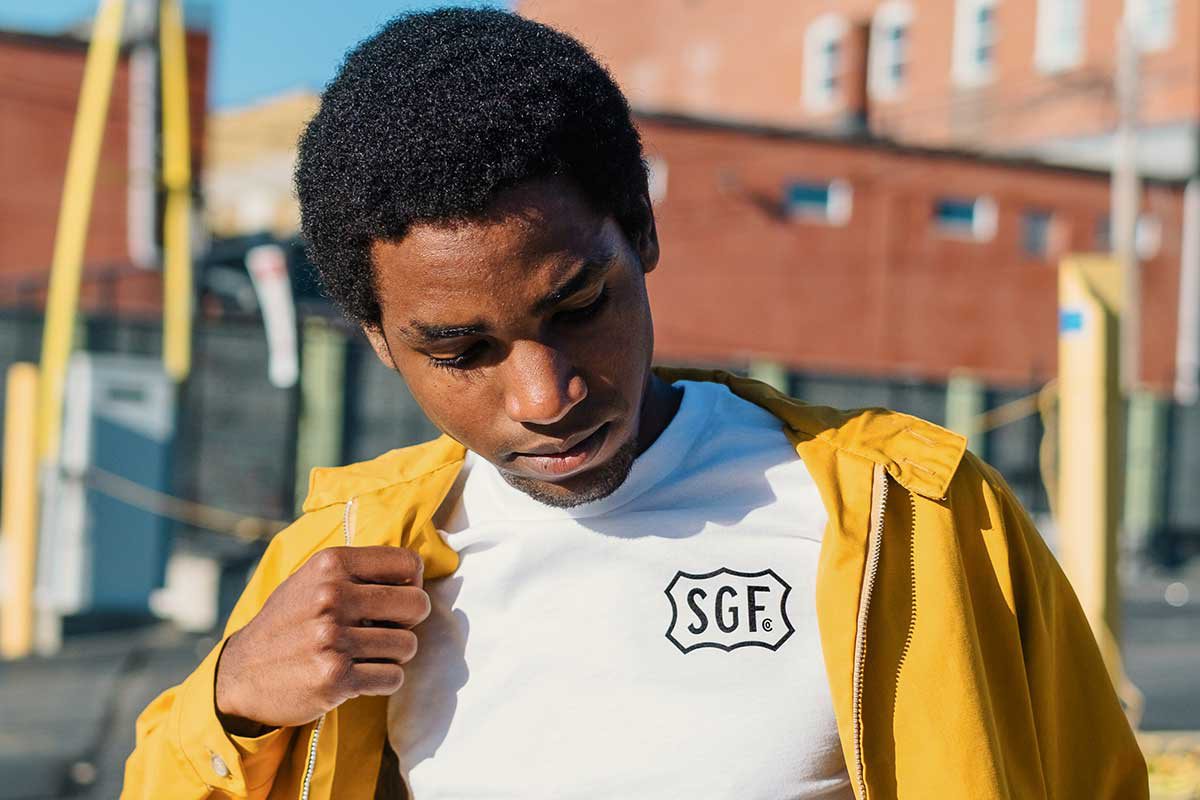 Pride for Springfield runs deep. This is the Queen City after all. And earlier this year, three designers decided it was time to acknowledge Springfield's undeniable awesomeness and launch SGFCO—a lifestyle brand and general high-five aimed at Springfield. 

The trio behind SGFCO is made entirely of Springfield transplants. Jesse Tyler is from New Jersey, and both Giancarlo Ospina and Jacob Scowden wound up in Springfield after stints in Florida. "It seems like most people who think Springfield is awesome are transplants," Scowden says. With no true business plan but with a cache of ideas, the trio ordered its first piece of merchandise: a simple black baseball cap embroidered with an S for Springfield. When SGFCO first officially appeared on social media last May, the brand had grown to include three items: a dark green long-sleeved shirt, a crisp white T-shirt and that black structured hat. The slogan on the green long-sleeved shirt—This place is as good as any—is the concept that launched SGFCO.

During the first few weeks, the three took the stock of 50 hats they'd sunk all of their money into and started handing them out. "We wore them ourselves and handed them to friends who started businesses here that we admire," Tyler says. "We were looking at these people who have the aptitude and capacity to build exceptional things elsewhere, but they decided to make what they love here. They represented this thing that we hadn't found the words for yet." 

The group is constantly brainstorming. There are plans for tongue-in-cheek city maps, branded folding chairs, T-shirts, more hats and pop-up events. For now, merchandise is limited, for good reason.

SGFCO is a passion project for each of its three creators. Scowden is a designer for Convoy of Hope, and Tyler and Ospina are the creative forces behind design and branding agency All True and Manuscripts, which publishes books of the Bible in pocket-sized volumes. "We almost don't think of this as a business," Scowden says. "This is just for fun. All the money we've made has gone back into making more merchandise."

The group has few hours to dedicate to SGFCO, so growth has been small but steady. Inventory is only online at thesgf.co, but options are growing. "We don't want to tell people what Springfield's slogan is," Tyler says. "We're talking about being satisfied with where you are and choosing to create instead of waiting for the perfect opportunity."
Want to rep your own pride for the Queen City? Then head to thesgf.co to order your favorite merch.