Dishes
Pork Tamales from the Peruvian & South American Foods Catering
Plus six other things that passed the test of our taste buds.
By The Editors
Sep 2012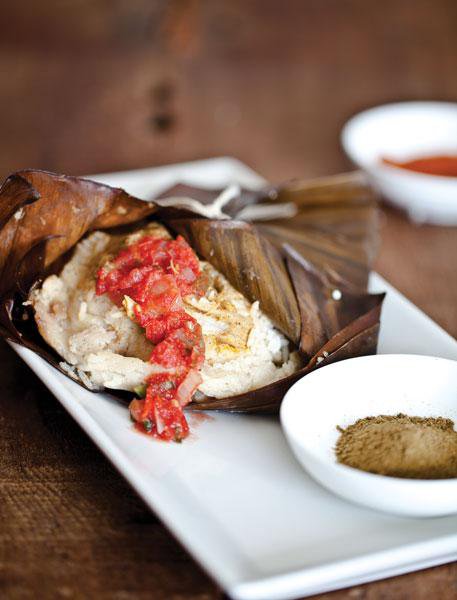 1.The Peruvian pork tamales from the Peruvian & South American Foods Catering (417-671-9956) booth at Farmers Market of the Ozarks are delish. They're served in to-go boxes, and you can either get it heated there or bring it home. Either way, the soft and savory masa filled with pork is ultra-tasty and worth a trip to the farmers' market to try.

2. We love the pretty bowls of tempura udon soup at Sakura (3230 S. National Ave., Springfield, 417-882-8000). The broth is rich and bursting with umami flavor. On the side are tempura shrimp and veggies, great for dipping in the hot soup.
3. The spinach and artichoke dip at Texas Land & Cattle (915 Branson Landing Blvd., 417-337-8200) has a spicy jalapeño kick that we adore. It's not super-hot, there are little bits of jalapeño here and there to spice things up a bit. 
4. Lately we've loved the turkey and gouda panini at Tea Bar & Bites (621 S. Pickwick Ave., Springfield, 417-866-7500, teabarandbites.com). It's filled with turkey breast, smoked gouda, pesto mayo and artichoke hearts and served hot and toasted. The cheese makes it just melty enough to feel indulgent, and it's super-packed with flavor from the artichokes and pesto mayonnaise. 
5. Fajita nachos at El Maguey (631 N. Glenstone Ave., Springfield, 417-865-1453) come topped with all your favorite fajita ingredients. They are huge, filling and super-delish.
6. One staffer can't get enough of the Rigatoni alla Tony at Avanzare Italian Dining (1908 S. Glenstone Ave., Springfield, 417-567-3463, avanzareitaliandining.com). It's rigatoni pasta with shrimp, sundried tomatoes, roasted walnuts, goat cheese and a decadent pesto cream sauce.
7. The soup a l'oignon gratinee at Aviary Cafe and Creperie (400 E. Walnut St., Suite 100, Springfield, 417-866-6378, aviarycafe.com) is a French onion soup topped with broiled Gruyere cheese that hides a bit of sourdough crostini. The bread soaks up the soup perfectly, and the browned cheese is a great complement to the tender onions and rich broth.