Travel
Kid-Friendly Kansas City Trip
The summer heat is gone, and now is the time to plan a weekend trip with your kiddos. Trek up to Kansas City, where the kid-friendly activities abound.
By Han Zhao | Photos courtesy Hallmark Cards Inc., Mary Pat Losey, Union Station Kansas City
Sep 2014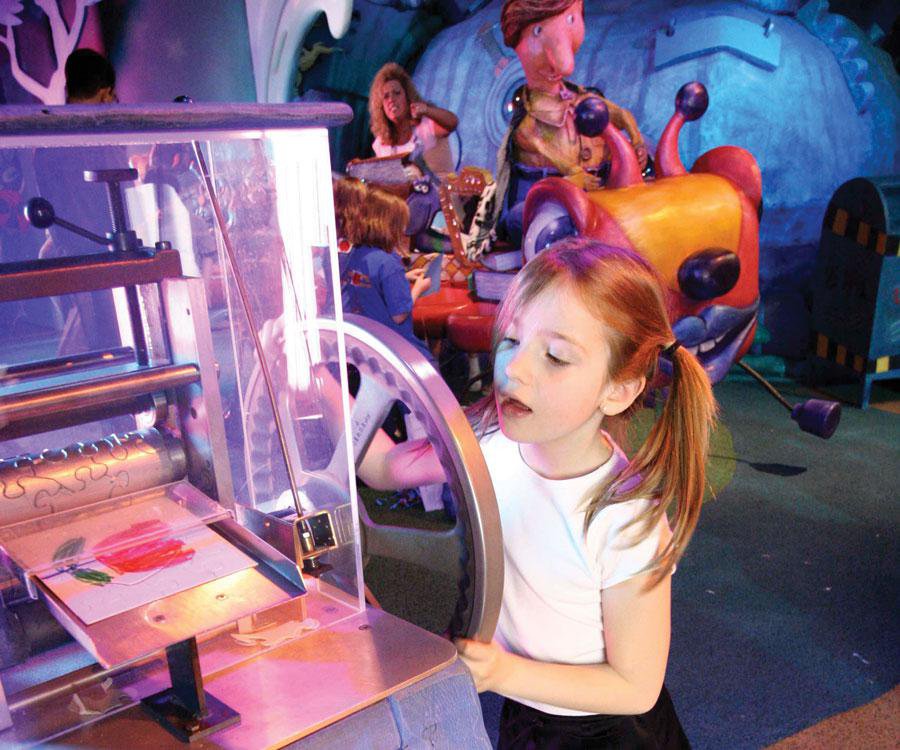 Rest Your Head
Right in the heart of Kansas City's Country Club Plaza is Hotel Sorella (901 W. 48th Place, Kansas City, 816-753-8800, hotelsorella-countryclubplaza.com). This hotel is infused with serenity but doesn't lack excitement. After taking a respite to shake off some driving fatigue, head to the more than 150 shops and restaurants at Country Club Plaza. Its convenient location will make grabbing a meal with the kids a breeze.
The Chocolate Flake Fromage ice cream at Murray's is made with a cream cheese base and dark chocolate flakes.
Grab a Treat
No one loves ice cream more than kids, right? Take them to Murray's Homemade Ice Creams (4120 Pennsylvania Ave., Kansas City, 816-931-5646, facebook.com/murraysicecreams), and enjoy a flavorful scoop. The spot offers new flavors every Friday. Make sure to check out its
Facebook page for new varieties.
Union Station's Science City offers all kinds of fun for the little ones, including a chance to meet creatures in the Nature Center. 
Play and Learn
Two hands-on children's museums in Kansas City have an important mission of sparking a lifelong love of learning through the power of play. 
At Wonderscope Children's Museum (5700 King St., Shawnee, KS, wonderscope.org), kids can experiment with flowing water pipes, create a track and then race a ball down it, get messy with face paint, play at grocery shopping, pretend to be a veterinarian, send colorful scarves sailing through a system of clear tubes and so much more. There's even a room especially designed for kids 2 years old and younger, where they can climb, pretend and more.
At Union Station's Science City (30 W. Pershing Rd., Kansas City, 816-460-2020), kids of all ages can unearth dinosaur fossils, learn the science behind levers in a giant game of tug-of-war, experiment with hands-on science projects, ride a bike 30 feet in the air, explore the chemistry of food in the test kitchen and tons more. There's also a planetarium, a railroad museum and a fun, wacky walk-through motel filled with illusions. 
LEGOLAND Discovery Center Kansas City is a great place to take the kids while you're in town.
Build Something
Inspire your kids' creativity, and let them build whatever their little minds can create at LEGOLAND Discovery Center Kansas City (2475 Grand Blvd, Kansas City, 816-471-4386, legolanddiscoverycenter.com/kansascity). Besides lots and lots of LEGOs, there is a 4D Theme Theater, theme rides and more! 
Get in Touch with Nature
Check out Overland Park Arboretum (8909 W. 179 St., Overland Park, Kansas, 913-685-3604) if your kids are in the mood for a walk through nature. The gorgeous spot features lots of pretty trails, gardens and water features, plus there's a train exhibit where kids can play with a huge outdoor model train or climb into a real caboose.
Get Wild
The world-class zoo, Kansas City Zoo (6800 Zoo Drive, Kansas City, 816-595-1234, kansascityzoo.org) has a mission of conservation and respect for nature. Take your kids there so they can get an up-close-and-personal look at some of the world's most interesting animals. Don't miss the Penguin Plaza, or the daily chats with animal keepers throughout the zoo.
Be Creative
If you want to draw out the hidden creativity inside of your kid, Kaleidoscope (2500 Grand Blvd., Kansas City, 816-274-8300,hallmarkkaleidoscope.com) provides left-over materials from Hallmark's manufacturing processes and lets kids get crafty with art projects.