Reviews
5 Best Reubens
We've rounded up the five best places to chow down on these perfectly messy sammies in 417-land.
Written by Claire Porter | Photo by Kevin O'Reilly
Sep 2016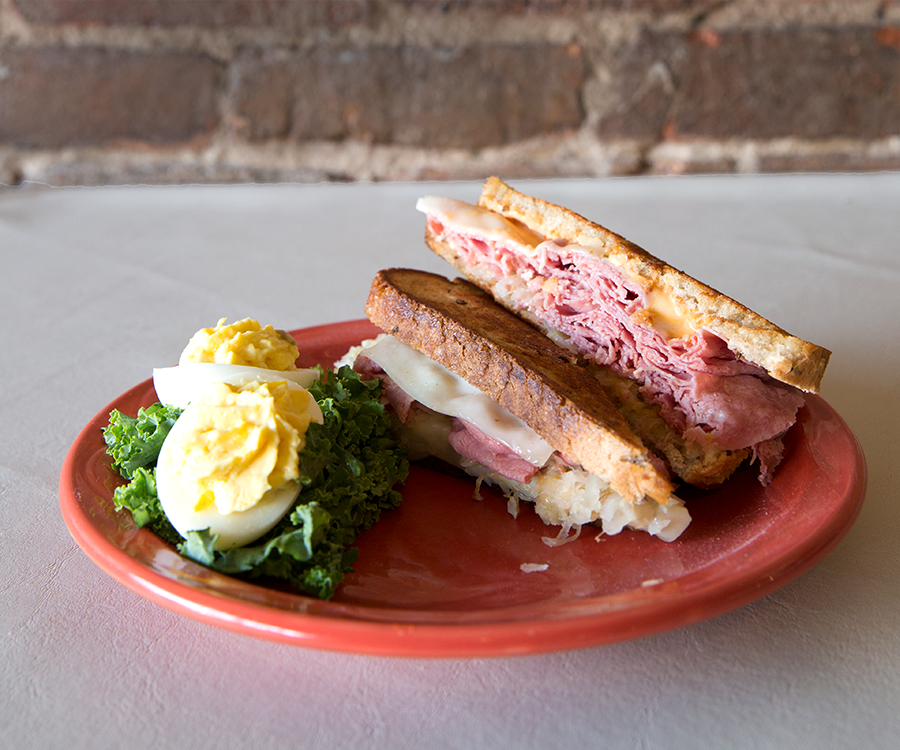 For some, corned beef is a once-a-year St. Paddy's Day treat. But for others, it's an everyday delicacy, and it's best served sandwiched between toasty rye bread, smothered in Thousand Island dressing and wedged underneath vinegar-y sauerkraut. We're talking Reubens, and we've rounded up the five best places to chow down on these perfectly messy sammies in 417-land.
306 E. Commercial St., Springfield; 417-873-9224
Best: Classic Reuben
Why We Love It: The perfect Reuben is elusive. Not too thick, not too soggy—but Sisters in Thyme gets it right with a light swipe of Thousand Island dressing and perfectly toasted rye bread protected by two lightly melty slices of Swiss cheese. Thanks to a light hand on the sauerkraut, the quality of the corned beef shines through.
2023 S. Glenstone Ave., Springfield; 417-883-4066
Best: Packed to the Gills
Why We Love It: Don't expect a light lunch when you order Derby Deli's Reuben. This behemoth is piled high with tender corned beef stacked so tight the grilled rye bread can barely hold it all in. This two-hander is topped with Russian dressing, which is bolder than its Thousand Island counterpart. Pro tip: Flip it upside down so the juices don't make your bottom piece of bread soggy.
3.
 Dublin's Pass
Downtown: 317 Park Central East, Springfield, 417-862-7625; Southside: 2767 W. Republic Rd., Springfield, 417-877-7625, dublinspass.com
Best: All Rolled Up
Why We Love It: Too dainty for a sandwich? We don't believe you, but we'll indulge your sensitivities. The Reuben Rolls at Dublin's Pass make for perfect finger food. These handmade egg rolls consist of a crunchy shell wrapped around corned beef, sauerkraut and Swiss cheese, served with Thousand Island dressing for dipping. 
3521 S. Lone Pine Ave., Springfield; 417-881-4488
Best: On a Bike
Why We Love It: You're going to be grateful for Sequiota's bike rentals (and a chance to burn off some carbs) after you finish the Finnegan's Reuben. Hand-carved corned beef is smooshed between toasty, seedy rye bread and nestled next to Swiss cheese, sauerkraut and Thousand Island dressing. Filling? Yes. Greasy? A little. Blow-your-mind delicious? You betcha. 
2708 S. Glenstone Ave., Springfield; 417-883-3403
Best: German-style
Why We Love It: When you deviate from the norm, you want to make sure you've got the basics down pat.  Nearly Famous nailed down a solid Reuben combo—classic Rye, salty corned beef, light sauerkraut and Swiss cheese—before swapping out the Russian dressing for golden German mustard. The mustard reduces the ooze-factor most Reubens fall victim to and adds a little German kick.