Reviews
Baba's Burgers & Gyros
If indulgent eats like fully loaded gyros and garlicky fries make you drool, you will love lunch at Baba's Burgers & Gyros in Branson.
Written by Savannah Waszczuk | Photos by Brandon Alms
Sep 2016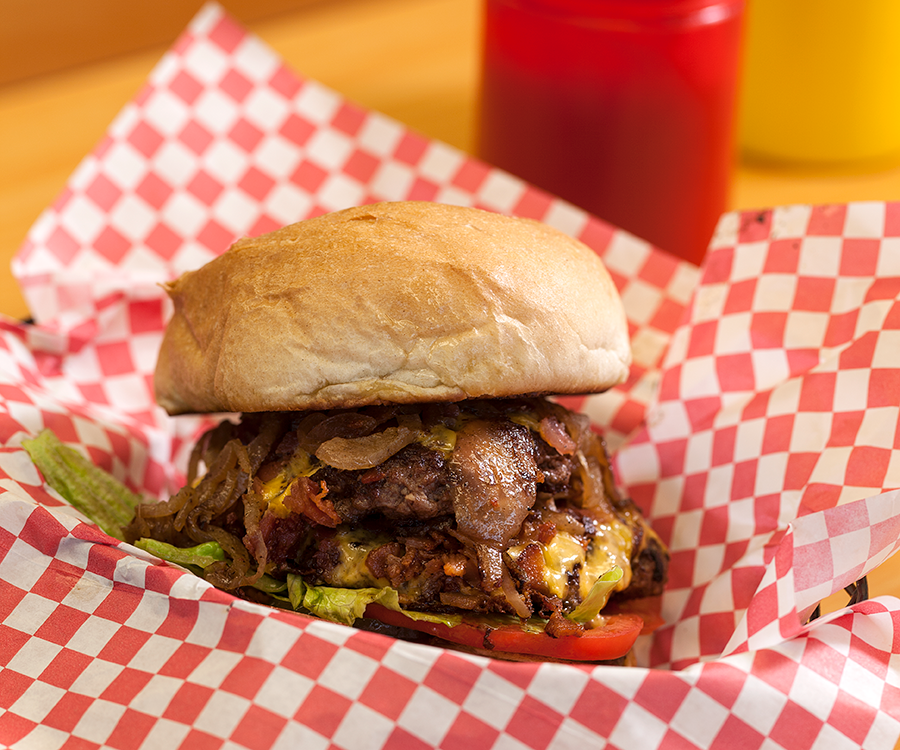 Editors Note: Since the initial publication of this article, Baba's Burgers & Gyros is no longer in business in Branson, MO.
Branson is a marvel of a city, even for those of us who live nearby. It has glitz and glam and folk and fame, plus shopping, entertainment and a whole lot of dining. It really is our own little Vegas of the Midwest, minus all the gambling and high price tags. I know that I personally discover something new every time I visit, whether it's a spot on the strip that draws me in with its dazzling lights or an old mom-and-pop shop where I can buy an entire meal for less than $5.
My most recent Branson discovery happened on a particularly hot summer afternoon when I was in the city for a quick shopping trip. I was tired, and I was hungry, and like anyone who's about to eat a meal out, I wanted something delicious. But I wasn't exactly wearing my Sunday best, and I didn't feel like spending a couple of hours in a restaurant. My boyfriend, Dylan, felt the same way, so we decided to bypass our usual favorites and asked Google for advice.
Dylan stumbled upon Baba's Burgers & Gyros in his search and started reading reviews. At first I was skeptical—a restaurant that I had never heard of? I usually hear about a lot of restaurants due to this job, so I had little faith in this place. But then he talked of Baba's high ratings (4.5 stars out of 318 reviews on tripadvisor.com; 4.5 stars and 42 reviews on yelp.com; 4.9 stars with 144 reviews on Facebook). "Go on," I said. After we read several people's raving reviews about the gyro at Baba's, I was sold, and we soon found ourselves pulling in the parking lot of what I remember as the old Dunkin' Donuts to give it a try.  


 Satisfy your hunger and then some at Baba's. Start with Fried Pickles or Fried Mushrooms then dig into a Classic Gyro or Double Cheeseburger with a side of Greek Garlic Fries.
Now, I'm going to be super honest here. When it comes to ambiance, this space is nothing special. There are no table linens or cloth napkins—instead there are diner-style booths, and you're going to have to grab some paper napkins when you're filling up your paper cup at the soda fountain. But I can promise you this—once you take the first bite of a gyro here, you're going to be in a much happier place than this diner, and you're going to stay there for every single bite.
I was too excited to review the food on my first visit, so I went back with a couple of friends a few weeks later. The menu here is rather small and includes the favorite gyros I've already mentioned plus a selection of chicken sandwiches, hot dogs and burgers that include exotic options like elk and buffalo. I ordered some baskets of fried pickles and fried mushrooms for us to share, and while they were very typical in the world of fried (likely frozen) foods, they did come out piping hot and with plenty of creamy ranch for dipping. No matter who you are or how healthy you typically try to eat, I'll say you're lying if you don't admit to enjoying the taste of a fried vegetable now and again, and these certainly fit the bill if you're craving something crunchy and indulgent. 
I ordered a gyro and a side of Greek Garlic Fries for my meal, and the gyro is what I say is worth the drive to Branson itself. The flatbread came out warm, pillowy and with just the perfect amount of bite, and it was so fully loaded that I know I could have shared it with a friend and still been full. I didn't, though. Instead I indulged in bite after bite of the specialty sandwich that made my mouth oh-so-happy. The meat was juicy and rich and even a little salty (but salty in a good way, if that makes sense), and there was a ton of it. 
It was topped with slices of fresh tomato, slivers of red onion, a heavy handful of feta and a thick drizzle of cool, zingy tzatziki sauce. Of all the gyros I've tried in 417-land—and I've tried a lot of them—I'm confident in saying Baba's gyro would compete for No. 1. My friend Dean ordered the chicken gyro, and he let me snag a couple bites. It packed all the same over-the-top flavors but with seasoned chicken instead of the beef/lamb mixture. If you're deciding which to get, I'd still vote that traditional is the way to go, but the chicken does make a tasty sub if you're not a fan of red meat. The fries were perfectly crisp and the seasoning extra garlicky, making sure that any bit of fresh breath I might have had even after the gyro was long gone.
The sandwich itself was $6.79 plus 75 cents for feta cheese, and a small order of Greek Garlic Fries will set you back $2.19. Together they're definitely what I'd consider a cheap eat—honestly, that price is a steal for such a treat. Next time you're out in Branson and want to indulge, forgo the frills and pull into Baba's. You might see me there, and I likely won't be in my Sunday best, but the smile on my face will prove I'm enjoying the gyro of my dreams.