Dishes
Sweet and Crisp Apple Galette
There's no wrong way to enjoy in-season apples, but might we suggest this Easy Ozarks Apple Galette recipe from Springfield baker Katie Kring?
By Ana Elliott
Sep 2018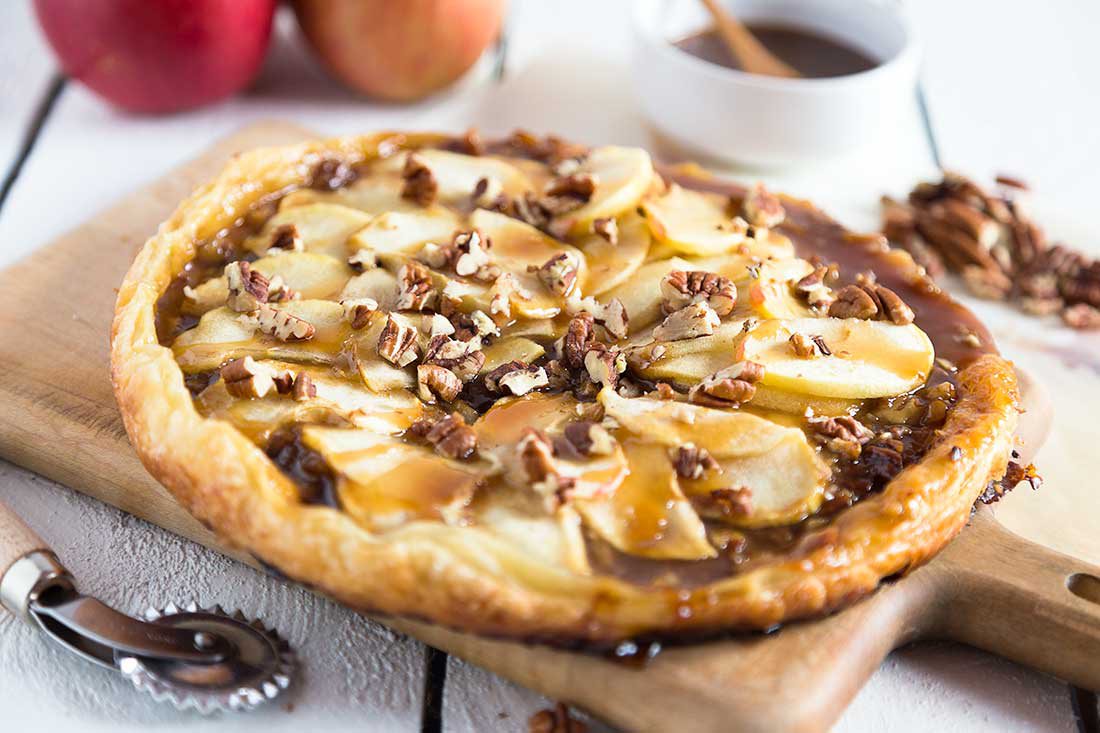 They're sweet, crisp and known for keeping the doctor away—apples are in season in the Ozarks. Although some varieties of apples come into season in 417-land as early as late July, August, September and October are the prime time for picking (and eating!) this fruit, says Katie Kring, owner of B + B Boulangerie and Bakery (607 S. Pickwick Ave., Springfield, 417-315-8602, bbboulangerie.com). Kring is an expert baker and educator, known for her KatieMade brand of baking classes and sweet treats.

When it comes to recipes involving apples, particularly apple pie, many families pass down a secret ingredient—a dash of lemon juice, perhaps a little vinegar in the crust—or a not-so-secret ingredient—a scoop of ice cream á la mode. Kring's advice? Let apples be apples. "Get good apples and trust them," she says. "When I go through the trouble of peeling apples, I want them to taste like apples, not like a cinnamon roll. When we add spice here, we add just a touch of spice. We use the tiniest bit of sugar and the smallest bit of spice to accentuate the natural flavor of the fruit."

This treat of nature is versatile, starring in apple cider–brined pork chops or Kring's favorite apple, honey and thyme pie. One thing to keep in mind, however, is that you can't always compare apples to apples. While a Granny Smith is a fine snack on its own, Kring says it might not be the best for baking, as its natural tartness requires more sugar to counteract. For a well-balanced pie or galette, she likes Honeycrisp, Jonathan or Ozarks Gold varieties, which have more going on in terms of flavors. 

When possible, Kring recommends purchasing apples from a local farmer's market. "When you buy apples from a grocery store, they're typically growing varieties that hold up to shipping and storage, and they may have been stored for up to six months," she says. "The advantage to buying from a local orchard is eating the apples when they're in season, and you'll likely have a broader selection to choose from." Kring estimates local orchards might have 10 or more varieties to try, while a grocery store might only have five or six. 

Whether you bake them, fry them or turn them into apple butter, you can't go wrong with this sweet fall fruit.