Life
Q&A with Pickeball Pro RaNay Riffe
Pro-level player and certified Pickleball instructor at Pickleball Warehouse, RaNay Riffe shares how she discovered the popular sport.
By Colin Shea Denniston
Oct 2022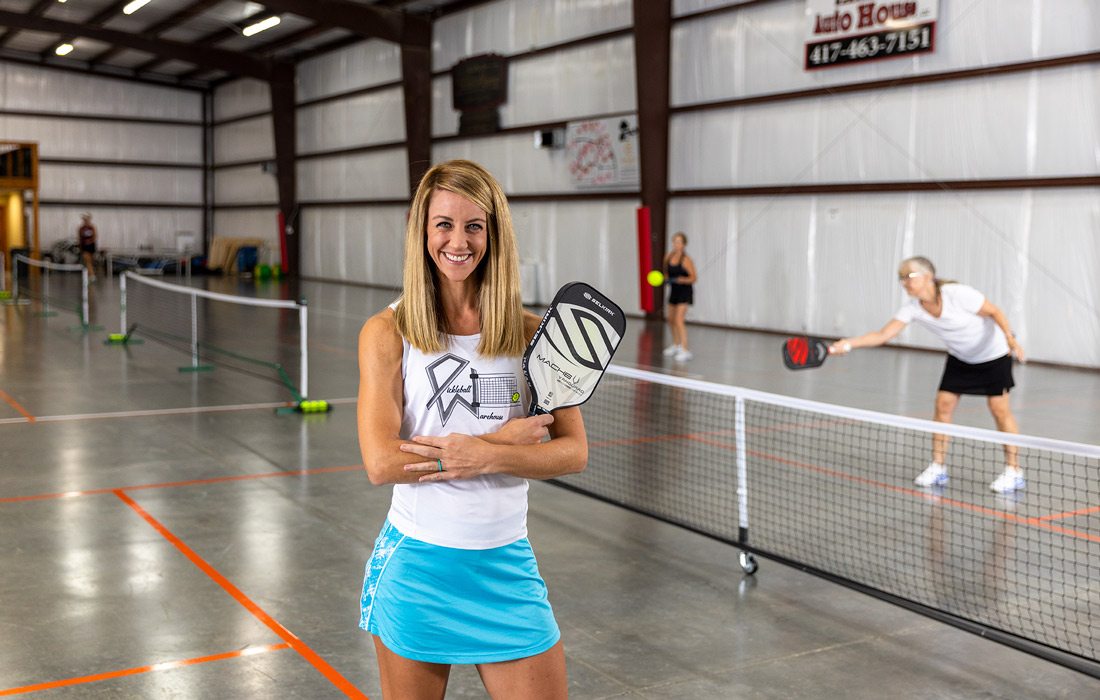 417 Magazine: How did you get started with Pickleball?
RaNay Riffe: "I started playing seven and a half years ago in Republic. Our rec center in town started having open-play pickleball. They were kind of the first place around this area to do that. So, my husband and I—I had never played, I had never even heard of it—started playing. I was instantly addicted like everybody else that plays. I played my first tournament six months after that, and two years later, I made it to a 5.0 level, which is a pro-level player."
417 : How have you seen pickleball grow over the past 5 to 10 years?
R.R.: "It's been insane. Like I said, when I first started seven years ago, nobody had any clue what it was. There was one tournament in the area, and it was in Branson once a year. Now you can pretty much play a tournament every weekend within a one- or two-hour radius. Even just within the area, there are places to play every day of the week now. There are so many different facilities to go to—it's popping up everywhere. And five years ago, that wasn't happening at all."
417: The name is kind of funny. Do you know the origin or history behind it?
R.R.: "There are a couple different theories about that. The biggest one is that a guy invented it in his backyard with his kids and whenever the ball would go off, his dog would go get the ball. And his dog's name was Pickles. That is the one that we've heard the most. And I think that was in like the 1960s or something. It's been around for a long time."
417: Why do you think people like it so much and why is it currently on the rise?
R.R.: "It's very easy to learn. Even if you have no athletic ability or background whatsoever, it's very easy to pick up a paddle and learn to hit the ball. My mom has never been an athlete in her life, and she just loves the sport—plays multiple times a week for hours. And there are so many different people from so many different levels and age groups. It's easy to plug into groups of your own level, and just be able to play and have fun."
417: What's your favorite part about playing pickleball?
R.R.: "It's always fun to hear people say, 'Oh I thought that was an old people sport.' And I'm like, 'Oh, well you want to come play with my group? Because it is not old people, and it is not slow!' You just develop some really great friendships with people from all over. And when you're playing tournaments, you see the same people from all different areas, so it's fun to reconnect with people from all over."
417 : Pickleball in the Olympics. Could you ever see this happening?
R.R.: "Definitely. I'm kind of surprised it hasn't already happened. I know there's talk about it."
Places to Play Pickleball in Southwest Missouri
Marionville
The Pickleball offerings at Pickleball Warehouse (584 W. Jonathan Dr., Marionville, MO 65705) include beginner clinics, Drills and Skills classes, small group and private lessons, ladder leagues and monthly tournaments. In the future, Riffe hopes to start hosting corporate events at Pickleball Warehouse. 
Republic
Looking to combine your Pickleball workout with a bit of socializing? The Republic Community Center (711 E. Miller Rd., Republic, MO 65738) offers open play Pickleball from 8 a.m. to 1 p.m. on Mondays, Tuesdays, Thursdays and Fridays. Participation is free and no sign up is necessary. 
Branson 
Folks in the Branson area can play indoors at The Branson RecPlex (1501 Branson Hills Parkway Branson, MO 65616) or outside at one of Eiserman Park's (201 Compton Drive Branson, MO 65616) three lighted courts. To stay up to date on more Branson Pickleball news, check out the Branson Pickleball Club Facebook page.
Springfield
With indoor and outdoor courts throughout the city including the Chesterfield and Dan Kinney Family Centers, Springfield residents have multiple year-round Pickleball opportunities. Also in the works, Springfield City Council recently approved the development of The Loose Goose at the intersection of Grant and Grand. In addition to a walk-up bar, food trucks and drive-thru coffee, the plans also include multiple Pickleball courts.