Style
CC Boutique Knows How to Take Women's Fashion From Day to Night
Fate pushed Angie Cotner through a period of doubt—and now she's more sure than ever that her store, Cotner Clothing Boutique, is built to last.
By Jennifer Adamson
Jan 2020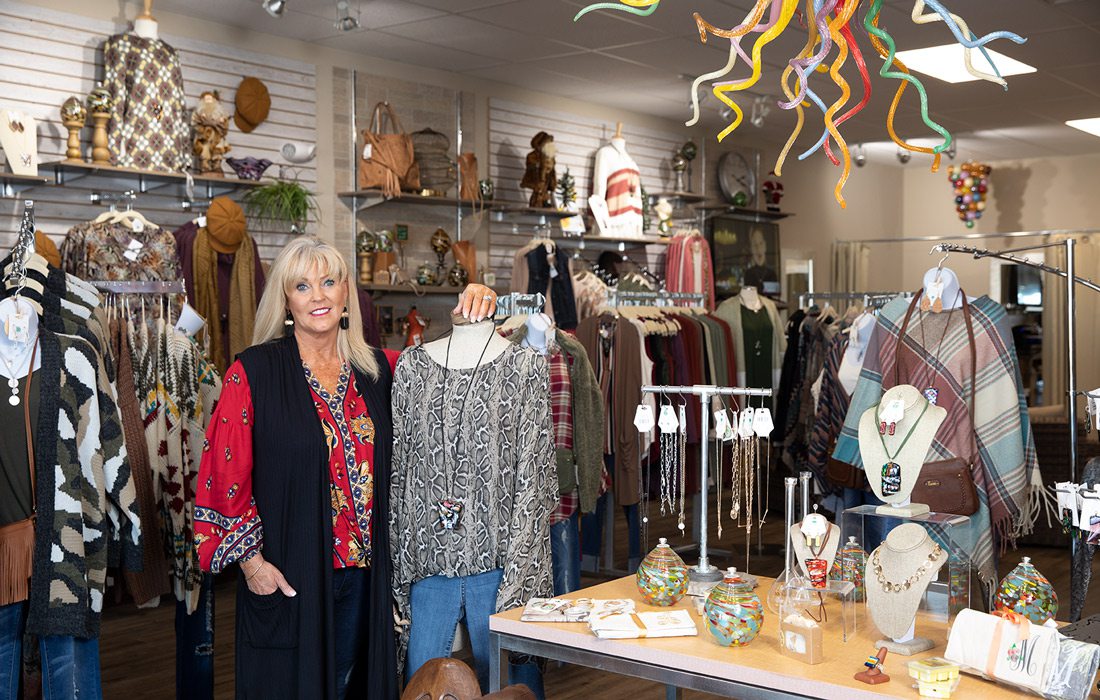 Angie Cotner was ready to give up. She'd always wanted to be a fashion boutique owner and had the retail experience to see her through, but when she finally found a space to revive and started getting her hands dirty, her dream soon became a chore. Exhausted, she dropped the broom she was pushing at the time and flung open the shop's rear door, ready to run back into the corporate career she left six years prior. "Then I looked down and saw that white crucifix on the ground," she says, pointing to a permanent display adorned with the emblem. "That's when I knew this was meant to be."
In July of last year, an encouraged Cotner opened Cotner Clothing Boutique, casually known as CC Boutique, in the strip mall on the south side of Republic Road east of National Avenue. The shop offers clothing with a bohemian, carefree flair that is easily mixed and matched, with styles to flatter women of any age or size. Most items are priced between $40 and $60, depending on the season, and can go from day to night with minimal fuss.
"I try to carry brands no one else in Springfield has," Cotner says. "I'm constantly changing the look of the store." Right now, winter necessities, like ponchos and cardigans, are flying off the racks. This spring, watch for pastel snakeskin prints, bold color-blocking and vertical stripes. In addition to her own merchandise, Cotner is emphatic about supporting other locally owned, women-run small businesses. She also carries IScape candles, Satin & Cedar graphic T-shirts, dichroic glass jewelry designed by Rosy Helwig and Wendy Jeans, a line of upcycled denim.
But Cotner's loyalty to women doesn't end there. The whole vibe of CC Boutique is very laid-back, like happy hour with your girlfriends in the comfort of your own home. Just beyond the gorgeous Wren Helwig glass chandelier above the front entrance is a makeshift bar stocked with complimentary refreshments and lounge furniture that's been thoughtfully arranged for outfit viewings, Instagram selfies and catching up. "I want women to have a nice place to come shop at affordable prices and develop friendships," Cotner says. "It really is like a big closet where we just hang out and talk."