Life
Saddle Up for a Getaway to Claremore, Oklahoma
Claremore, Oklahoma may not be on your radar, but if you love cowboys or Victorian Christmas celebrations, it should be.
By Juliana Goodwin
Nov 01 2019 at 8 a.m.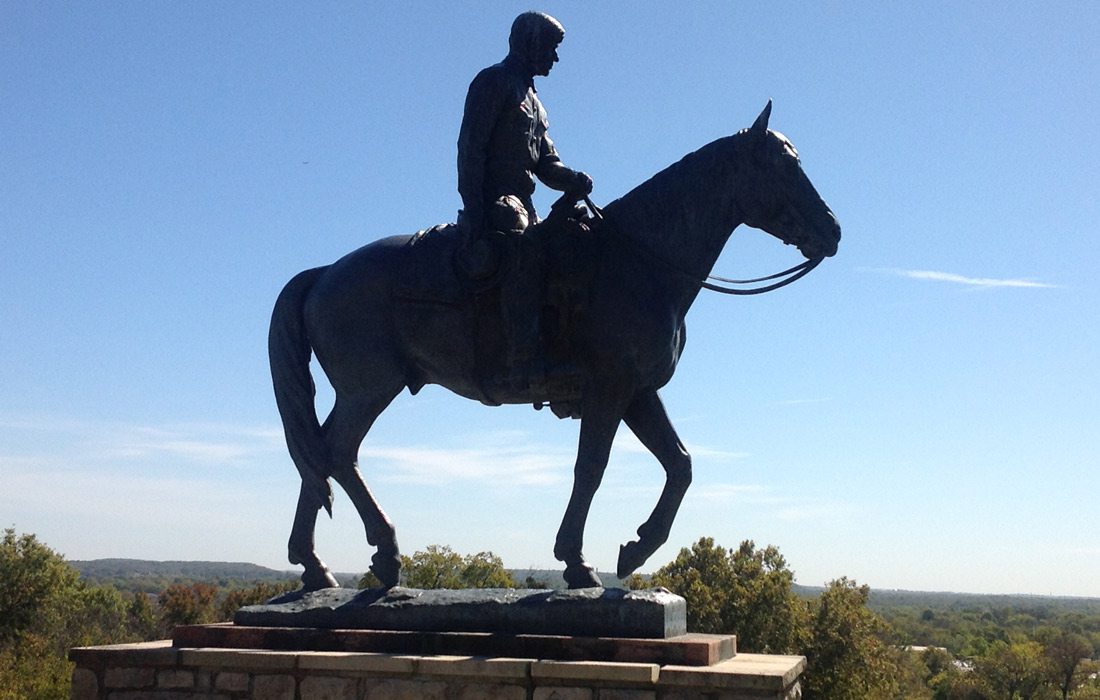 What to do While in Claremore
The Will Rogers Memorial and Museum is located on 20 acres donated by his wife. The property houses his tomb, a plethora of paintings and photos, newspaper clips and memorabilia, and his collection of saddles from around the world. Rogers is famous for his role as a cowboy and movie star, but he also was a syndicated newspaper columnist. His column appeared in 500 newspapers and reached 40 million people. Although the museum is not that big, it's very educational. Start your tour in the movie theater and watch a short documentary on his life. An enthusiastic pilot, Rogers was killed in a plane crash.
J.M. Davis Arms & Historical Museum is a must-visit for any gun enthusiast. The museum is home to more than 12,000 firearms that span history and claims to be the largest private collection in the world. Outside of the dizzying selection of guns, there's also World War I memorabilia, Native American relics, vintage saddles, beer steins and local history. The collection belonged to John Monroe Davis, a former hotel owner, mayor, landlord and avid collector.
Belvidere Mansion was completed in 1907 and has a Missouri tie. It was built by John Melville Bayless, of Cassville. In Missouri, he helped establish Monett State Bank, Barry County Bank and J.M. Bayless and Co. mercantile. This historic home is now owned by the Rogers County Historical Society, which offers free self-guided tours.
Swan Bros. Dairy has been family-owned since 1923 and is entering a fourth generation of operation. You can stock up on raw milk, raw milk cheeses, cheese curds and a variety of freshly made cheese. The shop is closed on Sundays.
Best Places to Eat
The Hammett House has been in business since 1969 and serves down-home cooking. The pies are divine, and they bake more than a dozen a day. Try the signature fried chicken, prime rib or the daily specials, such as roast beef dinner. If you want something more upscale, try The Pink House, which is housed on the first floor of the Belvidere Mansion. It's open for lunch and serves quiche, salads, sandwiches and delightful desserts.
Experience Downtown
Stopping in downtown Claremore is a must. There's a downtown association dedicated to the revitalization of this historic area, which has a plethora of antique shops and cute specialty stores, such as a haberdashery. The downtown area is listed as a National Historic District due to its significant role in commerce in Claremore from 1890 to 1955.
If you visit the weekend before Thanksgiving, downtown Claremore comes to life with Dickens on the Boulevard. During this Victorian Christmas celebration, there are living windows, photos with Santa for the kiddos, people dressed in Victorian garb, live entertainment, wagon rides, dancing, live nativity and various craft and skill demonstrations. It takes place November 22–23.