Travel
Step Back in Time in St. Charles, Missouri
Put your walking shoes on and prepare to spend as much time outside near the river between stops to shop, eat and drink.
By Jenna deJong | Art Direction by Fried Design Co.
Jan 2019
FRIDAY
Noon: Lindenwood Park

Visit the Historic Daniel Boone Home at Lindenwood Park just outside St. Charles. Tours are offered year-round and can include the adjoining village and surrounding property. Note that only some parts of the property and home are handicap accessible. Guests can stop by anytime for a self-guided tour of the grounds. 

5 p.m. Ameristar Casino Resort & Spa
Check in to the Ameristar Casino Resort & Spa and relax because you're finally in for the night. Spend the rest of the evening placing your bets near the Missouri River and afterward, have dinner at Asia, one of the two in-house restaurants. The eatery is fairly new (only two years old) and has been featured in local publications.


SATURDAY
10 a.m. First Missouri State Capitol Historic Site 
Before the state capitol moved to Jefferson City, it was in St. Charles. Walk around the museum and experience the same site where Missouri's first legislators congregated to iron out the state's future. 

Noon: Trailhead Brewing Company
Located on the south side of Main Street, Trailhead Brewing Company is a favorite among locals for its atmosphere and food. Menu items include pizza, burgers, salads and more. Pair it with a handcrafted beer.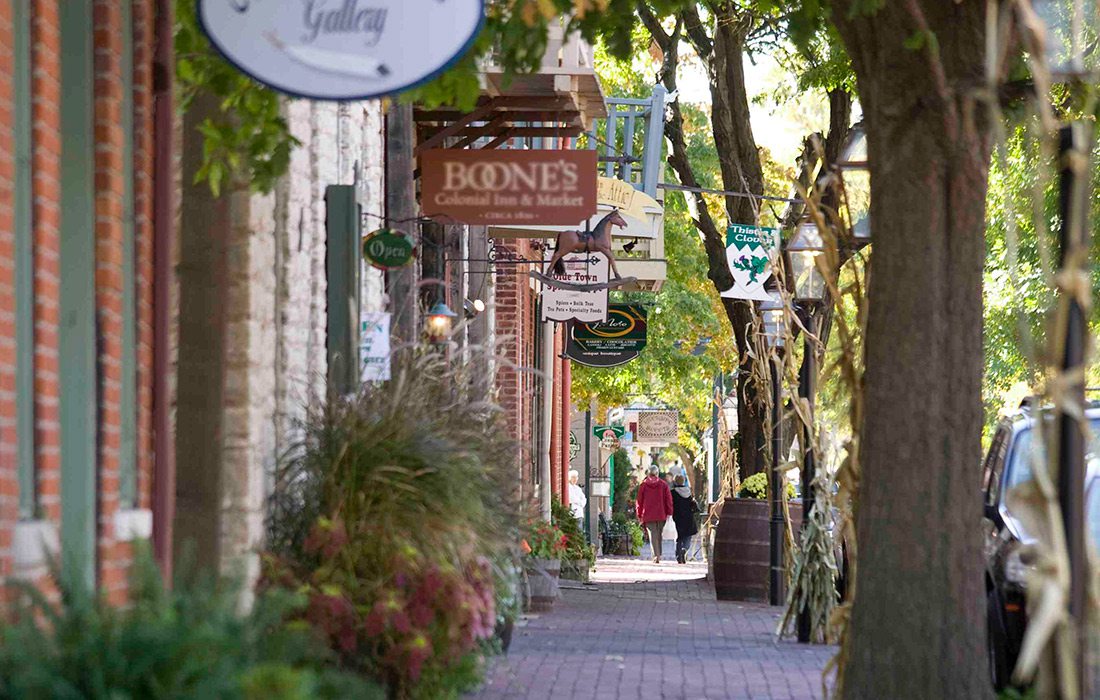 3 p.m. Main Street
After lunch, take the opportunity to walk up and down historic Main Street. The street is Missouri's oldest and largest historic district and runs parallel to Frontier Park, the Katy Trail and the Missouri River. Explore more than 30 restaurants and more than 75 shops.

5:30 p.m. Pangea
Pangea and its menu are what St. Louis Magazine calls "beautifully functional," with dishes like pork belly carbonara, smashed burgers and a tasty brunch. The environment is family-friendly.

7 p.m. St. Charles Riverfest
Celebrating the Fourth of July near the Missouri River is a tradition that embodies St. Charles. Walk around Frontier Park and grab some grub from one of the food trucks, ride carnival rides, shop local vendors and watch fireworks pop over the river.


SUNDAY
10 a.m. Allin's Diner 
Conclude your weekend in St. Charles with an old-fashioned diner breakfast at Allin's Diner. With traditional breakfast dishes like biscuits and gravy, omelets and pancakes, this is a safe bet and sure to please everyone at the table. If you and your family are early birds, the restaurant opens at 6 a.m. 

2 p.m. Foundry Art Centre
Housed in a former train car factory, the Foundry Art Centre was turned into a museum by the City of St. Charles. The venue shows off local, national and international artists' work, along with other exhibitions, studio artists, performances and education opportunities. Watch studio artists work on their latest projects when you visit.
Interested in making the trip? Learn about everything that St. Charles, Missouri has to offer!