Weddings
Krysten and Robert Muench's Ultra-Personal Nontraditional Wedding Ceremony
How one couple made a nontraditional wedding ceremony work for them.
By Lillian Stone
Jan 2019
When Krysten and Robert Muench decided to tie the knot, they knew a traditional wedding ceremony was not going to be an option. "We wanted the ceremony to feel ultra-personal," Krysten says. "Ultimately, this is one of the most personal moments of your life, so it has to feel like you as a couple." 
The couple approached Robert's sister, Leslie, whom they asked to serve as their officiant and write their wedding script. "We wanted [our officiant] to be someone who knew us well and would understand what we were looking for," Krysten says. Leslie had been a close friend of Krysten's since Robert met Krysten in high school, so it was a perfect fit.

The Logistics
A major part of the planning process included ensuring Leslie was ordained. "We found out that it was actually a very easy process," Krysten says. Leslie completed an online certification and paid a small fee to become legally ordained. That gave her the authority to ensure the wedding was on solid legal ground. Krysten and Robert had to complete a handful of logistical matters including applying for and picking up their marriage certificate.

The Vows
For the Muenches, it was important to make sure both of their personalities shined through during the wedding ceremony. "A lot of times with weddings, it feels like it's about the bride," Krysten says. "But it's very much a union." 
For that reason, writing their vows quickly became one of the most intimidating parts of Krysten and Robert's preparation process. "We started out doing some research online and looking at nontraditional vows," Krysten says. "But we quickly realized that those examples didn't represent us at all." 
Krysten and Robert decided to spend one evening separately writing down their ideas for vows. They then collaborated on a final product and wrote one set of vows that encompassed their expectations as a couple. 

The Ceremony
After Leslie agreed to design the ceremony, she met with Krysten and Robert for more information on their ideal experience. "Honestly, we weren't 100 percent sure what we wanted," Krysten says. "We were interested in having a general idea of what was happening in the ceremony, but we also didn't want to know it word-for-word." 
Leslie spent the next year writing the script, sharing important points with the couple while keeping most of the ceremony, which took place at The Old Glass Place, a surprise. As a result, the wedding ceremony was full of lighthearted details that encompassed the couple's journey to the altar. Looking back, Krysten says those little surprises—like a boozy anecdote about the couple involving Leslie's 21st birthday—led to plenty of laughter and spontaneity that made the day feel authentic. 
"The ceremony was more lighthearted than I expected, and that was a very pleasant surprise," Krysten says. Ultimately, Krysten recommends that other couples recognize the seriousness of a wedding ceremony while making sure to enjoy the more lighthearted aspects of the day. "Although it's a serious day, you have to have fun with it," she says. "It's got to feel like you."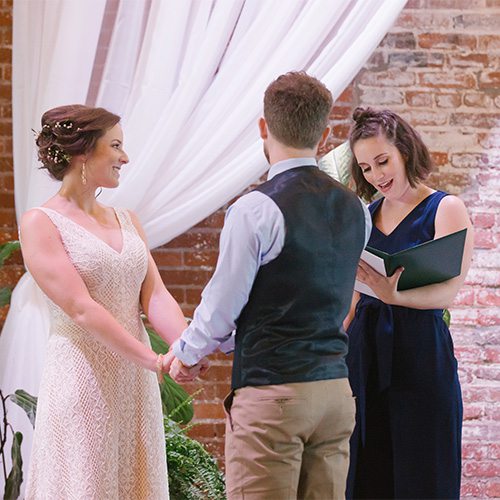 Finding Your Officiant
Looking for a nontraditional officiant? For Krysten and Robert, selecting Robert's sister as their officiant was a no-brainer because of her close ties to both the bride and the groom. Looking back, Krysten recommends couples consider a few other factors when selecting their officiant—factors including public speaking skills, a sense of humor and attention to detail. "To have something be that ultra-personal, you have to place a lot of trust in your officiant," Krysten says. If you are not comfortable asking a close friend or family member to conduct your ceremony, try using an online resource like WeddingWire to find an ordained officiant near you.