Things to Do
Where to Find Blooming Trees Around Southwest Missouri
The sun is out, and buds are blooming in the Ozarks. Here are the best places to look for those gorgeous blossoms.
By Madison Bryan
Mar 2019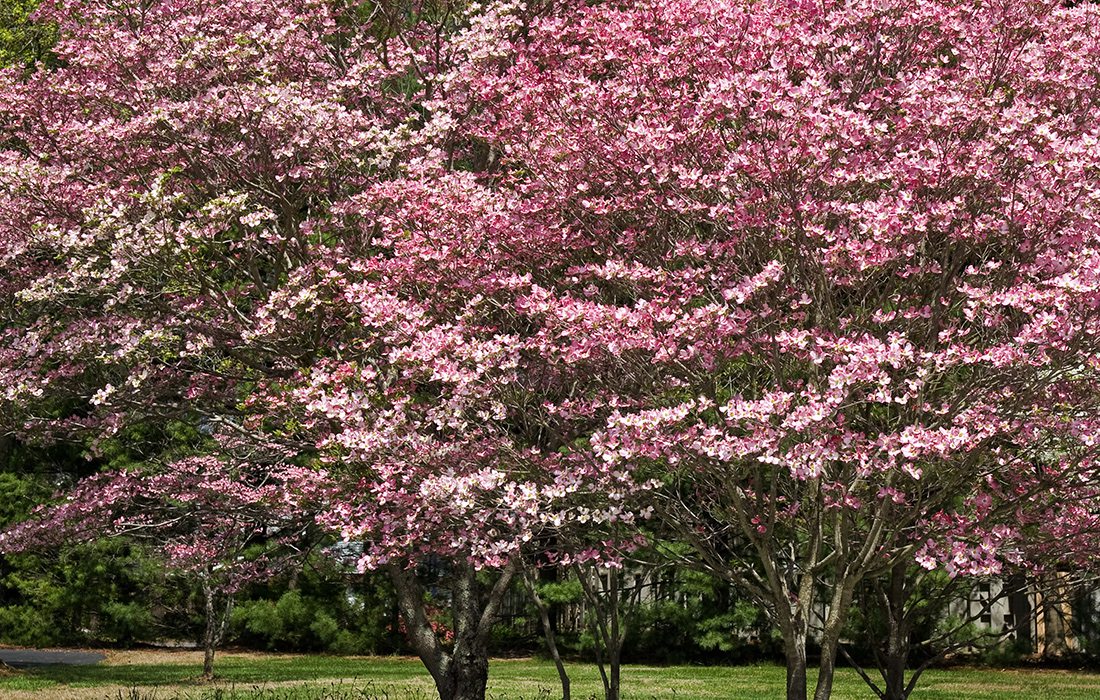 Nathanael Greene/Close Memorial Park (Springfield Botanical Gardens)
2400 S. Scenic Ave., Springfield
You could spend days sniffing the blooms at Springfield Botanical Gardens. For pointers, talk to Katie Keith, botanical center coordinator. First is the Redbud Garden with 25-plus varieties of redbuds. Next, visit the butterfly house and the wildflower area that's carpeted with flowers through mid-April. Even the paw-paw patch will be in bloom.
In April, Red Buckeyes indicate the return of hummingbirds, and find more blooms in the Woodlands south of Lake Drummond. Don't miss the Master Gardener Demonstration Garden and the Natives section.
Best Time to Go: Through May


Dogwood Canyon Nature Park
2038 W. State Highway 86, Lampe
Dogwood Canyon Nature Park stretches across the Missouri-Arkansas border. The park, with its paved paths, is dedicated to protecting natural plant and wildlife environments. Learn how to protect the great outdoors at the education center and treehouse. While here, check out eagle watching, Segways, the wildlife tram, fishing and more.
Best Time to Go: Through April


Neosho 
The nationally known Flower Box City has an abundance of its native dogwood trees. There are even annual dogwood tours. This year Neosho is hosting its 58th Annual Dogwood Tour when you can walk among the six species of blooming dogwood trees lining the path through this self-guided tour. You can view a map of the tour and receive more information at the Neosho Area Chamber of Commerce at 216 W. Spring St.
Best Time to Go: Through April


Fulbright Spring Greenway 
Multiple Trailheads
According to Mary Kromrey, executive director of Ozark Greenways, Fulbright Spring Greenway is a natural blooming area that includes many native trees, such as dogwoods and redbuds, along with serviceberry trees with white blossoms. The trail follows a normally dry river bed that swells during heavy rainfall and is great for biking, inline skating and walking and is wheelchair accessible. 
Best Time to Go: Through May


Springfield Conservation Nature Center
4601 S. Nature Center Way, Springfield
This is a great place to go on tours, walk the trails and bird-watch. The 80-acre nature center is open year-round, and come spring, blooming trees line the trails and wooded areas. Check out free conservation educational activities and nature exhibits. Browse the gift shop, purchase hunting and fishing permits and enjoy 3 miles of walking trails.
Best Time to Go: Through May


Busiek State Forest & Wildlife Area
5 U.S. Route 65, Highlandville
Enjoy 2,500 acres and a variety of outdoor activities from approximately 18 miles of trails to permit camping, bird-watching, hunting, geocaching locations and a firearms shooting range. Keep an eye out for blooms such as the redbuds that surround the trails, pawpaw along the streams and more.
Best Time to Go: Through May


2019 Missouri Cherry Blossom Festival
Clay Avenue, Marshfield
Each year, Marshfield hosts a three-day Missouri Cherry Blossom Festival. Along with activities and vendors, participate in crafts, enjoy entertainment and be dazzled by the cherry blossom blooms. Visit cherryblossomfest.com for festival details.
Best Time to Go: April 25, 26 and 27