Things to Do
Lost Canyon Cave
A cave tour, incredible views and a round of golf? If you visit Lost Canyon Cave you'll find more than just the cave itself on offer.
by Sony Hocklander
Aug 2023
Travel Time
55 miles south of Springfield
Tough Stuff
The cave is accessible only as part of a guided 2.5-mile nature walk with multiple up and downhill sections, or part of an electric golf cart tour.
Itinerary
Stop for drink refreshments at the Bat Bar inside Lost Canyon Cave and spend time at Top of the Rock for dining, golf and sunset-viewing.
Don't Miss
Visitors enjoy seeing nine waterfalls on the Lost Canyon Cave tour trail, including one inside the cave.
How about a round of golf with your cave experience? Or perhaps you'd enjoy a nice meal afterward. Then top it off with a stroll out to the Chapel of the Ozarks for an incredible view of Table Rock Lake and gorgeous sunsets from the highest point in Taney County.
All that and more is found at Lost Canyon Cave, part of a rich complex of things to do at Top of the Rock, one of Johnny Morris' nature-centric properties that includes outdoor attractions and resort accommodations, such as nearby Big Cedar Lodge.
To see the cave, book a Lost Canyon Cave and Nature Trail self-guided golf cart tour or request a guided nature walk on the 2.5-mile paved trail that includes beautiful views, interesting rock formations, multiple photo-worthy waterfalls and of course, Lost Canyon Cave. The cart tours, which can accommodate four, include entrance to the Ancient Ozarks Natural History Museum. They are first come first serve but you can book tickets online. The trail takes roughly 40 minutes—or longer if you stop for lots of photos or linger over a view. Reservations are required to walk the trail with a guide who shares information about nature, history and geology over 1.5 hours.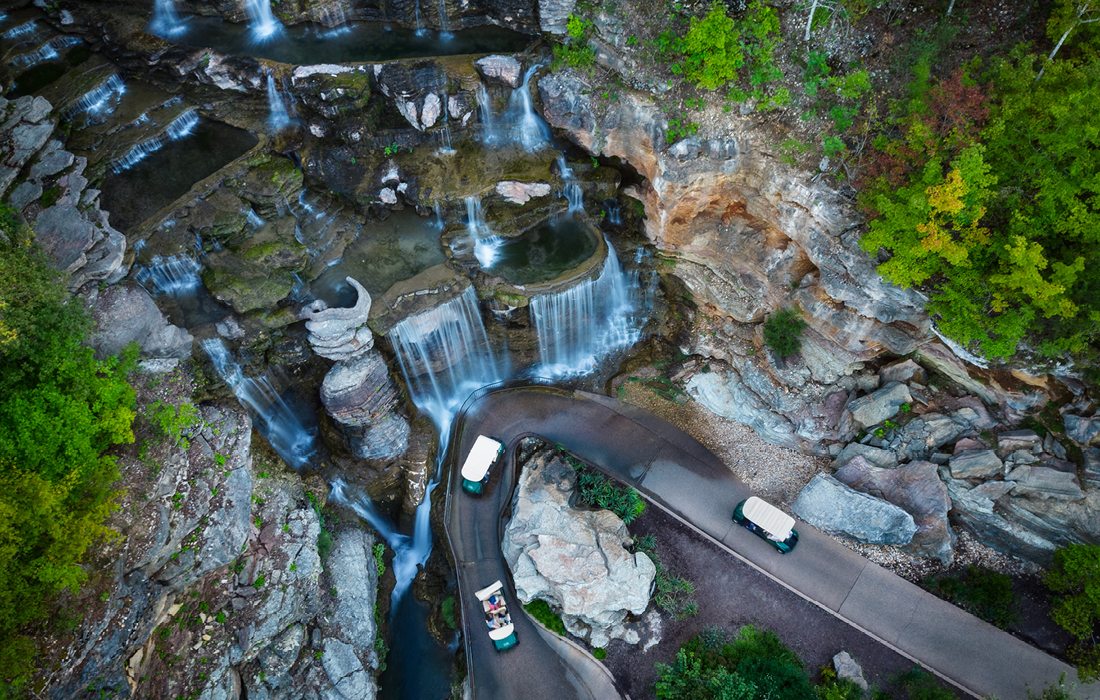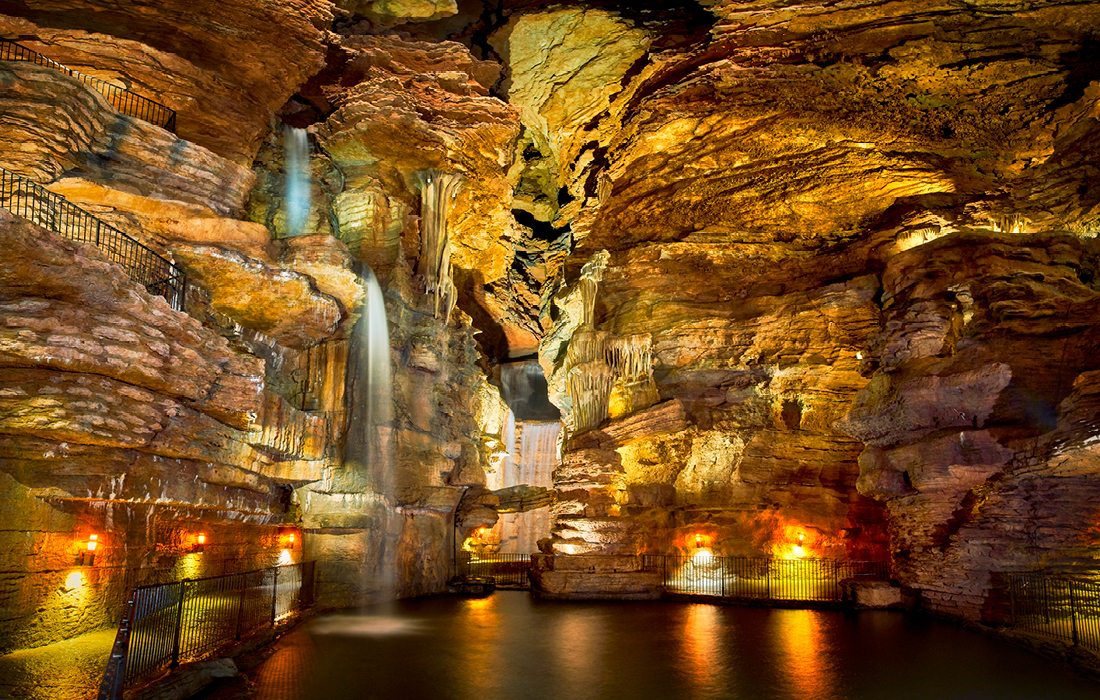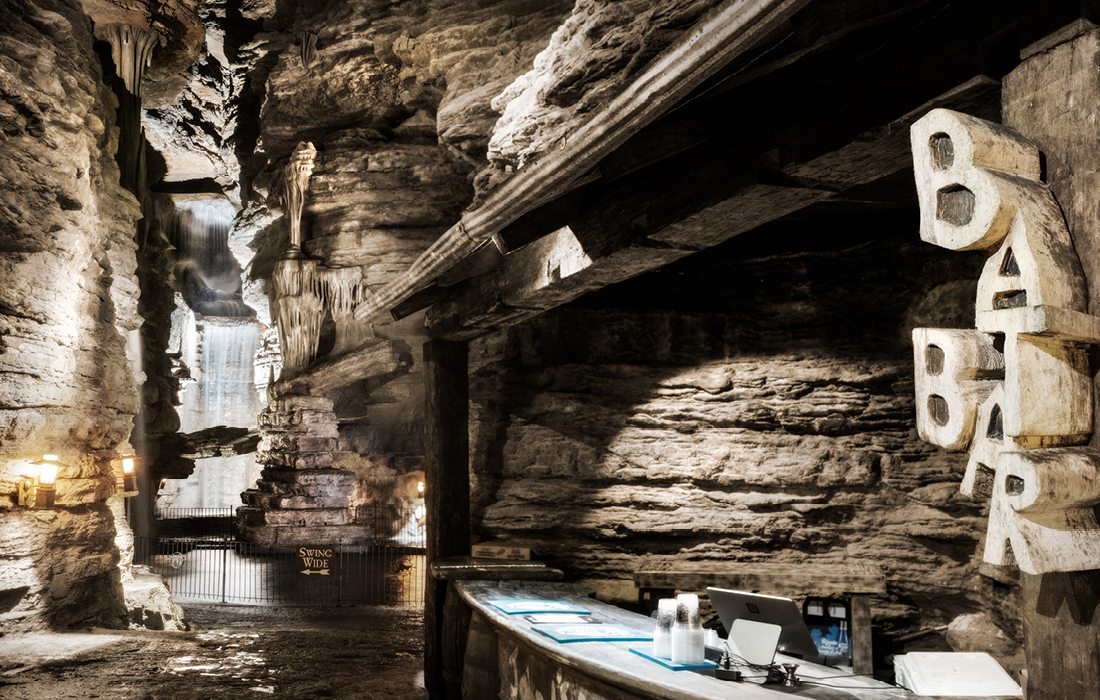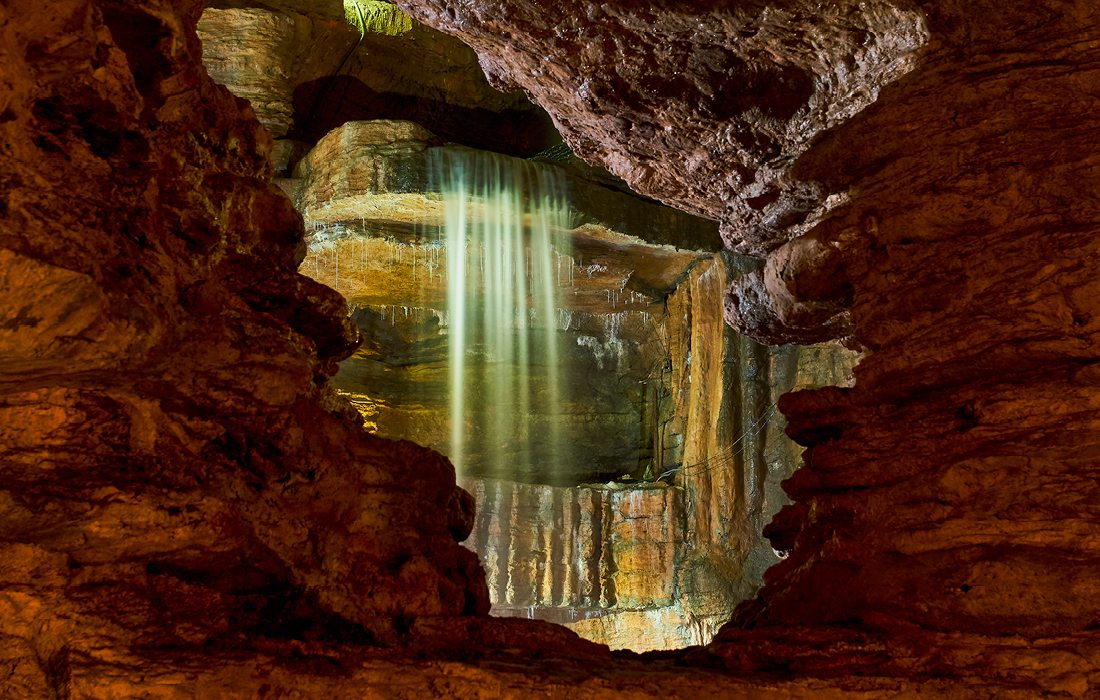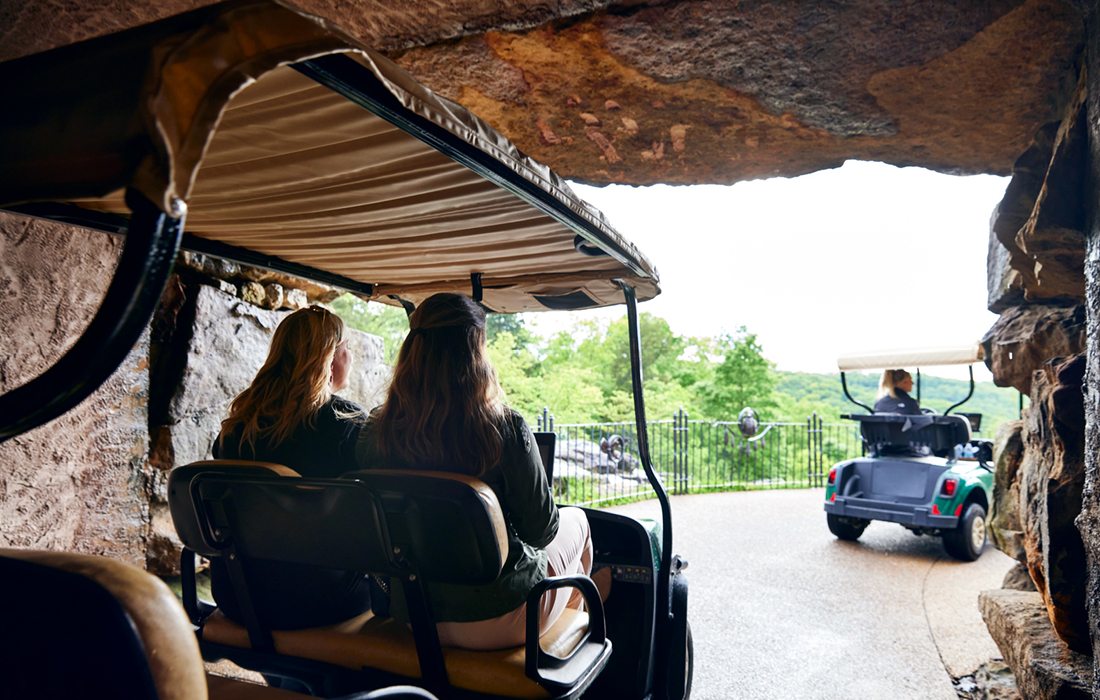 Both options take you through the four-story Lost Canyon Cave where the highlight is an impressive waterfall and beautifully lit limestone formations. Years ago, Morris went spelunking in the cave he eventually acquired along with the surrounding land. Working around the natural landscape, his team carved out the nature trail and cave experience. Part of that experience includes the Bat Bar inside the cave, which sells cocktails, beer, soft drinks, water and light snack options.
Speaking of caves (or perhaps potential caves), a trip to Top of the Rock isn't complete without viewing what's now called the Cathedral of Nature, the result of an unexpected sinkhole that opened in May 2015. Ever since, Morris and his team have been excavating the site to reveal incredible towering geological formations more than 300 million years old as they seek a connection to what could be a vast cave system. To date, crews have removed more than 1.6 million yards of earth and 108,000 loads of dirt and rocks according to Top of the Rock. The sinkhole, which was 70 feet wide by 100 feet long to start, is now 350 feet wide and 600 feet long, and it's grown from 40 feet to 200 feet deep.
Will a cavern be revealed? If so, cave tour experiences around the Ozarks could expand yet again.