Things to Do
Digging for Diamonds at Crater of Diamonds State Park
Spend a day outside at Crater of Diamonds State Park to dig through an ancient volcano and find a bit of treasure.
By Michelle Lewis
Aug 2022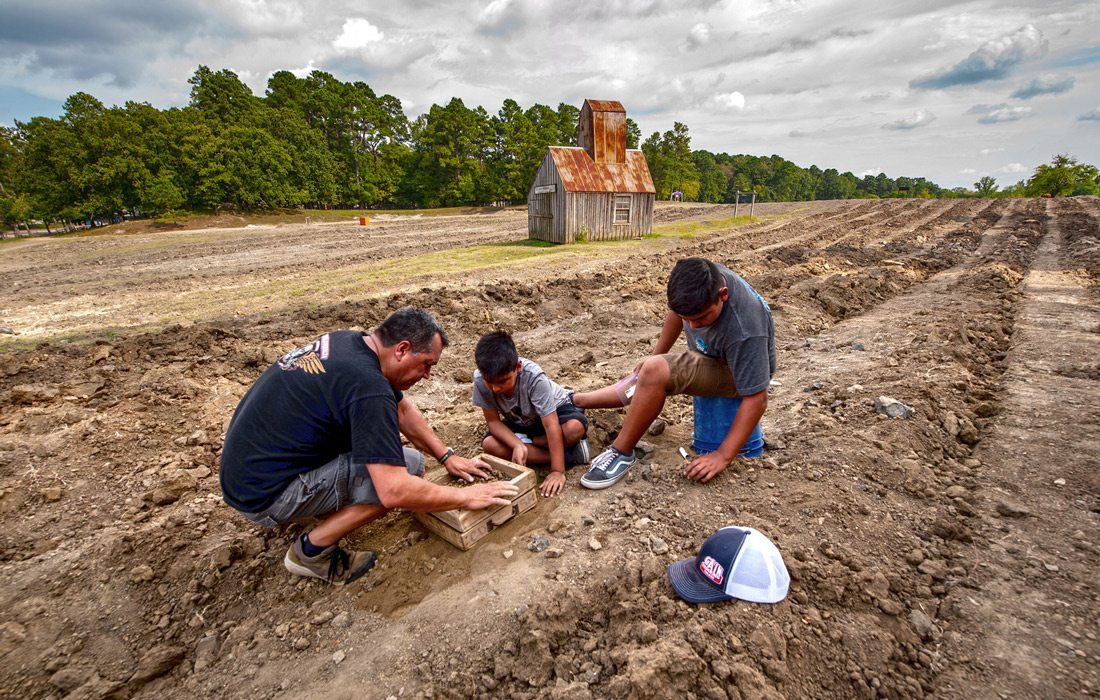 Getting your hands dirty is not the reason most people visit state parks, but Crater of Diamonds (209 State Park Rd., Murfreesboro, Arkansas; 870-285-3113) holds an outdoor experience unlike any other.
Here, visitors can search for real diamonds throughout a plowed 37.5-acre field on the surface of a formerly volcanic crater. Hidden in the soil are white, brown and yellow diamonds. Alongside these diamonds, you can also find a wide variety of other minerals such as amethyst, jasper and agate. 
Visitors have the option to rent equipment from the park or can choose to bring non-battery or non-motor operated equipment to assist in their search. You, of course, can also choose to search through the land with just your eyes and hands. The diamond searching area is occasionally plowed to soften the soil and allow diamonds to be found more easily both with and without tools.
Anything that is found at Crater of Diamonds is yours to take home, no matter the size or type of diamond or mineral. Since Crater of Diamonds became a state park, over 33,000 diamonds have been found. This includes the Uncle Sam, the largest diamond that has ever been found in the United States. The experts who work at the park offer free identification and certification to all visitors who locate any minerals. 
The outdoor adventure at Crater of Diamonds doesn't end at the diamond searching area. 
The state park holds a handful of walking trails that wind through the woods and allow visitors to experience the natural beauty of Arkansas. While traveling the trails you can witness a firsthand view of the unique land features like rock outcroppings that are uncommon for this area of the state.
Along one of the peaceful hiking trails, you can also cast a line on the Little Missouri River. Another trail gives you the chance to explore the wildlife that calls Crater of Diamonds home and encourages hikers to use their senses to be immersed in nature. The park has something for every visitor that wants to experience the attraction of Arkansas scenery, even a trail that is the longest wheelchair-accessible trail in Southwest Arkansas.
To top off the experience the park also offers picnic sites, campsites and even a seasonal water park to its visitors.