Trails
Hike the Ha Ha Tonka Loop for Spectacular Views
A pristine spring, natural bridge and castle ruins—yes, castle ruins—make the Ha Ha Tonka loop in Camdenton, Missouri a trail you don't want to miss.
By Vivian Wheeler
Oct 2019
There's something about Ha Ha Tonka state park that feels magical. It could be the unnaturally blueish-green spring that looks like something out of a picture book. Or maybe it's the castle ruins that seem summoned straight from a fairytale. Either way, this park located in Camdenton, Missouri contains plenty of sights to explore. To make the most out of your visit, we recommend hitting the Ha Ha Tonka Loop trail, which takes you past the park's greatest hits. A fair warning, it's easy to get lost in this park, so consider taking a map or GPS with you.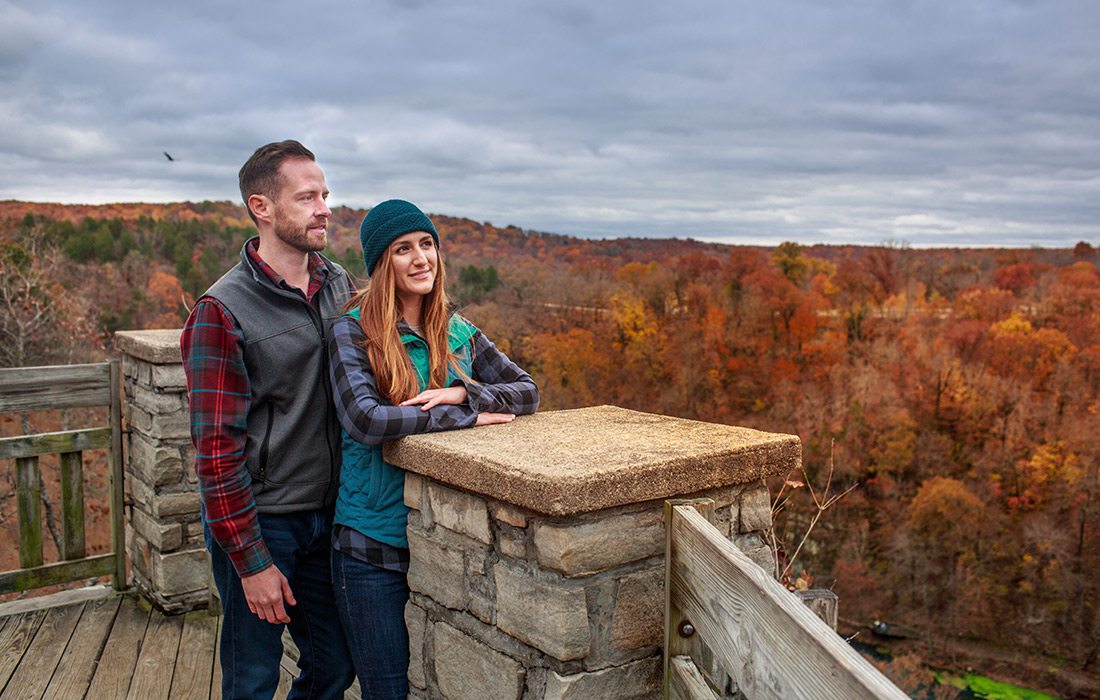 To begin, park at the end of Castle Ruins Road. From there, follow the concrete path uphill. This leads you to the Castle Ruins—the can't-miss feature of the park. Built in the 1900s by a Kansas City businessman, this mansion was styled after European castles. Once you've explored the ruins, head back to the trailhead and jump on the Dell Rim trail. Continue past the water tower and Whispering Dell sinkhole. After you pass the sinkhole, leave the boardwalk and head left to merge onto the Colosseum trail, marked with yellow blazes. Follow the trail to a natural bridge. Then cross over county road D. Pick up the Acorn trail it until it joins the Devil's Kitchen trail.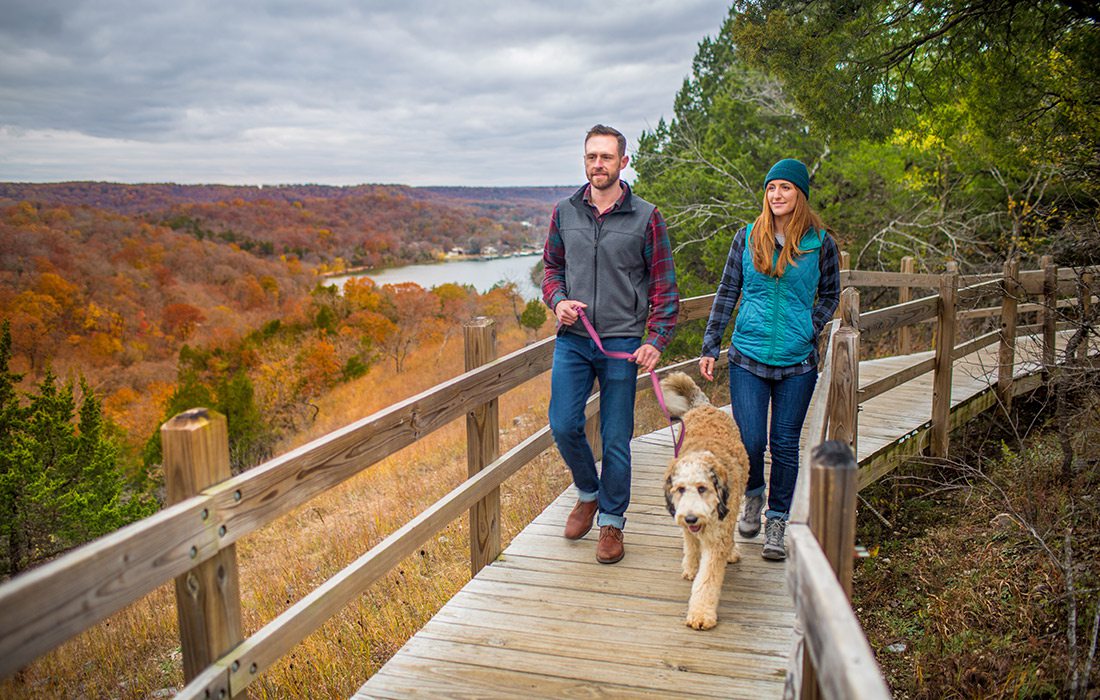 Once you're on the Devil's Kitchen trail, look for a rock crevice on your right. This is the "chimney hole" of Devil's Kitchen. Climb down and explore this partially collapsed rock house. Get back on the trail and continue past the gravel road and County Road D. When you hit a fork, go right. Look for the old post office. You have now merged onto the Spring trail. Stay left to follow the blue and yellow blazes as the Colosseum trail joins the trail. Turn left to stay on the Spring trail and follow it toward Ha Ha Tonka Spring, which is surrounded by white cliffs. Enjoy the beauty here then meander along the boardwalk to take in the crystal-clear turquoise water. Head back the way you came but go left at the fork to reach the Del Rim Trail. From here, it's a short walk back to the parking lot.
Ha Ha Tonka Loop Hike Information
1 hour and 20 minutes northeast from Springfield, MO
Difficulty: Moderate | Length: 3.5 miles | Kid- and Dog-Friendly: Yes
The Big Payoff: The Castle Ruins | Photo-Op: The sparkling blue water at the spring


Whether you're an avid hiker always or more of a neighborhood stroller, the Ozarks has a trail for you, no matter your skill level. Check out the best scenic trails in southwest Missouri and northwest Arkansas