Trails
12 Best Scenic Fall Hikes in the Ozarks
Whether you're an avid hiker always seeking adventure or more of a neighborhood stroller, the Ozarks has a trail for you, no matter your skill level. So lace up your boots and be prepared to be wowed with these scenic fall hikes.
By Vivian Wheeler
Oct 2019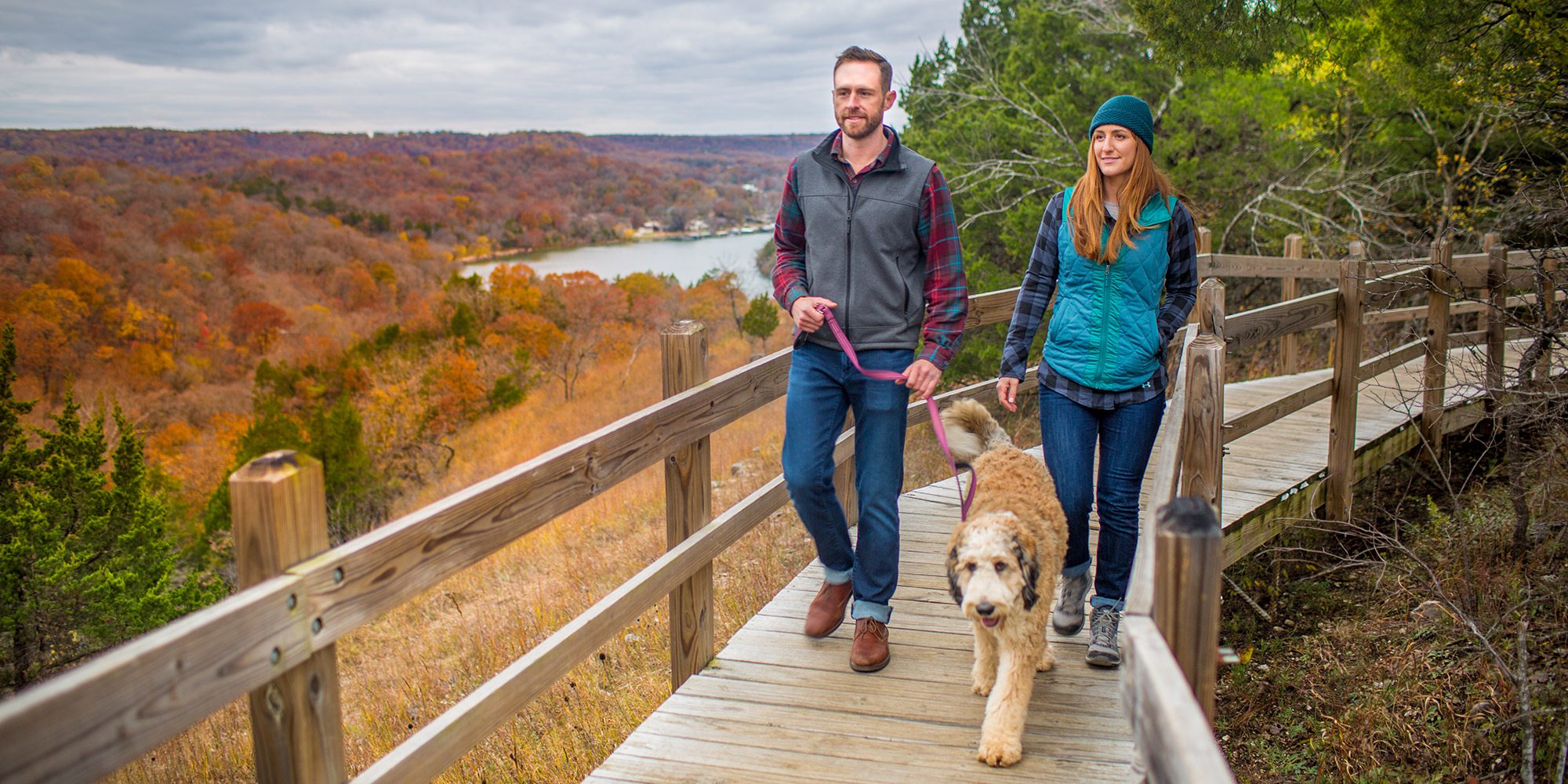 This fall, as the air turns crisp and the rolling hills change from mottled green to a fiery mosaic of yellow, orange and red, get out of the house and into the woods, as autumn is prime time for hiking in the Ozarks. The worst of the pesky bugs have disappeared with the heat, and the forests are ablaze with color. In this story you'll find 12 trails packed with breathtaking vistas, unusual geographic features, towering waterfalls and miles to explore. We've rounded up something for everyone, so, no matter your skill level, you can find the perfect hike. We've also tried to take the guesswork out of planning so you spend less time researching your trip and more time exploring. Just be sure to wear the right shoes, tell a buddy where you'll be, follow park and trail rules and get ready to lose yourself in the gorgeous glory that is autumn in the Ozarks.
Be Prepared With the Best Hiking Gear
Being prepared makes all the difference between an enjoyable hiking experience and a potential nightmare. Find out what you need to stay safe and sane on the trail and where to find the best gear in Springfield, MO.
Protect Against the Elements 
Out on the trail, too much sun or rain can ruin a trip. Invest in a lightweight rain jacket, which can pack up super-small. Sun protective clothing is becoming widely available, and a good place to look for it is in the fishing section of a sporting store. And, as always, wear sunscreen.
Don't Skimp on the Bug Spray
Unless it's winter, we highly recommend 
using bug spray. There is nothing worse than being bit by hundreds of seed tricks or eaten alive by mosquitoes. Trust us, we've been there, and it's miserable.
Invest in Quality Hiking Shoes
The right footwear is essential to being 
comfortable while hiking. Skip the online shopping and get professionally fitted for hiking boots. It can also be helpful to pack a pair of lightweight but sturdy sandals for water crossings. We love the Teva brand for this purpose.
Always Wear Quality Socks
Wearing quality socks is crucial to a comfortable hiking experience. Nothing beats wool socks for keeping your feet warm, cool and fungus free. We suggest springing for 100-percent Merino wool socks. Additionally, it's always smart to pack a couple of extra pairs of socks.
Where to Buy Your Hiking Gear
How to Go Hiking with a Group
If you're a hiking novice or just looking to meet like-minded people, consider connecting with a local group that organizes guided hikes.
5 Reasons We Love the Ozarks Greenways
We'd be remiss if we didn't spend a few inches of this story talking about our beloved Ozark Greenways. Right here in Greene County we have 10 greenways and miles and miles of scenic trails to explore. There are a lot of reasons to love the Greenways, but here are our top five.
Choose Your Trail
With plenty of trails to choose from, you can stick close to home or make it a day or weekend trip.