Things to Do
Your Easy Guide to the Ozarks Outdoors
One of the Ozarks' greatest assets is the abundance of outdoors spaces and activities available so close to home. We asked local experts for their best beginners tips, tricks and hidden gems to help you and your family get outside more.
By Katie Pollock Estes with additional reporting by Megan Dollar
Oct 2020
The great outdoors is one of our best assets here in southwest Missouri, but knowing how to take the plunge from couch potato to Bear Grylls-level exploration can be really hard. To help, we talked to some local hikers, cyclists and paddlers to find out their favorite tips and hidden gems that can help even the greenest novice take that first step out into the wild.
Six Great Float Trips
Gary Tombridge, president of the Ozark Mountain Paddlers, helped us identify six nearby float trips that are not to be missed. 
Southeast Missouri  
Outfitter: Richards Canoe Rental
Travel time: Two and a half hours southeast of Springfield.
Who it's for: Anybody who wants a truly wild and primitive experience on the water
What you'll experience: The Eleven Point truly feels like the wilderness—with crystal clear water, lots of wildlife and very little development. Crowds are usually less intense, and there are great opportunities for overnight floats too. Take a side trip to the Greer Spring trailhead and hike a mile in to see the second largest spring in Missouri, which feeds into the river.
Southwest Missouri
Outfitter: James River Outfitters
Travel time: Hour southwest of Springfield
Who it's for: Families looking for a slow and easy float.
What you'll experience: Springfieldians love the James River for its accessibility. Running from Springfield to Table Rock Lake, it's an easy and quick day trip with waters that beginners can navigate with ease—making it great for a first-time family float with kids who are new to paddling. In fact, in addition to canoe and kayak floats of 5 or 22 miles, James River Outfitters also has a quick 2-mile tube float for river rats who really want to take it easy.
Northwest Arkansas
Outfitter: Buffalo River Outfitters
Travel time: Two hours south of Springfield
Who it's for: Anybody who loves to float past grand bluff views.
What you'll experience: Loving the Buffalo is a no-brainer. This waterway's twists and curves bring floaters past towering limestone bluffs, peaceful swimming holes and scenic gravel bars perfect for lunch stops and paddling breaks. If you're adventurous, do a multi-day trip and stop at nearby hiking hotspots. Float this rainfall-dependent river early in the season (late spring is perfect) for the best experience.
Bryant Creek
Southwest Missouri
Outfitter: You! Bring your own vessel.
Travel time: Two hours southeast of Springfield to the Missouri Department of Conservation's Sycamore Access
Who it's for: Floaters looking for a hidden gem close to home.
What you'll experience: Tombridge identifies the calm waters and quiet atmosphere at Bryant Creek as hallmarks of this hidden gem. Its warm and pristine waters eventually flow into the more popular (and colder!) North Fork of the White River. Bryant Creek is known for great catfish and smallmouth bass fishing—and even good crawfish spotting if that's more your speed.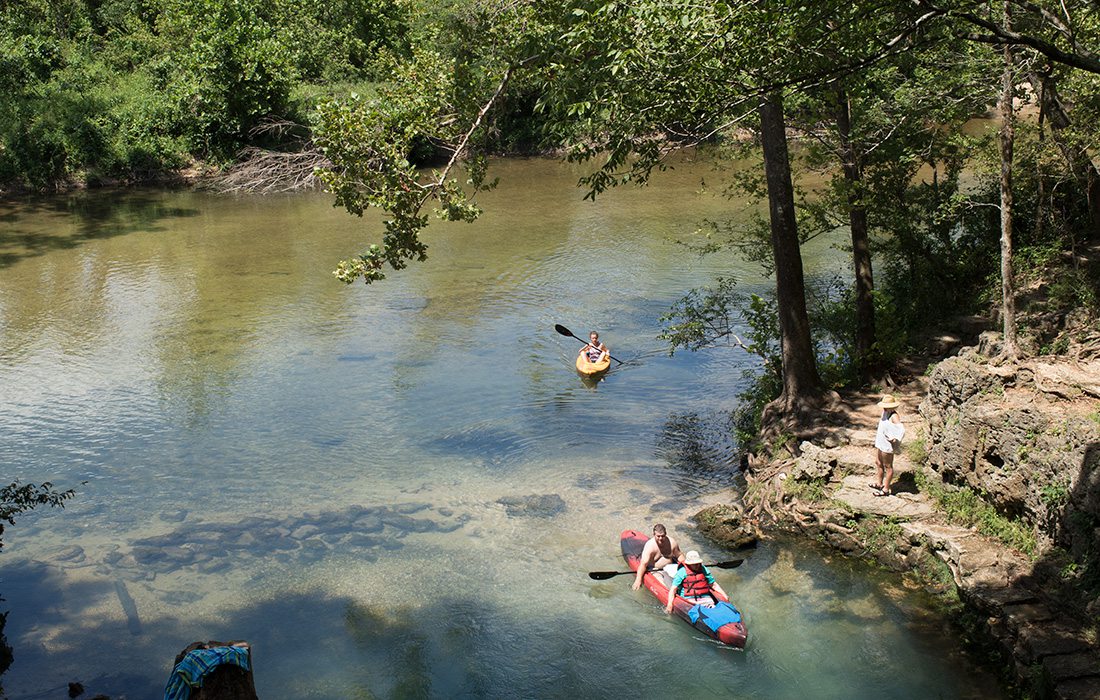 Southwest Missouri
Outfitter: Dawt Mill
Travel time: Two hours southeast of Springfield
Who it's for: Spring-lovers in search of a late-season float.
What you'll experience: Depending on which float you choose, a trip down the North Fork of the White River could take you past multiple springs (one you can jump into and another you can paddle into), deep swimming pools and swift rapids famous for their natural rainbow trout population. Plus, it's an easy float to plan. Tombridge says the North Fork has constant water levels, meaning it's floatable most of the year.
Southeast Missouri
Outfitter: Windy's
Travel time: Two and a half hours east of Springfield
Who it's for: Anybody who dreams of seeing horses in the wild.
What you'll experience: While Jack's Fork and the Current River are often talked about simultaneously, we're focusing on Jack's Fork because it's a little wilder and a little quieter. Tombridge identifies this river as another great one for families, and there are great side trips—like a visit to Alley Spring and its picturesque red mill. If you're lucky, you might just spy some of southeast Missouri's famous wild horses on your float.
Learn to Paddle
Beginning paddlers, don't fear. There's an easy way to practice your skills before embarking on a day-long adventure. At Lake Springfield Boathouse (5324 S. Kissick Ave., Springfield, 417-891-1500), you can rent canoes and kayaks by the hour from mid-April through mid-October. And on Sunday October 18, you can join an Intro to Paddling class that teaches you how to paddle effectively and be safe on the water. Call to register.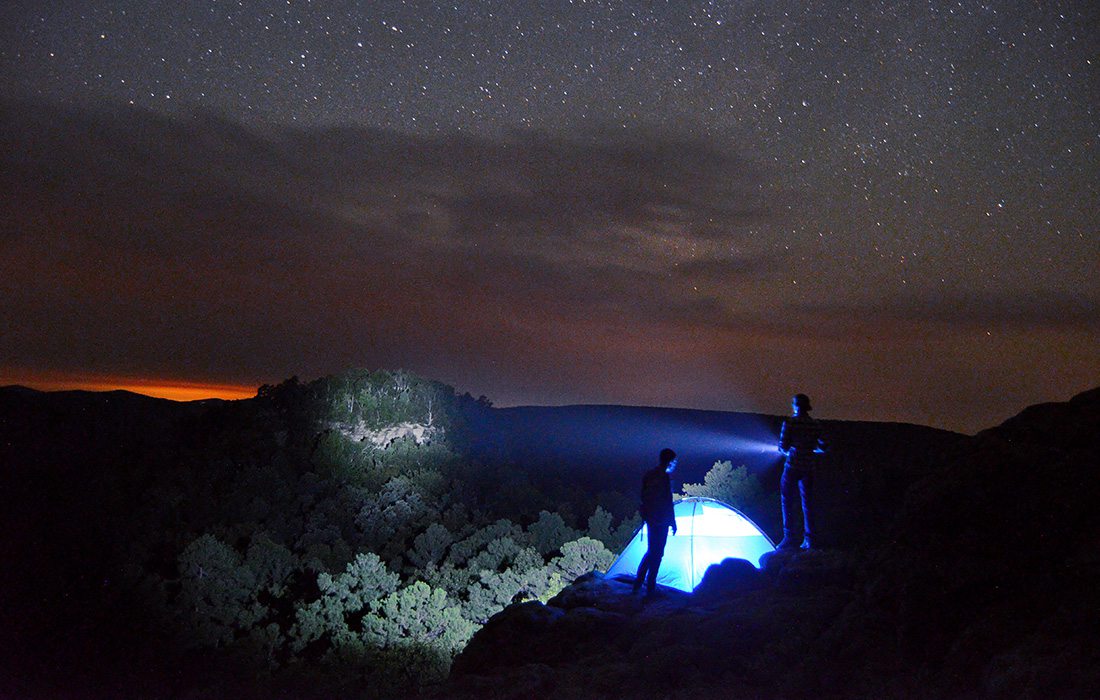 Hikes & Walks for Everybody
Whether you have two hours to spare or a whole weekend, there are hikes and walks in the area for just about everyone. Danny Collins of 37 North Expeditions and Dan Nash of Hiking the Ozarks shared some of their favorites.
A Couple Hours
4601 S. Nature Center Way, Springfield
Distance: 2 miles
Difficulty: Easy
Leashed-Dog-Friendly: No.
Although it's called Long Trail, it's actually quite an easy walk, winding all through the Springfield Conservation Nature Center's 80-acre property so you can see all the best sights. There are boardwalks over Lake Springfield, numerous viewing platforms great for spying wildlife, a sunny savannah, a wide prairie, rocky glades and quiet wooded jaunts where you'll love listening to the crunch of leaves underfoot.
Half a Day
3601 Shepherd of the Hills Expy., Branson
Distance: 3.4 miles
Difficulty: Easy to moderate
Dog-Friendly: Yes.
Collins says he loves the often-overlooked 1,534-acre Ruth and Paul Henning Conservation Area for its foliage in the fall, and for the tiny creeks that run through it in the spring. The sound of water makes the experience that much more enjoyable. No matter the time of year, hikers get to see an old homestead, dense forest, rocky glades and tall bluffs on the Homesteader's loop—with the occasional waterfall if the season is wet. Reserve time to hop on the shorter Dewey Bald Trail too, and access an observation tower for a breathtaking 360-degree view.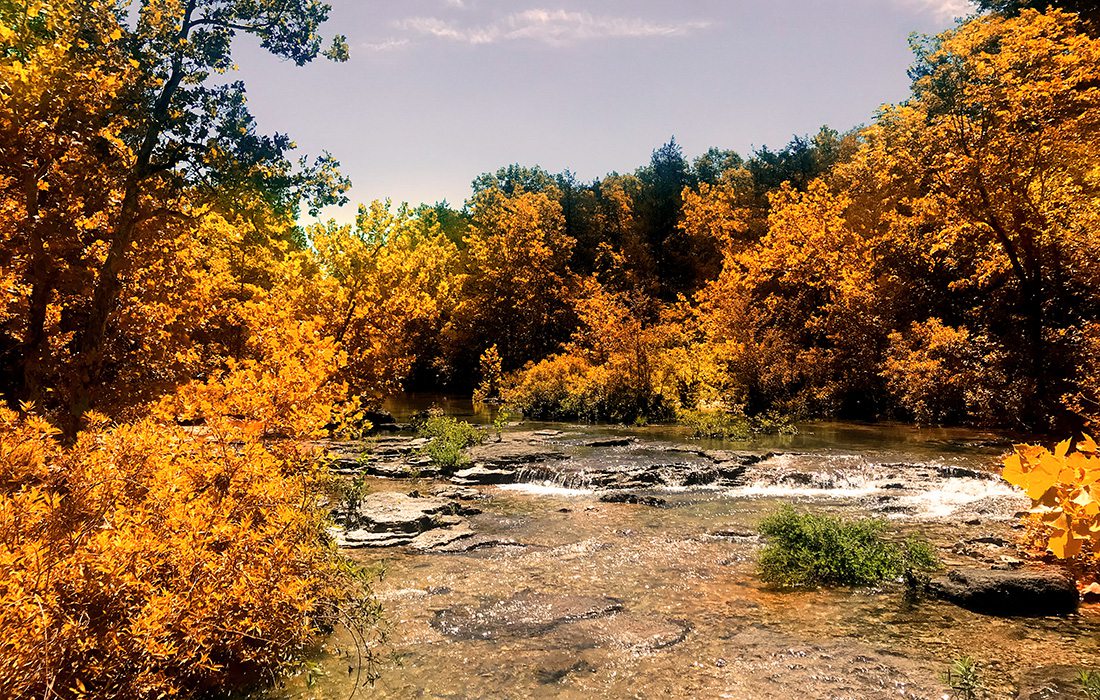 A Full Day
From Forsyth, take Highway 160 east 9 miles, turn left onto Forest Road 566, and travel 4 miles to park.
Distance: 3.6 miles
Difficulty: Moderate to difficult
Dog-Friendly: Yes.
Nash says waterfalls and the 360-degree views from Coy Bald are the biggest draws here, where the landscape is filled with glades and limestone ridges, fiery leaves in the fall and blooming dogwood in the spring. Wear shoes that will get you over some Long Creek water crossings, and keep your eyes peeled for deer, turkey, roadrunners and collared lizards.
A Weekend
Follow Highway 65 south to Western Grove, Arkansas. Turn right onto AR-123 and follow it to Mount Judea.
Distance: 2 miles
Difficulty: Moderate 
Dog-Friendly: Yes.
Collins loves getting to the top of Sam's Throne at the end of the hike, where you can see for miles. "You just feel like you're at the top of the world," he says. Sam's Throne Trail has 60- to 100-foot ledges for rock climbing, and getting to the top of the Sam's Throne rock formation itself is a scramble that's totally worth it. But if you're just there to hike and not climb, don't worry: You'll still enjoy some incredibly beautiful Ozarks sights.
Make it a Weekend
Turn your Sam's Throne hike into a weekend away and stay at nearby Cave Creek Cabin, a remote 1840s hand-hewn log cabin tucked into the woods with access to an on-property riverside swimming hole and incredible views. Then shop for locally made products at the adorable Mt. Judea Mercantile housed in a 1920s shop with original architectural features. When you're hungry, Ozark Café in nearby Jasper has home cooking and a soda fountain serving sweet treats.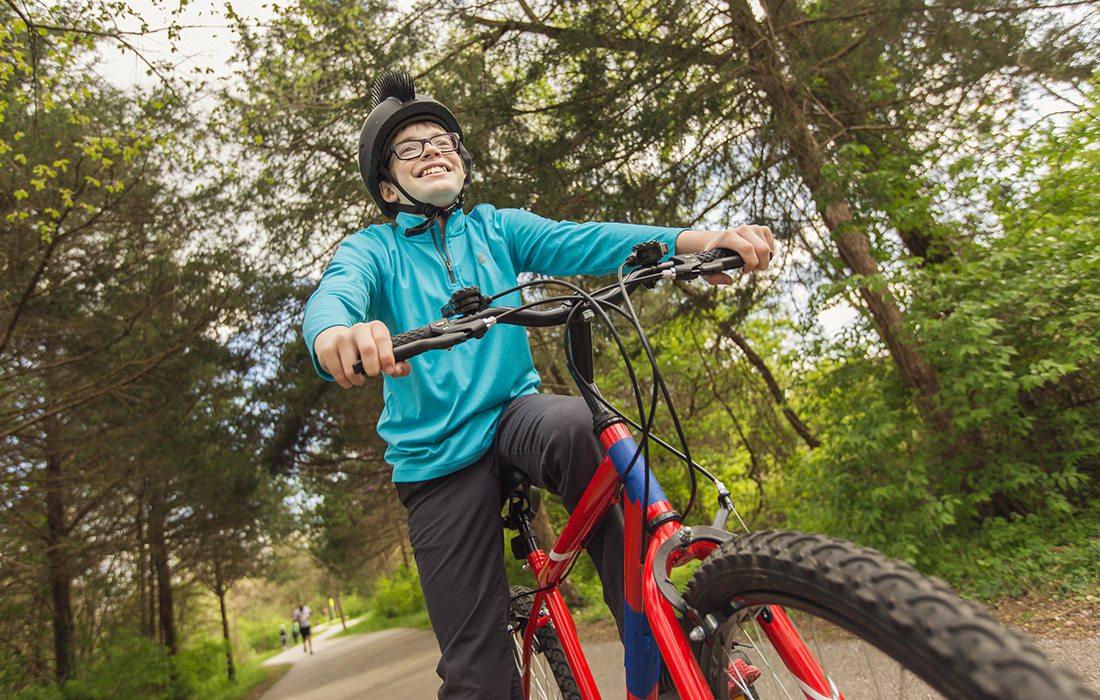 Find Your Perfect Bike Ride
The Ozarks are packed with routes perfect for those of us who like to explore on wheels instead of just our feet. Whether you're a mountain biking pro or a parent with tricycles in tow, there's a route for you.
A Galloway Foodie Route
Start at the Galloway Creek Greenway trailhead across from Pershing Middle School, and pedal to Sequiota Park, where you can take a break from your wheels to walk around the lake. Then continue on the trail all the way to the James River Bridge. On the way back, refuel as you stop for snacks or sips at spots like The Rock Food & Friends, 4 by 4 Brewing Co. (with an on-site Pitch pizza truck) or Galloway Grill.
A Kid-Friendly Excursion
Jessica Pearson, the executive director at TrailSpring, likes to take a route through backroads to the town of Strafford. There you can venture into town on Old Route 66 and stop at a few local eateries for snacks before turning around to head back home. There's Papaw's Kookies and Kream Ice Cream Parlor, Common Grounds Coffee, and The Wildseed if you want more of a meal than a snack.

Randy Fry's Artsy Trek
Randy Fry, president of Spring Bike and founder of 2frys.bike has put together a Sculpture Ride through downtown Springfield that takes cyclists past several works of art along the city's sculpture walk trail. Every year the route is freshened up as the temporary sculptures are swapped out for new art. It's exercise, art appreciation and selfie opps rolled into one. Search "Sculpture Ride" at ridewithgps.com.
A Mountain Biking Challenge
Two Rivers Bike Park features 14 miles of single-track trails and is a haven for mountain bikers who want to get away from it all and speed through the scenery and down the hillsides. Plus there's a little extra bonus: The park is also home to an 18-hole disc golf course, so you might as well bring some friends and make it a day.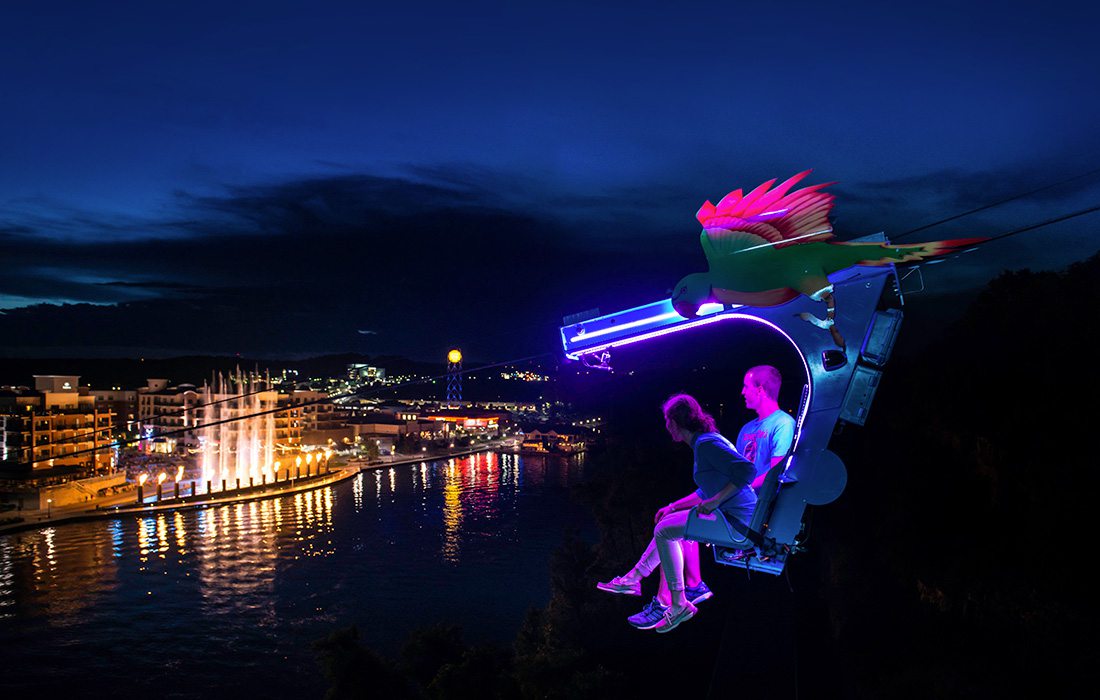 Zipline Through the Sky
Would you rather soar than hike? Sometimes letting gravity do all the work can be a lot of fun too.
It used to be that the only time zip lining came up was when your friends got back from Costa Rica and raved about the experience of flying over a forest canopy. But in recent years, zip line businesses have opened up all over the Branson and Table Rock Lake area, meaning you don't have to go on vacation to try them out.
As the name implies, these rides will have you zipping along a super-stong cable as you fly through the trees or over the Ozarks—its rolling hills, or a gorgeous lake depending on which ride you try. It's a daring but safe way to enjoy the great outdoors, especially if you're more of a quick-thrill seeker than a long-haul hiker. Read on, for our list of places to try the activity in the Branson area.
1113 Branson Landing Blvd., Branson, 417-337-0611
Like a zip line in reverse, this ride starts at Branson Landing then carries you up and across Lake Taneycomo to the top of the bluffs. Then you get to soar back down, taking in the views along the way.
2339 Highway 65, Walnut Shade, 417-561-0699
In addition to the eight-track Branson Zipline (each accessed by tall platforms and suspension bridges), Wolfe Mountain also has a 100-foot freefall and a Snowflex park where you can go tubing on faux snow year-round.
1056 Indian Point Road, Branson, 417-338-3339
Located right by Silver Dollar City, this adventure park's main draw is its zip line tour. But if you go in the summer, you can also try out the ground-level waterslide while you're there. Both give you a chance to glide down the hillside.
5586 W. Highway 76, Branson, 417-334-4191
While Shepherd of the Hills might be best known for its outdoor shows, the spot is also home to the Vigilante Extreme Zip-Rider and the Zipline Canopy Tour. The Vigilante takes off from 140 feet in the air at the top of Inspiration Tower. The canopy tour is a traditional experience, with eight zip line tracks.
501 N. Wildwood Dr., Branson, 888-972-9967
As if zipping down a suspended cable weren't already exciting enough, you actually have the option of doing it at nighttime here. The course is lit, and the night rides give you a chance to see an Ozarks sunset while you sail down.
3335 Highway 160, Reeds Spring, 417-559-5398
There are nine zip line tracks here that reach heights of 350 feet up, and the longest one is a whopping 3,250 feet long! Plus, there's a team-building challenge program and some intense games of outdoor laser tag.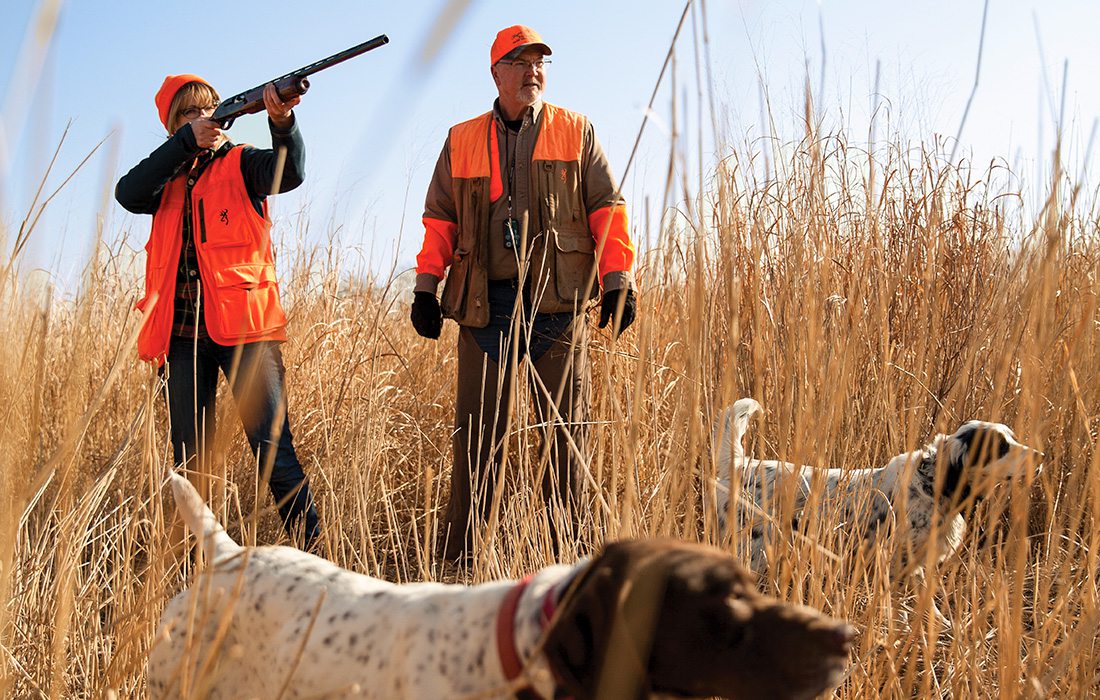 Hunting & Fishing
Ask anybody in the Ozarks, and they'll tell you that hunting is a part of life in southwest Missouri. Families have long traditions of gathering at hunting cabins for quiet weekends in the woods spent hunting, cooking and just being together. But if you aren't already a hunter, it can be hard to know how to start. Luckily, there are plenty of resources in southwest Missouri—guided hunts, fly fishing lessons and more—that can be your first step into your new favorite past time.
Regardless of what kind of hunting your interested in, you're likely going to need some gear to get you started. And because it was founded in Springfield, MO, why not start at Bass Pro Shops? The store is an outdoors wonderland—with live fish to boot.
A fews years back, we sent a writer to try bird hunting for the first time, and her research took her to Flying Feathers Game Bird Hunting in Lockwood. And the experience ended up being amazing. The team at Flying Feathers guide guests through the day, so it's just as handy for beginners as it is for seasoned pros. The business even raises and trains bird dogs (gorgeous Irish setters and German shorthair pointers) who come along on the hunt to assist on half-day or full-day hunts for quail, chukar or pheasant. There are a handful of package options, some of which include meals.
Another option for an upscale hunting experience if you don't have land of your own is The Hunting Grounds based in Willow Springs. There, the hunts focus on whitetail deer, red stag and elk. Other perks are comfortable lodging options with kitchens and an on-site chef, all situated on beautiful Ozarks land filled with woods, streams and wildlife. If you're up for some travel, they also have packages for mule deer hunting in Utah.
Make sure you've acquired any necessary hunting or fishing permits from the Missouri Department of Conservation. In some cases you'll need hunter education as well. You can find details for how to get permits and sign up for hunter education courses on the MDC website, which is a treasure trove of hunting information. It breaks down the dates of different local hunting seasons, lists state regulations or restrictions, connects you to supplemental hunting skills classes and even provides a pretty huge resource full of wild game recipes.
Fly fishing is another past time that's especially lovely in the Ozarks, where crystal clear spring-fed rivers are home to beautifully speckled rainbow trout. River of Life Farm, known for its treehouse cabins perched along the riverbank, sits right beside the North Fork of the White River. Unlike some other waterways that are stocked with trout thanks to fish hatcheries, the North Fork features a wildly produced supply of rainbow trout that love the river's chilly waters. ROLF is actually situated along the river's Blue Ribbon Trout Area—a rating given by the state that indicates a high quality fishing stream. That area is known for having plenty of rainbow trout and even some brown trout. River of Life Farm is a handy place to start if you're new to fly fishing because they offer guide services with an experienced angler and a lunch on the shore—plus fly rods, tackle and waders available for rent.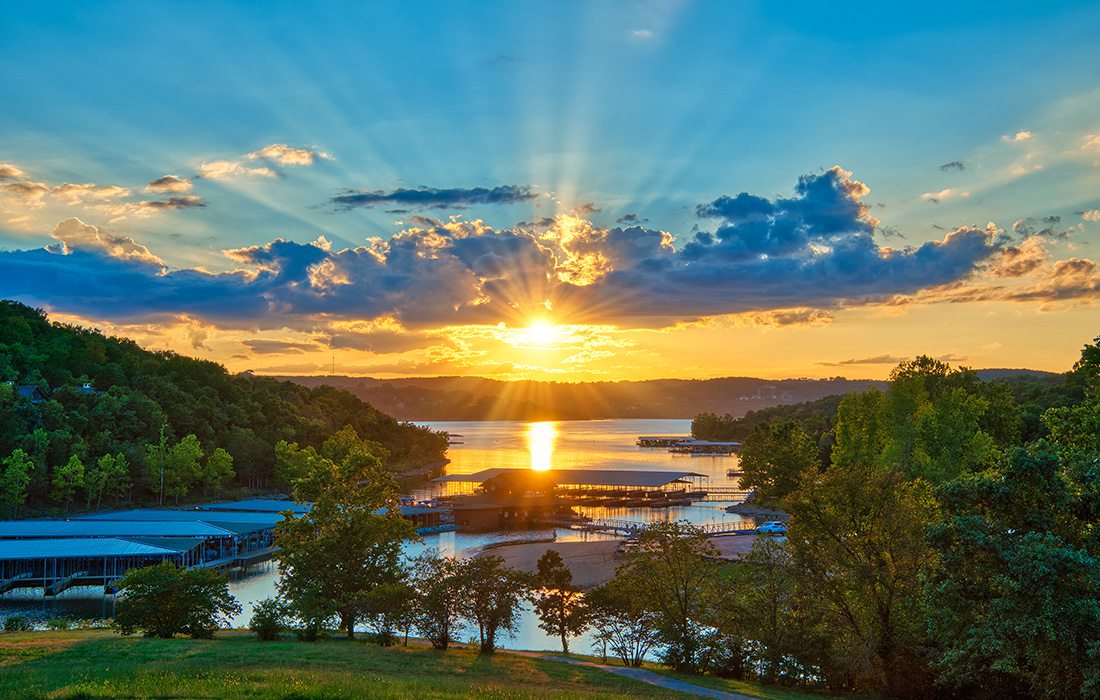 One part archery and one part angling all in once, bowfishing is a different kind of hunting experience—and one you can try out at Big Cedar Lodge with their guided bowfishing packages. They provide the equipment and boat, as well as a guide who will show you the ropes. That means you can tackle a new hobby without your lack of experience putting a damper on the fun. This activity is for ages 18 and older (or 16 and older with an adult) and takes place on Table Rock Lake. Be sure to get a fishing license before you go!