Waterways
Spend a Weekend on the Buffalo National River
Just a couple hours south across the Arkansas border lies the Buffalo National River. Plan your escape for a weekend full of floating, fishing and hiking in the Ozark Mountains.
By Haley Phillips
May 2020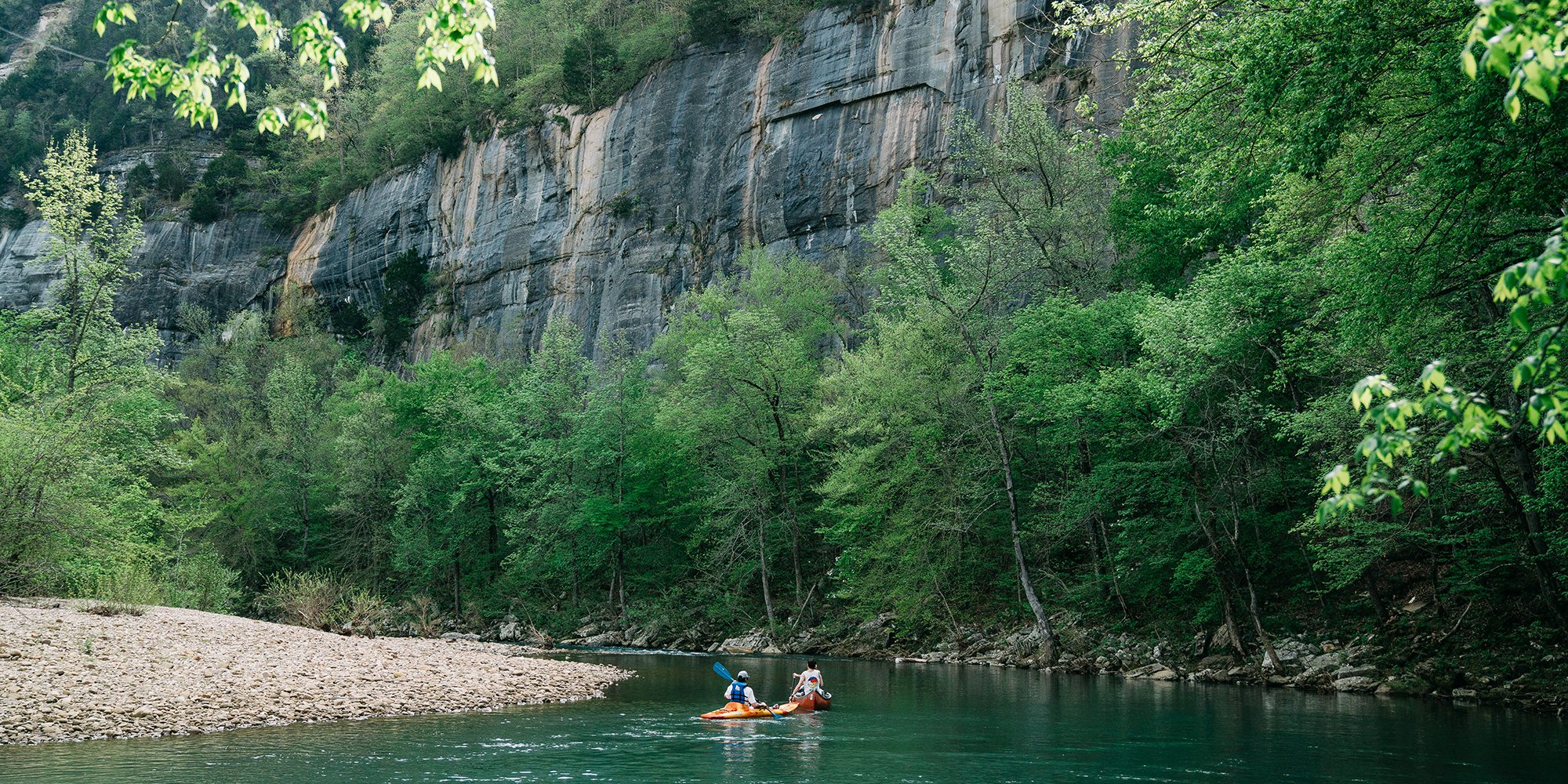 Saturday
8:30 a.m. Gear Up at JB Trading Co. 
12677 Hwy. 43, Compton, AR, 870-420-3065
Stop in for a quick breakfast and equip yourself with all the float day essentials: snacks, dry bags, sunscreen and freshly made sandwiches from the deli for a filling lunch on the water.
10 a.m. Float with Buffalo Outdoor Center
4699 AR-43, Ponca, AR, 870-861-5514
Buffalo Outdoor Center is the ultimate resource for your float on the river. Prior to your trip, reserve a canoe and float trip online; then when it's time to hit the water, you'll be ready to go. 
Noon Drop a Line on the Riverside
Break out those sammies and snacks for a well-deserved paddle break on the bank. Want to cast a line while you're relaxing? Sign up for a daily fishing license and read up on the latest regulations online at the Arkansas Game and Fish Commission.
4 p.m. See the Sights
Before calling it a day and ending your float at Kyle's Landing, consider this: By the end of your float, you will have meandered through the heart of the Ponca Wilderness. You will have passed by towering bluffs, hidden canyons and relics of early settlements. There's a lot to be seen out on the water, so while floating, be sure to watch out for scenic landmarks including Big Bluff, Jim's Bluff, Granny Henderson's cabin, Hemmed-In Hollow Falls and the infamous "Hell's Half Acre."
6:30 p.m. Chow Down at Ozark Cafe
107 East Court Street, Jasper, 870-446-2976
After a full day on the water, fill up and cool off at Ozark Cafe. You can stop in for chocolate gravy, fresh cut fries or specialty burgers and milkshakes at this cozy cafe, which has been a local staple for more than 100 years. After dinner, stick around to catch live music from local musicians who flock to this popular spot every Saturday night.

Sunday
7:00 a.m. Wake Up with the Elk 
at Boxley Valley
Boxley Valley, Ponca, 870-861-2432
Rise and shine—and pack some coffee—for a chance to catch a glimpse of the majestic herds of elk that reside along Arkansas' highways 43 and 21 in Boxley Valley. 
8:30 a.m. Take a Hike at Lost 
Valley Trailhead
Lost Valley Rd, Kingston, 870-439-2502
Take advantage of the early morning with a scenic hike through the Ozark Mountains to see more natural wonders such as Cobb Cave and Eden Falls—a series of four waterfalls rushing down from the bluffs.
11 a.m. Grab a Bite at Blue Mountain 
Bakery and Cafe
207 N. Stone St., Jasper, 870-446-2345
Before heading home, refuel at Blue Mountain Bakery and Cafe with made-from-scratch pizzas and a few homemade baked goods for the road.