Waterways
Choose the Ozarks Float That's Right for You
The Ozarks is home to a plethora of clear, cool rivers that make any hot summer day feel refreshing instead of sweltering. Depending on the type of vibe you are going for, there's a little something for everyone.
By Jenna deJong
Aug 2020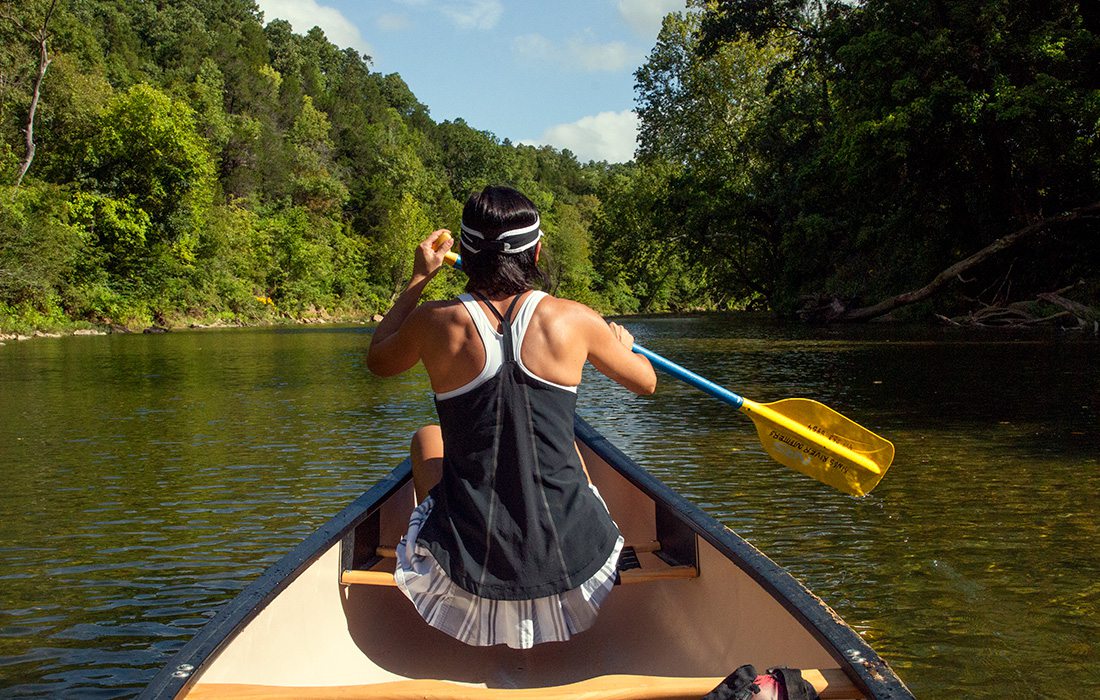 Go for the Views
Buffalo National River | Ponca, Arkansas
Floating on the Buffalo National River is practically an Ozarks rite of passage. According to the National Park Service, this waterway became America's first national river when it was established in 1972. To experience some of the 151 miles, there are a few outfitter options. Buffalo Outdoor Center (4699 AR-43 Highway, Ponca, Arkansas; 870-861-5514) is one of the most popular, with more than 40 years of experience. Another go-to is the family-owned Lost Valley Canoe & Lodging (AR-43, Ponca, Arkansas; 870-861-5522). Both have day-use kayak and canoe rentals, plus shuttles for when you need a ride after your float.
Go With a Big Group
Niangua River | Lebanon, Missouri
The next time you need to celebrate an event, make reservations with the NRO Canoe Rental & Campground (171 NRO Rd., Lebanon; 417-523-6333). The outfitter, located along the Niangua River, is very popular and can accommodate guests who want a lively atmosphere. It also offers float trips throughout the week, with trips lasting anywhere from three hours to six hours. Once you're done, don't forget to take advantage of the zipline located on the property. Pro trip: If you choose the shorter option, stop by Bennett Spring State Park, which is a close 4 miles away.
Go for a Half Day
James River | Springfield, Missouri
If you're on the hunt for a shorter float that requires a lot less prep work and equipment, then we suggest looking into this half-day option close to home. Sitting just under an hour away is James River Outfitters (110 Y Bridge Blvd., Galena; 417-357-6443), which is located on, you guessed it, the James River. Because of its proximity to Springfield, it is the ideal destination for short-and-sweet floats whenever you're feeling an urge to paddle. Whether you're a beginner or pro, the outfitter has everything a river rat might need including rafts, canoes, kayaks, tubes and cooler tubes, shuttles and more.

Go for a Family Outing
Kings River | Eureka Springs, Arkansas
Make some lasting summer memories with the whole family, and instill that passion for the Ozarks outdoors, when you introduce the kiddos to floating using Kings River Outfitters (8190 AR-221, Eureka Springs, Arkansas; 479-253-8954). This free-flowing river also has gorgeous views and some of the clearest water in the midwest region. In fact, make sure to pack your goggles and masks because snorkeling is a popular activity along the Kings River. Canoes, kayaks, shuttles and guide services are all offered through Kings River Outfitters, making it über accessible for all.
The Ozarks has an abundance of rivers that crisscross the region. Check out the best float trips in Missouri.