Waterways
Your Guide to Winter Fishing in the Ozarks
Don't hang up your rod and reel for the winter. Two fishermen break out their tips for exceptional fishing during our coldest months.
By Ren Bishop
Feb 2019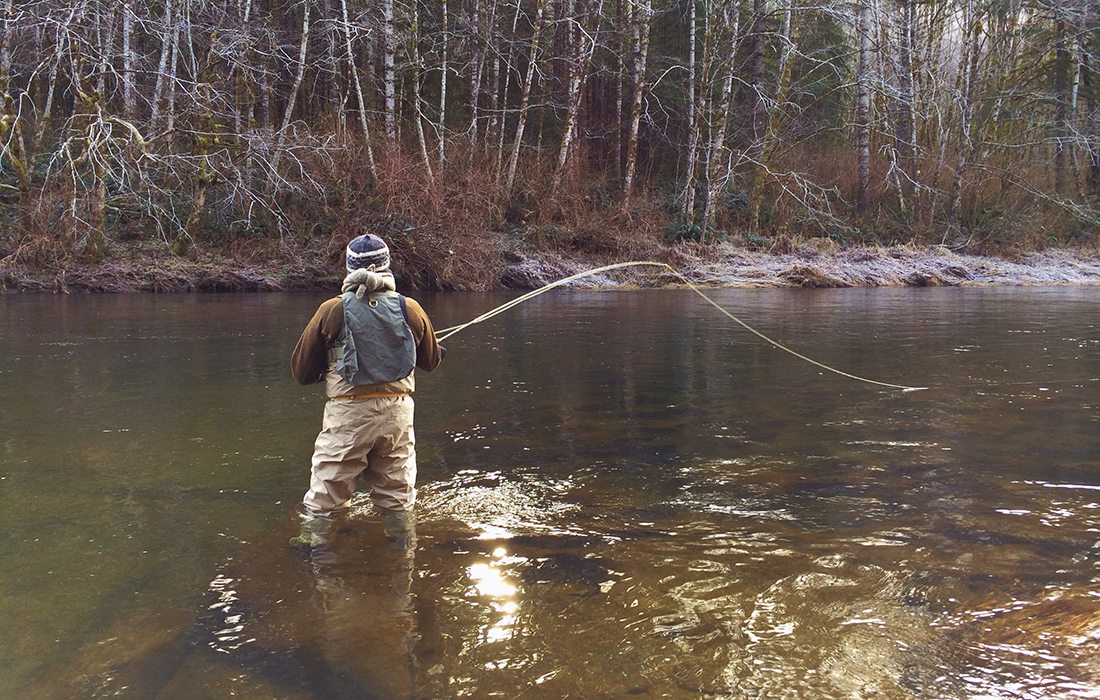 More than 20 years ago, Eric Prey moved to the Ozarks to work for Bass Pro Shops, making his lifelong passion into his profession as a fishing guide. Quickly, he fell in love with fishing in the Branson area and began learning the secrets of wintertime fishing on Table Rock Lake.
"Most people don't realize how good the fishing actually is during the wintertime," says Prey, owner of Focused Fishing Guide Service. "Most bass fishermen, if they go out and catch four or five fish, that's a great day. In the wintertime, it's not uncommon to catch 45, 50 fish in four hours."
Gearing Up for a Great Catch
The biggest challenge to successful wintertime fishing comes down to having the right gear. You have to be dressed for the weather and potential changes, says Tory Mason, fisheries management biologist and ice fishing expert at the Missouri Department of Conservation. "You definitely need to dress warm and have good waterproof boots on; tennis shoes don't cut it," Mason says. "Warm gloves are also a must."
But you also need to have the right equipment in your boat, like an excellent sonar depth finder that has a large screen on it with a color display, Prey says. "If you know how to use the electronics in the boat, the fish are actually easier to catch in the winter months," he says. "Without a quality depth finder right now, you're lost. You can't find the fish."
"In the wintertime, it's not uncommon to catch 45, 50 fish in four hours."
— Eric Prey, Owner of Focused Fishing Guide Service
Schooled in the Art of Fishing
During the winter, fish like to school up. Bass in particular will cluster somewhere between 40 and 60 feet below the water's surface. They're not always eating, but once you get them biting, the entire school will quickly follow, Prey says. "If you imitate injured forage for the fish, they can't help themselves; they'll just start biting," Prey says. "So get a bait that will keep them biting that they would naturally prey on and wait. It doesn't take long."
Break the Ice
Ice fishing is hard to come by in the Ozarks, but small farm ponds are the best spot to try out ice fishing, Mason says. "It is impossible to determine if ice will hold you just by looking at the appearance from the bank," Mason says. "With your fishing buddy, go out three or four feet from the bank and make a hole. If there is at least a good four inches of ice, continue another 10 or 15 feet and make another hole. If everything is safe, keep going… The best ice is hard, clear ice you can see through."
Eric Prey is a no-secrets fishing guide, taking anglers on 300 guided fishing trips each year in southwest Missouri. He shares his favorite places to fish during the Ozarks' coldest months.
For Bass
The lower end of Table Rock Lake, 
down by the dam
For Trout
For Walleye
The Missouri portion of Bull Shoals Lake