Profiles
Meet Choppy, the Therapy Dog that Helps Out at Arquitt Pediatric Dentistry
Choppy is not your average golden retriever. She helps kids at Arquitt Pediatric Dentistry relax when they come visit. We sat down with her handler, Walter Roberts, along with Dr. Carrie Arquitt and Choppy herself for a Q&A.
By Jamie Thomas
May 2020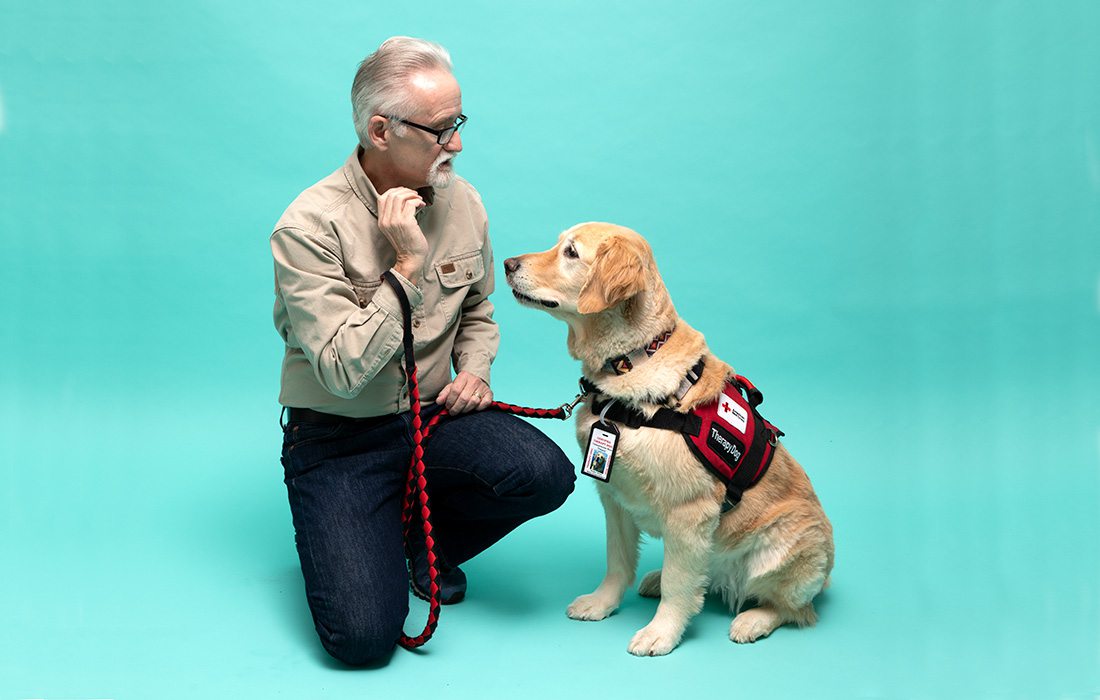 417 Magazine: How did you meet Choppy?
Walter Roberts: My wife and I both have been doing therapy dog work for almost 15 years. We adopted a rescue dog probably 12 years or more ago. We've always rescued dogs, [but] Choppy, we decided, we would raise from a pup. So we got her from a small breeder in Minnesota, and she's been a therapy dog now for going on three and a half, almost four years.
417: How do you determine if a dog will make a good therapy dog?
W.R.: Temperament. I always tell people that any dog has the potential to be a therapy dog if they have the temperament. It's also to do with the way the dog is raised. Once you get through your basic obedience training and they know their commands, their temperament will get them the other 80% of the way.
417: What kind of benefits does Choppy offer patients?
W.R.: A lot of times it's just the ability to be able to have that interaction with the dog. When a child is in the exam chair, there are restrictions in mobility because they're being examined. But I know that just the ability to touch the dog is a good way to distract them.
417: Is there a situation in which Choppy helped that stands out to you?
Carrie Arquitt: We had one little girl coming in to have some fillings done. First time she was ever going to have fillings, so she was a real nervous, tentative patient. It probably would have been a very tearful appointment—she probably could've done it but would have been tearful. Instead, she breezed through the appointment, and I think the difference was having the dog to look forward to and to have that comfort there.
417: What kinds of considerations do you take when Choppy is with a patient?
C.A.: To prepare our patients, we send a text blast. Anybody that's going to be here at the time that Choppy is, they've already received a text saying "we're going to have our therapy dog here." If there's someone who has an allergy or anything like that, we would try to make sure that we didn't have them scheduled. We have enough room in the office in two different areas that we could easily keep them separated. We haven't had anyone say they're not going to come in that day, and we've had the kids be really excited about it, but if someone did have reservations we could pretty easily manage that.
W.R.: One of the things that we make sure we do is always ask first, "Would you like to see the dog?" or "Would you like to say hello?" Choppy's very eager to interact, but I restrict her interactions with people until she's invited. That's very important because, especially to a small child, Choppy is a big dog. We have to take into consideration the comfort zone; some children might be anxious because of the visit and they don't want to interact with the dog. The key is that you want the interaction to be natural. 

417: What other places does Choppy visit as a therapy dog?
W.R.: Ronald McDonald House. We're beginning to work with going into the CoxHealth system. I'll be going out to the Springfield
airport to talk to them about trying to set up a program there—I helped set up the program at Minneapolis–St. Paul International Airport. I'm working with the Red Cross and helping them set up their animal visitation program here in Springfield. She's worked in Alzheimer's units; we've been in prisons, mental health units, domestic violence shelters and K-12 schools.
417: How did Choppy get her name (Tchoupitoulas Rose)?
W.R.: Tchoupitoulas [Chap-pah-too-liss] is a Native American tribe in Louisiana. I was there with the Red Cross during Hurricane Katrina in New Orleans. My heart kind of never left New Orleans. So, when we got her, we knew we wanted a really unique name. 
Golden Horde Therapy Dogs
You can find out more about Choppy, Walter Roberts and the work they do on their website.