Veg-Friendly
Cream Sauce Pizza with Raspberries and Arugula
This recipe is a tart and creamy take on a pizza parlor classic. Serve it as a main dish for two or alongside a salad to feed four. Recipe courtesy Weekday Weekend.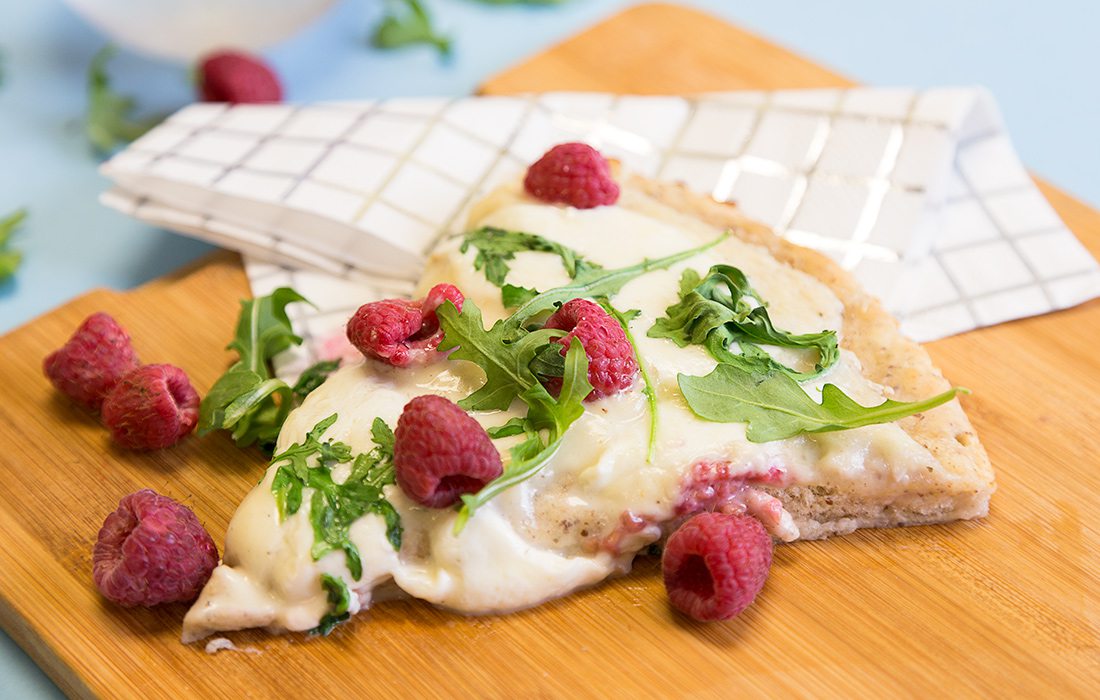 Recipe Courtesy Weekday Weekend

Ingredients
Olive Oil for greasing
Whole-grain cornmeal for dusting
3 tablespoons unsalted butter
4 cloves garlic, minced
2 tablespoons all-purpose flour
¼ teaspoon onion powder
⅔ to 1 cup heavy cream 
1 tablespoon freshly grated Parmesan cheese
Salt and pepper
Prepared whole-wheat pizza dough (homemade or purchased)
1 cup torn fresh mozzarella cheese
⅔ cup fresh raspberries
1 cup packed arugula

To Prepare
Preheat the oven to 400ºF. Grease a large baking sheet with oil and dust lightly with cornmeal. In a saucepan over medium heat, melt butter. Add garlic and saute until fragrant, about one minute. Add flour and onion powder and whisk until a roux forms. Reduce heat to low and slowly whisk in cream. Whisk constantly over low heat until sauce thickens and coats a spoon. If sauce gets too thick, remove pot from heat and whisk in remaining cream until sauce reaches desired consistency. Stir in Parmesan. Adjust seasoning with salt and pepper. 
Roll out pizza dough on lightly floured surface and transfer to prepared baking sheet. Bake dough for five minutes. Remove dough from oven, top with sauce, mozzarella and raspberries and bake again for another five minutes or until cheese is bubbly and beginning to brown. Remove from oven, top with arugula and return to oven for one minute more to warm the greens. Remove from oven, cut into wedges and serve hot.