Health
How You Can Help Prevent Suicide According to Kevin Hines
The first session of 417 Magazine and Burrell Behavioral Health's How To Save a Life series featuring Kevin Hines discussed suicidal warning signs, statistics and strategies for focusing on your mental health.
By Burrell Behavioral Health
Sep 17 2020 at 1:24 p.m.
The first session of 417 Magazine and Burrell Behavioral Health's How To Save A Life series focused on creating comfortability around the uncomfortable stigma of suicide. Logan Aguirre was joined by nationally known suicide attempt survivor, best-selling author and storyteller Kevin Hines along with Dr. Shelly Farnan, a licensed psychologist and Burrell Behavioral Health System Director of Diversity & Inclusion. During the conversation, Kevin recounted his story, from its origins in a traumatic childhood, through chronic teenage depression, and eventually to the edge of San Francisco's Golden Gate Bridge in the year 2000. There he survived a 25-story plummet that fractured his spine and miraculously avoided drowning thanks to a life-saving sea lion. Read on to find Kevin's top tips for protecting yourself and your loved ones from suicide. 
1. Build a Personal Protector Network
Creating and ensuring your loved ones have a trustworthy network of supporters that includes friends, family and medical professionals plays a key role in their mental health and well being. Providing them with the resources and compassion, will best protect them in their darkest times.
2. Commit to Making Mental Health a Priority
Guarantee you are taking care of your loved ones by having open and honest conversations with those who struggle with mental health illness and challenge them to make their mindset a priority. 
3. Be Kind to Others
Showing compassion for others might be the simplest strategy you can tap into when it comes to making an impact on suicide statistics. While professional trainings exist to build our confidence and vocabulary around suicide prevention, experts say it's more about connection. "It's really empathy and willingness," Dr. Farnan says. "We all have the ability to change lives and instill hope." When you notice someone struggling—even if you're not close to them, or if you don't know them at all—say something.
4. Familiarize Yourself With the Warning Signs
The more warning signs the greater risk for suicide. Not everyone has warning signs, but many do. Here's what to look for:
   • Direct and/or indirect verbal cues. For example, "I wish I was dead." "My family would be better off without me."
   • Behavioral cues: History of suicide attempts, uncharacteristic firearm purchase, saving medication, change in mood, giving away possessions, substance use, unexplained anger, aggression or irritability, sudden changes in eating or sleeping patterns.
   • Situational cues: Loss of job, expulsion from school, unwanted move, significant loss, serious or terminal illness, loss of freedom, loss of financial security, fear of being a burden.
   • General mood or comments about hopelessness.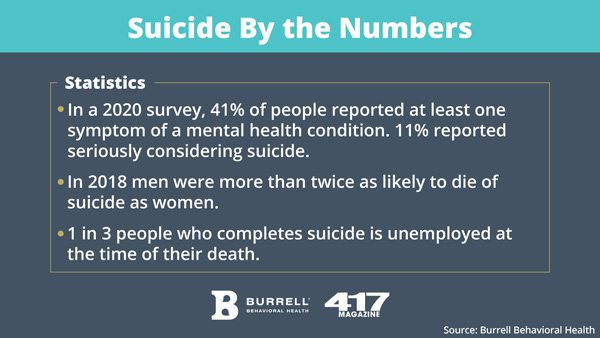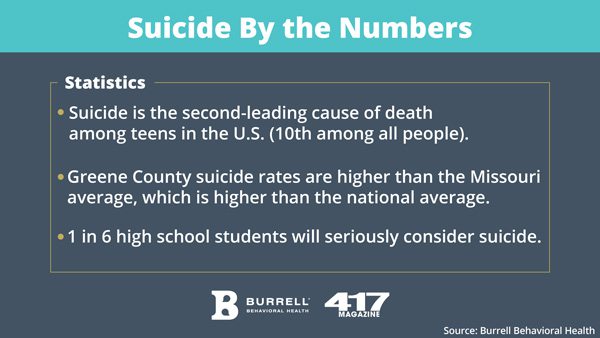 If you are in crisis:
Text: CNQR to 741-741 | Call: 1-800-494-7355 | Visit: suicide.org