Weddings
Allie Dunton & Blake Moss
On their big day, these love birds saw their names in lights.
By Jennifer Johnmeyer
Jan 2018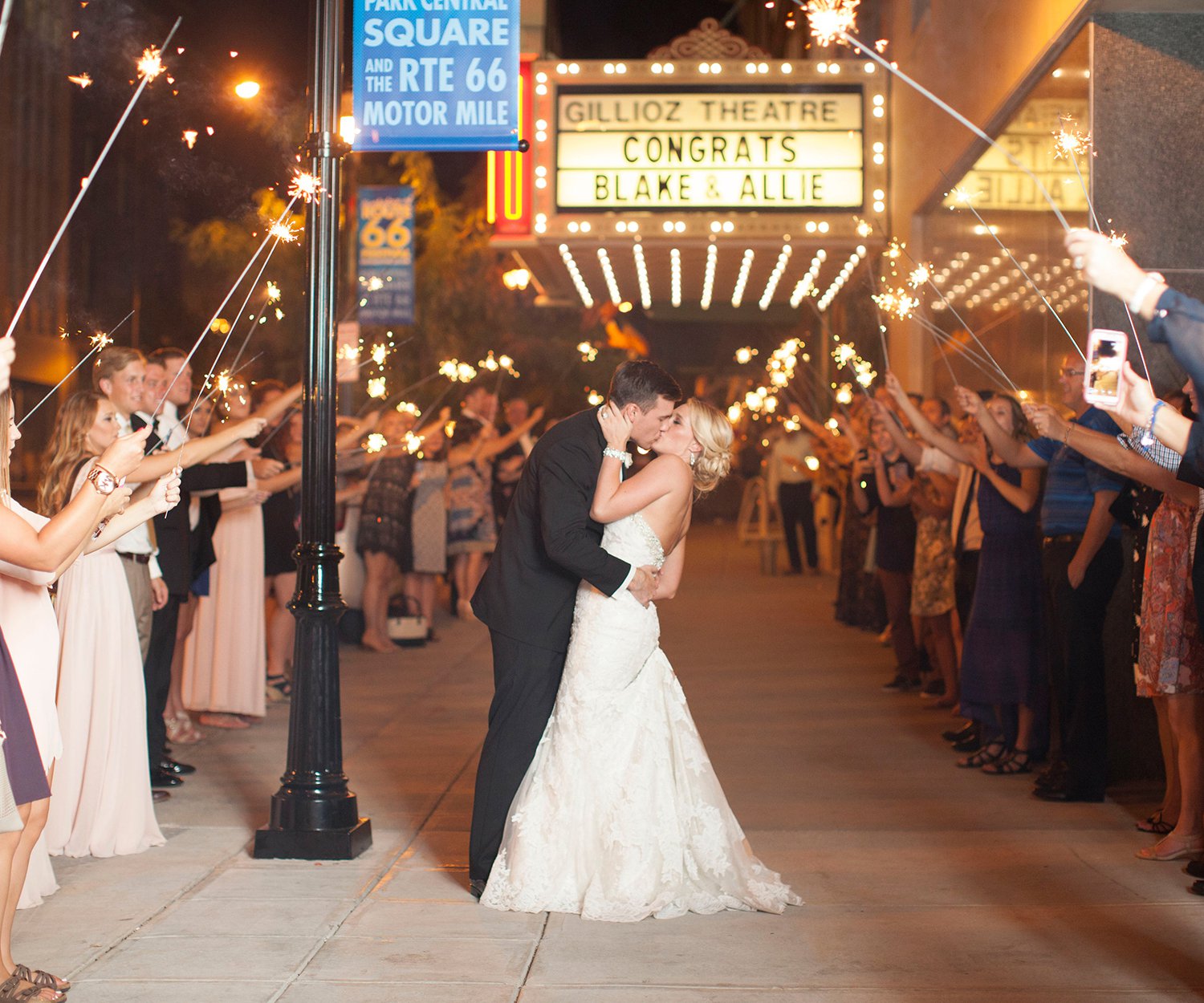 It's a story we've all heard before: college athlete likes college athlete. Mutual friends helpfully intervene. First date ensues. First date is absolutely terrible, and boy and girl agree to part ways. Yes, that's how Allie Dunton and Blake Moss's love story began. 
"A month after that first date, he changed his mind," Allie says with a laugh. "We started dating, and the rest is history." Two years later, Allie, who played volleyball for Springfield's Evangel University, tore her ACL during the season and faced surgery during Christmas break 2015. Blake, a fellow athlete on Evangel's football team, understood his girlfriend all too well. He proposed the Sunday night before Allie's surgery. 
"I was going to propose at Christmas, but she was going to be on crutches for two months," Blake says. "He knew I would be upset if he proposed to me with a giant brace on my leg," Allie says with a laugh. 
The couple knew two things: they were set on a summer wedding, and they didn't want a long engagement. Although Allie admits their families were "freaking out" about getting everything done in time, they settled on a July 2016 wedding date. Allie chose King's Way United Methodist Church to exchange vows because she thought it was beautiful. "I loved it because it was all stone, and I didn't want the typical carpet-style church," she says. 
Although the summer wedding date and venue were achieved, ideal weather wasn't. The couple happened to have chosen the hottest day of summer to exchange vows, and, as an added bonus, the air-conditioning went out in the church. 
"I was so happy and excited," Allie says. "I was so ready to get married, but that was a ton of stress." Both Allie and Blake credit an amazing photographer for making them look calm, cool and collected. 
Today, the couple lives in Kansas City, Missouri, where Allie is attending dental school at UMKC School of Dentistry, pursuing her doctorate in dental surgery. Blake is working for State Farm as an insurance agent.