Weddings
Wedding Budget Do's & Don'ts
417-land wedding planners dish on how to save some green without giving up on your dream wedding.
By Ettie Berneking
Jun 2014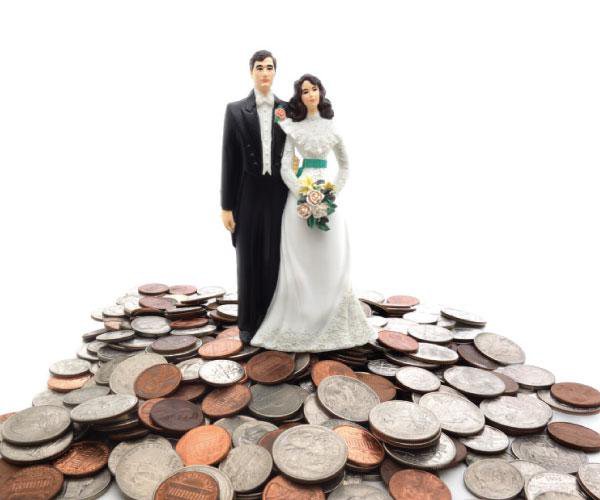 BUDGET: $5,000 or less
"Look for places to cut. Your guests will notice bad food, but they won't notice if you don't have huge centerpieces on each table."—Joyce Criswell, The Bride's Maid
"Buffets are typically less expensive, and you can cut your per-person cost by $2.50 to $3 by using disposable tableware."—Mary Douglas, Bringing It Together Events
"Consider having an afternoon wedding, so you don't have to serve dinner. That will keep the cost of food way down."—Lenette Kujawa, Aflair Events
"Have your wedding and reception at one site. This helps cut down on the cost of decorations." —Martha Wright, Gracious Occasions
"Look for a less expensive dress. I've had brides who found a great dress at JCrew then went to a bridal shop to get a beaded belt. Think outside the box."—J.C.
"Consider having your wedding on a Friday or Sunday. Many venues offer discounted fees on these days. Friday nuptials should be in the evening, and Sunday weddings should occur earlier in the day." —Stephanie Weiss, Ella Weiss Wedding Design  
"Don't save money by ordering a dress online. There are a ton of fake sites out there. Brides often don't get the dress they think they ordered."—Andrea Alcorn, Gracie's Bridal
Limiting your guest list is a great money saver. Smaller, more intimate weddings are becoming more and more popular with today's brides!"—Stephanie Weiss with Ella Weiss Wedding Design  
"As far as the dress of your dreams goes, hit the sample sales! You can get still get a designer dress at a fraction of the price."—S.W.
"Shop around. That's one thing having a planner is good at. Girls might think they have a lower budget venue, but then they spend more on décor. You can easily save money by getting a more expensive venue where you don't have to decorate as much."—Mary Douglas with Bringing It Together Events
"The time of day makes a big difference when controlling your costs. To save money on food, host a morning wedding with a brunch after. This way you can skip the open bar and have a bloody Mary bar or mimosas."—Martha Wright with Gracious Occasions
"When you're budget is this tight, it's smart to have a more casual event. Have the reception at a family property or at your family church. Find a consignment dress that you love. There are some beautiful options, and they're a great deal." —M.W.
"You probably won't be able to afford your dream dress on this budget. But that doesn't mean you can't still find a dress you love. Bridesmaid dresses can be ordered in any color, so I've had brides ordered a beautiful bridesmaid dress in white or cream and wear that as their wedding dress." —M.W.
 "Be careful about altering your mom's dress. That can rack up the cost. Instead, take elements out of it, like make a sash from some of her satin." —M.W.
"The reception will cost the most money. I've had lots of brides use cupcakes or a dessert buffet to save money. And besides, the main reason to have the cake is for the photo opt."—M.W.
"Simpler is better. Pinterest is huge, but all those little extras will cost you even if it's D.I.Y. I always suggest doing fewer things but doing them well. —M.W.
I've had several brides ask if they had to buy a cake knife. The answer is no. You can always reuse your mom's or grandmother's. The cake knife we used at our wedding is now used at all our family weddings." —J.C.
"Look to see if you can have the ceremony at your local church. They might have a cheap custodial fee of only $200. Then go somewhere else for the reception." —J.C.
"Don't stress about the cocktail hour. Paying for alcohol is a huge expense, so cut off the bar after dinner, and have a cash bar after that."—J.C.
BUDGET: $10,000
"If you can, hire a videographer. I hear a lot of brides  say that they wish they'd had a videographer. You capture voices and memories you don't see when you're the bride and groom."—M.D.
"Order a small one- or two-tiered cake, and have a larger sheet cake in the kitchen."—S.W.
"Talk to a florist, and find out what flowers are in season. This will affect the cost."—L.K.
"Instead of printing programs for the ceremony, make a big chalkboard program. You can really personalize your wedding with signs."—M.D
"Find a place that can do invites in-house. Prices vary, but you can find something in your budget. With D.I.Y. invites, you run the risk of making mistakes that can be costly in the end."—L.K.
"Limit your buffet options to keep costs down. Hors d'oeuvres can be more expensive since you're paying for them by the piece."—M.W.
"If you have the wedding at your house, keep in mind that three toilets can't handle 300 people. Your septic tank just can't filter that quickly."—J.C.
"Instead of spending lots of money on flowers, use lanterns. It's not a big expense, and you can stick a candle in it, and it doubles as a centerpiece."—M.D.
 "I'm seeing this more at weddings. Brides will use large Mason jars to hold wild flowers and then use smaller bottles with just one or two stems in them. This allows them to spread flowers out without having to spend a ton of money."—M.D.
"A dessert bar is great for a fall wedding. Have family help with this and bring pies, cookies and cobblers. Then if you want, you can get a small cake for the bride and groom to cut."—L.K.
"Mark your calendars for bridal trunk shows, and see if you can find a great gown at a great price."—L.K.
"Limit the size of your bridal party. This is easier to manage, and it will help cut the cost of bouquets." —M.W.
"Don't spend a lot of money on the ceremony. You'll only be there for a short amount of time. You're really paying for the photo-op." —M.W.
BUDGET: $20,000
"Even though this is a healthy budget, having an open bar can add up. You might consider having a signature cocktail, beer or wine instead of a full bar."—S.W.  
"Find a venue that's the right size for your party. If you have more than 250 people, look for a ballroom-style venue where you can open the walls. The last thing you want is for people to be crowded."—M.D.
"No one thinks about what to do with all the gifts and leftover food after the ceremony. Designate someone to take those, or pay someone at the venue to handle that." —M.W.\
"The sit-down dinner is the most expensive, so if you don't have room in your budget for this, consider serving appetizers or having a buffet."—L.K.
"Be sure to have a firm count on your regrets. I've seen lots of empty tables, so I always tell brides to guarantee 10 less guests than have confirmed. You'll always have people who won't show up."—M.W.
"It's always fun to have a signature drink at the reception. Serve something that has meaning to you and the groom as a couple." —M.W.