Weddings
A Dress to Build a Dream On
How one dress survived three weddings and 56 years of love.
By Ettie Berneking | Photos courtesy Niesje Plank
Jun 2015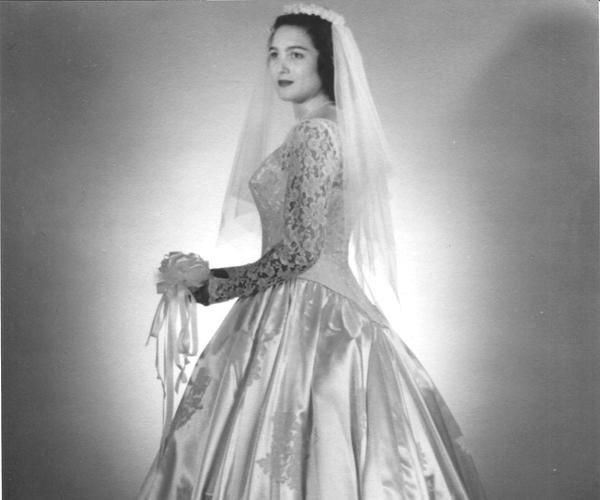 Maribel Nelson designed her own wedding gown 56 years ago, and her two daughters wore it at their weddings in 1987 and 2014.
As the saying goes, no wedding is complete without something borrowed, something blue, something old and something new. And for sisters Bronwyn and Niesje, the something borrowed just happened to be their wedding gown. 
If the dress looks vintage, that's because it is. The gown was first worn by the sisters' mother, Maribel Nelson, back in 1958. Nearly 29 years later, in 1987, Bronwyn headed down the aisle in the very same gown, and then Niesje followed in 2014.
This dress, which has seen three of the Nelson women to the alter, was originally designed by Maribel 56 years ago while she was busy planning her own wedding. "I told my dad I would like to design my own dress," she says. "Like all dads do, he said that sounded expensive." But price aside, Maribel and her mom made the drive up from Arkansas to meet with a seamstress in Springfield. Maribel, who loves to sew, had sketched out her dream dress based on gowns she found in catalogues. From there, material was picked out, measurements were taken, and Maribel's pencil sketches came to life to create the dress of her dreams. 
Draped in chantilly lace with a big bouffant skirt, the gown was perfect. When it came time to pack it up, that cotton ball of a skirt was stuffed with blue tissue paper and zipped into a garment bag where it stayed for nearly 30 years until Bronwyn asked her mom if she could try it on.
"She tried on other dresses," Maribel says. "But she never found anything else that she liked." So once again, the chantilly lace gown was headed down the aisle. Twenty-seven years later, Niesje followed in her sister's footsteps when she was married in Springfield in 2014.
"I grew up looking at the black and white photo of my mom in that gown," Niesje says. "It's beautiful. It's an honor knowing that my mom wore it and my sister wore it." 
"My husband laughed when he learned she was going to wear my dress," Maribel says. "He's been to three weddings with that gown."
Now that both of her daughters are happily married, Maribel's granddaughter is the next heir apparent, but this time the gown won't be headed down the aisle. Instead, Maribel is wrapping her granddaughter's bouquet in satin cut from the inside of the gown. 
Thinking back to when she was first describing the gown to her dad, Maribel can't help but laugh. "I'm so proud that my daughters looked beautiful in my dress," she says. "But it's even more wonderful knowing that my dad is in heaven thinking of how great of an investment this was."
ONE DRESS, THREE WEDDINGS
Maribel designed her wedding gown (top left) based on a dresses she saw in catalogues, and she made the drive from Arkansas to Springfield to have it designed by a seamstress. She wore her custom gown at her wedding in 1958. After the dress was stored away for nearly 30 years, Maribel's daughter, Bronwyn, wore it at her wedding in 1987 (top right). Her other daughter, Niesje, wore it on her big day in 2014 (bottom left and right). Both of the women made minor adjustments to the gown for fitting purposes, but the look of the dress stayed the same.