Weddings
Outdoor Venues We Love
If you're looking to tie the knot surrounded by beautiful rolling hills, flowing waterfalls and other gorgeous natural beauty, these five 417-land venues are the perfect spot for your big day.
By Savannah Waszczuk | Photos by Delve Photography, Creative Shots, Brandon Alms, Cassie Zapata
Jun 2015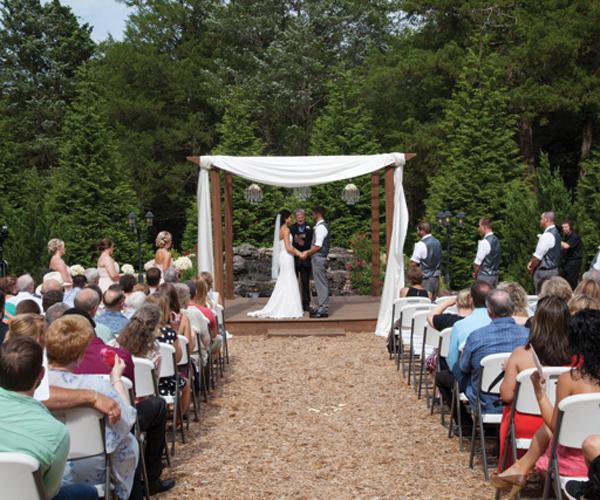 1. White River Conference Center
 located in the John A. and Genny Morris Conservation Center, 600 W. Sunshine St., Springfield; 417-891-5111;  whiteriverconferencecenter.com 
Number of Guests: 200
Starting Price: $1,500
Why We Love It: Made with wood and stone, the Magnolia Deck at the White River Conference Center is a beautiful backdrop. The partially covered deck provides plenty of space for a ceremony and a reception, and there's even room for a dance floor.   
Added Bonus: The lodge is home to sofas, recliners and other cozy furnishings, and you can move them outside for a spot to rest. 
2. CreedsTown Weddings & More
1625 Century Farm Rd., Fordland; 417-753-3414; creedstown.com
Number of Guests: 300
Starting Price: $175 per hour
Why We Love It: CreedsTown is a 20-minute drive from Springfield, but its wooded surroundings make it feel like a far-away escape. The darling venue is set up like an eclectic vintage town, and an arbor and wooden bench seating give a slight rustic touch that is perfect for outdoor ceremonies. 
Added Bonus: If rain tries to ruin your celebrations, don't fret. You can move guests inside the reception hall, which can hold as many as 200 people.
3. Samuel Cedars
5124 S. Farm Rd. 123, Rogersville; 417-839-8499; samuelcedars.com 
Number of Guests: 380
Starting Price: $1,900
Why We Love It: This venue sets the wedding's scene immediately as a cedar-mulched path leads guests to the outdoor chapel area. Rows of white chairs face a beautifully crafted wooden arbor and waterfalls to create the perfect spot to say "I do." And, of course, the space is surrounded by gorgeous evergreens and cedar trees.
Added Bonus: The venue is also home to an indoor reception and event center with a bridal suite, groom's suite and restrooms.
4. Enchanted Hills Weddings & Events
6649 N. Farm Rd. 175, Springfield; 417-425-7948; enchantedhillsweddings.com
Number of Guests: 225
Starting Price: $750
Why We Love It: Located just north of Springfield, this lovely outdoor venue is filled with lots of mature trees and water features. The bride and groom can stand in front of a spring-fed pond as they exchange vows, and guests take it all in from rows of white chairs. There's also a covered pavilion nestled near spring-fed waterfalls, which provides much-needed shade on sunny days.
Added Bonus: If you want to make planning extra-simple, the venue offers tent rental, professional photography, custom cake design, floral services, tables, chairs, linens and more. 
5. Weddings at Williamsbrooke
1205 State Hwy. F, Branson; 417-334-7368; weddingsatwilliamsbrooke.com
Number of Guests: 200 indoors, 300 outdoors
Starting Price: $1,800
Why We Love It: Located on a working 35-acre thoroughbred farm, Weddings at Williamsbrooke is one of Branson's most popular wedding spots. The gated acreage is home to a 100-year-old barn, a country gazebo and beautiful green fields, all of which can be the location for the event. The fields are the most popular spot to tie the knot, and the nearby Bull Shoals Creek is a great spot to take photos. 
Added Bonus: The century-old barn was renovated in 2006 and is now equipped with a beautiful cherry cathedral ceiling, board-and-batten walls and stone floors, making it the perfect reception spot.