Weddings
The Barn at Belamour
A local woman transformed a farmhouse into Springfield's newest wedding venue.
By Julie Sedenko Davis | Photos by Brandon Alms
Jun 2016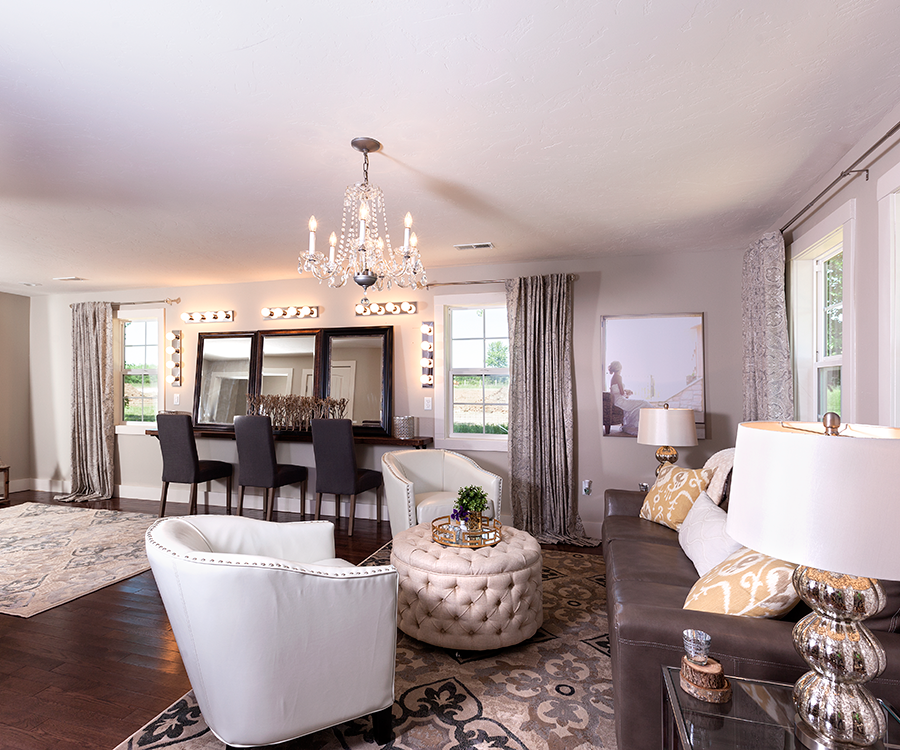 A painful yet beautiful love story is the seed of Springfield's newest wedding venue, Belamour (4462 W. Farm Rd. 94, Springfield, 417-619-6729). 
Looking for the perfect location for a venue had become a ritual for Kim Bell. "I'd drive every night after work and on the weekends," she says. A ramshackle farm is what finally caught her eye. "I loved this barn, but it wasn't for sale," she says. 
Then, one Sunday: "I just felt my husband was in the car and saying, 'Go down that road.'" That wouldn't be unusual, except Kim's husband, former Glendale High baseball coach Howard Bell, had recently lost a battle with ALS (Lou Gehrig's disease). 
Kim drove down the road. She was shocked. A "for sale" sign sat in front of that run-down farm. Knowing she had her husband's blessing, Bell bought the property to begin her dream of owning a venue. "He always wanted me to start my own business," she says. "There was just never enough time or money." 


Bridal Suite Bedroom: If you need an extra day to prepare, brides can stay at the venue the day before the wedding for $500 extra.
Bell began extensive renovations, transforming the former homestead into a wedding destination. "The only thing that is the same is the outside structure," she says. Inside, it's completely different. "It was a four-bedroom house; it's now a two-bedroom," Bell says. One of those bedrooms is a luxurious honeymoon suite. With chandeliers, a makeup bar and white-and-gray leather furniture, it's a chic yet cozy place for the bridal party to prepare. Separate groom's quarters have a rustic decor. "Think pallet walls," Bell says. The barn is also newly renovated. In addition to adding a large, covered porch, Bell removed some of the loft (you can see straight up to the ceiling) and added heating and air conditioning.  Inside are five huge chandeliers offering an unexpected elegance. An outdoor ceremony area with silo and altar connects to the barn.
Bell's vision is a beautiful, hassle-free wedding location. "I want the brides to be able to come to my venue and know that everything is included and they won't be charged for this or that," she says. Tables, place settings, linens, chairs... even décor is included in the $2,500 charge. The only extras are for the honeymoon suite, an alcohol deposit or $500 for an extra day on site before the wedding. 
Belamour got its name by combining Bell's name with the French word for love, amour. She says this venture has truly been a labor of love. "I just feel that my husband really wanted me to do it," she says. "He's a huge part of it."