Weddings
Athena Gideon Ties the Knot at Her Own Venue
Athena Gideon is the woman in charge at Enchanted Hills Weddings & Events—the place where she grew up and got married.
By Savannah Waszczuk | Photos courtesy Athena Gideon, Christian Gideon, Mike Wingo
Jun 2017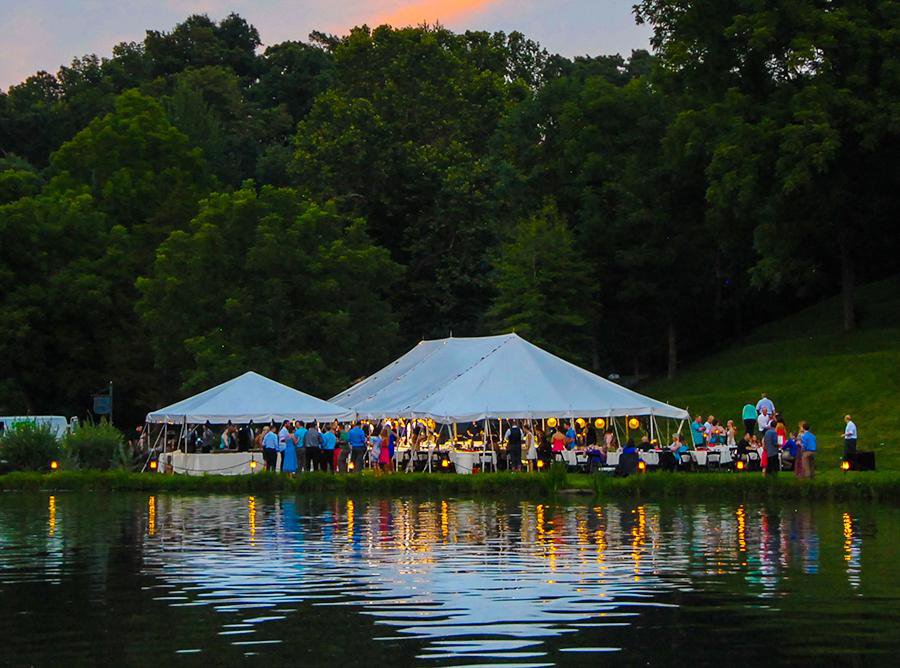 As a child, Athena Gideon had 16 beautiful, rolling acres right outside of her front door. "We were always playing outside," Gideon says of herself and her brother, Niles Lacey. "We played in that spring all of the time." Fast forward 20 years, and now that spring—Hoffmeister Spring, named after Gideon's great grandparents—is one of the most beloved features of Enchanted Hills Weddings & Events, Gideon's outdoor venue.

Enchanted Hills first became a venue in 1996. "It started as my mother's brainchild," Gideon says. At the time, her mother, Laura Lacey, worked at The Secret Garden, a small shop in the Battlefield Mall that sold vintage, Victorian-style dresses. "She met a lot of brides," Gideon says. "While zipping up a bride's dress, she'd say, 'Oh, where's your wedding?' and nine times out of 10 they would say, 'Well, we really want an outdoor wedding, but since there aren't venues in this area we are going down to Arkansas.'" That's when Laura had the idea to host weddings on the land that she shared with her former husband, Gideon's father, Steffan Moulder, whose grandparents left him the property. "It was very much a family business back then," Gideon says. "My brother and I grew up picking up sticks and pulling weeds. We were always doing something like picking up walnuts."


When Enchanted Hills opened, there weren't many outdoor venues for weddings. Today, Athena books about 26 weddings per year. 


Gideon's mother operated the venue until she moved away in 2004. "From 2004 to 2009, it was really just heard about by word of mouth—my dad did maybe one or two weddings a year," Gideon says. But when she was about to graduate college in 2009, Gideon made the decision to take it over. "I was finally to a point in my life where I realized how much I loved this place, and I wanted to be involved," Gideon says. "I thought, 'I'm bringing the business back.'"
Gideon got to work, creating a website for the venue and starting to advertise. She knew Enchanted Hills was something special—located in north Springfield, it features towering mature trees, gorgeous rolling terraces, gardens, spring waterfalls, a pond and a waterwheel. As the word got out, the numbers went up, and now Enchanted Hills hosts an average of 26 weddings per year.


Athena has been helping or running weddings at the venue since it opened in 1996. Here, she helps cut cake during a 1999 event.


In 2016, one of these weddings was Gideon's own to her now-husband, Mike Gideon. When it was time to plan her big day, Gideon stayed away from the traditional and went a bit more eccentric. "I wanted a gypsy, boho theme," Gideon says. "I didn't have any white anywhere. It was all just bright, bold jewel tones and colors everywhere." But despite the nontraditional details, the wedding was at the family venue—a detail that wasn't always in the plans but turned out perfectly. 
"When I was in my early 20s, I thought that if I ever got married, I was going to go to a beach," Gideon says. "But as I started hosting weddings here myself, I really realized how gorgeous it was here. Then, also, it's home. It's where I grew up. It's my dad's backyard. Once I finally did find somebody I wanted to marry, it was a no-brainer."
 
In the printed issue of 417 Bride, we incorrectly credited the photographer for the photos included in this story. 417 Bride regrets the error.