Weddings
Caroline Gear and Clayton Rothschild Jr.
May 18, 2012, Integrity Hills, Ridgedale
By Savannah Waszczuk
Dec 2012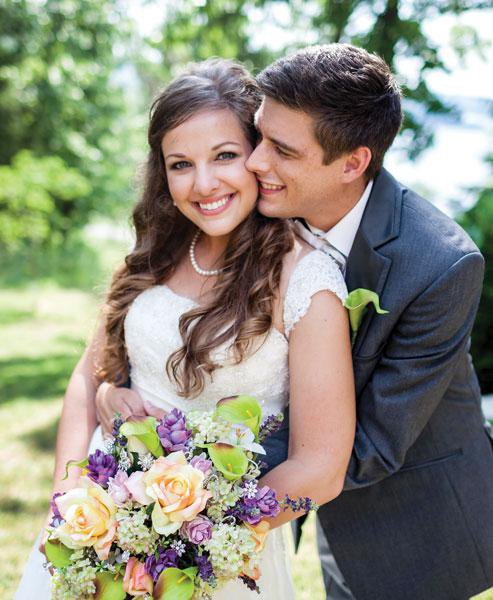 Although their paths crossed at school and church, it wasn't until debate class at Kickapoo High School that Caroline Gear and Clayton Rothschild Jr. became friends. "We did an acting duo, and we were both horrible actors, so we had to practice a ton," Caroline says. "Two years later, we actually started dating." The two started e-mailing back and forth their senior year, and they continued to e-mail while Caroline was a freshman at Baylor University. Caroline also sent Clayton letters every day while he was a counselor at Kanakuk Kamps, and she says they have always communicated through letters. That's why, when it was time to propose, Clayton knew exactly what to do. 
On the day he proposed, Clayton read Caroline a series of letters that he had written to his future wife. There were several, including one he wrote two years prior when he knew he wanted to marry her, and one that he had written earlier on the day he proposed. It read, "Caroline, tonight I am going to ask if you will marry me... It's with complete assurance that what I'm doing is right for both us, tied with a giddiness and anxiousness to see what exactly our life will look like... Love, Your Fiancé Clayton."
Caroline said yes. The two were married on May 18, 2012, at Integrity Hills Chapel. Caroline's matron of honor was her sister, Elizabeth Raines, and her bridesmaids were Anna Peck, Nincy Mathew, Hanna Morse, Catie Collins, Sarah Eichner, Mandy Boswell and Brianna Campbell. Clayton's best man was his brother, Connor Rothschild, and his groomsmen were James Gear and Robert Gear (the bride's brothers) and Mason Jones, Wesley Dowler, Timothy Ogwynn, Ryan McCarthy and Wes Kammer. 
Guests enjoyed pasta and salad, and All that Music provided DJ services. Caroline says her favorite part of the reception was when the guys all surprised her and sang "Sweet Caroline."
Wedding and Reception Venue Integrity Hills
Catering Integrity Hills
Bride's Dress Georgio's Bridal
Groom's Attire Normans Bridal & Formal
Photography Heather Cherie Photography
Entertainment All That Music DJ Service
Wedding Cake Celebrations by Sonja